With many different retailers participating in early Black Friday sales, it's not surprising to expect them to try to lead you to think their deals are the best of the best. But how far are some retailers willing to go? If you have a hunch that the price for a "deal" on Amazon was cheaper a week ago (before its Prime Early Access Sale), you might not be wrong: A new study reveals questionable tactics deployed by Amazon to trick consumers into thinking they are getting a deal, when in reality, the savings is negligible, at best—and even higher than before, at worst.
The trick is called "price-increase and list-price synchronization." Basically, a seller disguises a price increase as a discount by increasing an item's "list price" and then slashing that list price to show you a "sale price" that might even be higher than the original price. Here's how Insider explains it:
In the real world, it might play out something like this: A Dyson vacuum is listed for $250. One day, a "List Price" of $300 pops up on the page with a slash through it. Simultaneously, the seller bumps the asking price to $275. In the end, buyers think they're getting a deal when the opposite is true.

Researchers observed the same price increases 3% of the time for books and more than 13% of the time for digital cameras, blenders, and drones. Although the study focuses on the 2016-2017 period, the researchers told Insider they have found evidence of similar price hikes more recently.
Lifehacker reached out to Amazon about the study and received this response from a spokesperson: "Amazon provides clear and accurate pricing information on our product pages. This study was conducted more than five years ago, and doesn't accurately represent the shopping experience today. We continually work to help customers make more informed purchase decisions, and have since evolved how we describe pricing information."
Take this 2020 Apple MacBook Air laptop, though. At the time of this writing, it is currently listed as $998 with a "Prime Exclusive Deal" where you are "saving 17%" or $200 off from the $1,198 "list price." But when we look at the MacBook's price history on camelcamelcamel, a price tracking page, here's what we find:
G/O Media may get a commission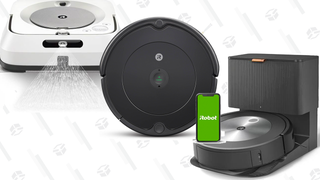 up to $200 off
Price-matched Roombas
Roombas: Price Matched!
Prime Day is but a distant memory, however, Crutchfield is price-matching iRobot Roombas until October 16. You can save up to $200 and save yourself hella time by letting a smart little robot vacuum clean for you. Here are some choice vacuums below.
Although it is discounted from its lowest price, the chart above shows the Macbook's list price was never the claimed $1,198. And most recently, the price of the laptop conveniently rises just before Amazon's Prime Early Access Sale on Oct. 11-12, only to then be discounted again for the event. It's still the cheapest price of the year at $998, but it's not as sweet of a deal as that new, higher "list price" would have it seem.
There is no official market value for any item since the free market sets the price of any good, so the practices by Amazon and others are not illegal. However, that doesn't mean you have to be fooled. To avoid this falling into this trap, make sure to use price-tracking pages like camelcamelcamel or Honey for big purchases or deals you feel seem suspicious. Look at their price history to make sure the "deal" is actually a deal.