The convenience of the internet has allowed us to reach networks we would otherwise never reach—but that also means we're exposing ourselves to those with ill intentions. In particular, when you put your email or phone number on online market sites, you're becoming a target for scammers.
Late this summer, I put my 10-year-old Corolla up for sale to take advantage of the hot market for used cars. I made posts on Facebook marketplace, OfferUp, Craiglist, and other online sites. Almost immediately, I was bombarded with offers for my car. The only problem was the majority of them were scammers trying to steal my identity.
If you haven't tried to sell something over the internet recently, you might be caught off-guard with the sheer volume and new tactics that scammers are using today to steal your identity. Here are some of the ones I encountered.
The "I'm not fake, you're fake" technique
G/O Media may get a commission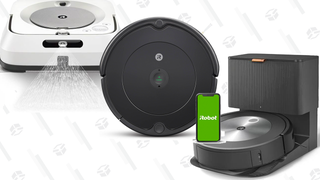 up to $200 off
Price-matched Roombas
Roombas: Price Matched!
Prime Day is but a distant memory, however, Crutchfield is price-matching iRobot Roombas until October 16. You can save up to $200 and save yourself hella time by letting a smart little robot vacuum clean for you. Here are some choice vacuums below.
Scammers will try to "verify" that you are real by convincing you that the only way to do that is for you to send them a number code that they will then use to take control of your number. From there, they have the power to reset any of your passwords if they know your username. They can also scam your contacts or "sell" things under your name, and you would have no idea this is happening.
They will play with your emotions
They know you are trying to sell your car quick to take advantage of the low inventory of used cars, so they will pretend to be "very interested." You might be tempted to believe all these people really want to buy your car because you've been using synthetic oil since your first oil change—but you are just another target to these scammers looking for their next victim. Approach every interaction online with skepticism. Some will say that they have the cash "in hand" and can meet you "right now," but they just need you to send that verification number first. Don't do it.
Everything is fair game
They will not only come for your car, but your mail, too. Be aware that by posting your number online, you will start being targeted for many different things. I was getting texts and calls at least every hour. I got pictures of "lonely single women" in my area, crypto "insider" secrets, and messages asking me to donate money to the war in Ukraine. But they all had one thing in common: They had a distracting or alarming message followed by a link that will ask you for your information. Don't click on it.
The takeaway
Never, ever send a verification code to anyone. There's no reason anyone should need a verification from you, unless it's a website where you have two-factor verification set up. Your bank, the IRS, or a lonely single person in your neighborhood should never ask you for a verification code they send you. If they do, it's simply a scam.