On Saturday, Israeli and Palestinian militants unleashed salvos of fire for a fifth day, with the Islamic Jihad militant group launching dozens more rockets and the Israeli military striking targets inside the Gaza Strip.
A missile struck a farming community in Israel's southern Negev desert, seriously injuring two Gazan Palestinians in their 40s who were working in Israel and moderately injuring another, a 36-year-old, Israeli medics said.
But in a reminder of the combustible situation in the occupied West Bank, the Israeli military stormed the Balata refugee camp near the northern city of Nablus, sparking an arson attack that killed two Palestinians.
The Palestinian Ministry of Health identified the two as 32-year-old Said Mesha and 19-year-old Adnan Arz. At least three other Palestinians were wounded in the operation, the latest in a near-daily Israeli arrest operation against suspected militants in the region.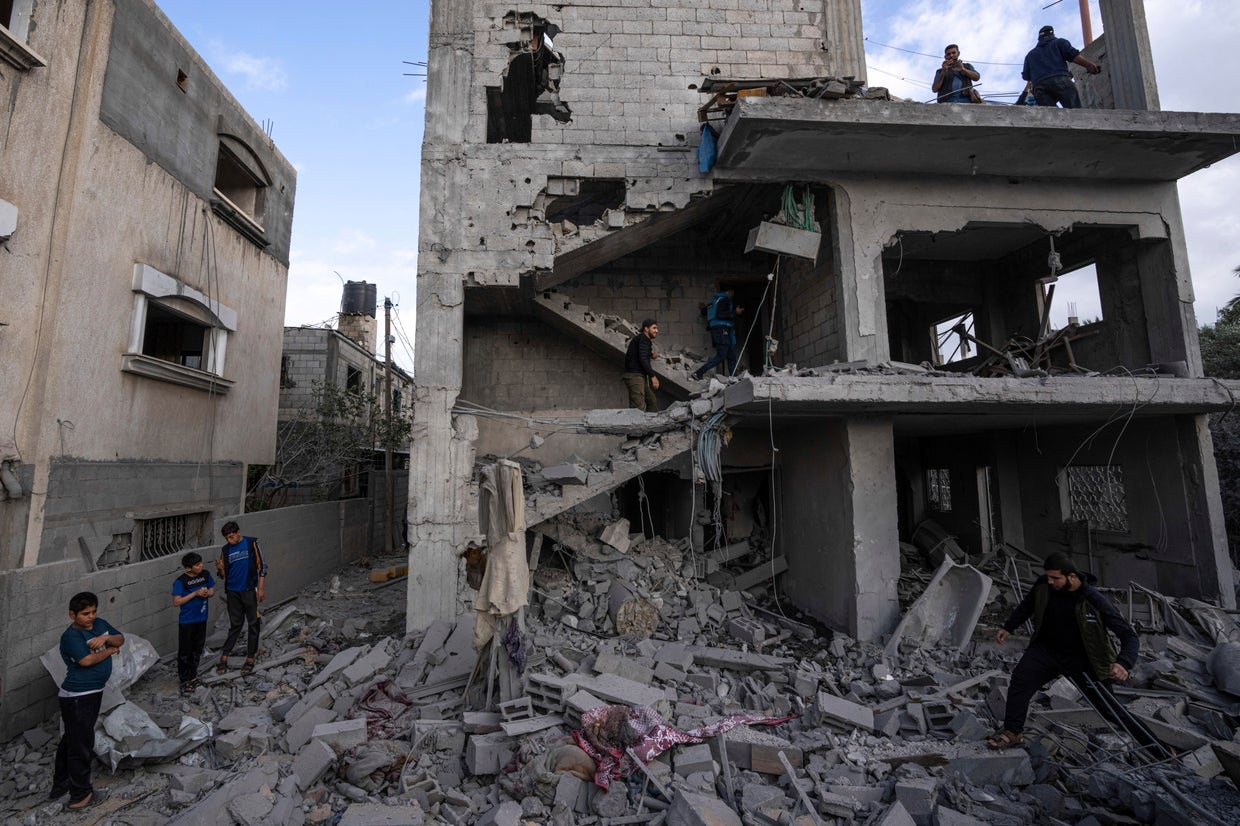 Palestinians inspect rubble at the site of an airstrike that the Israeli military said targeted the home of an Islamic Jihad member in Deir al-Balah, central Gaza Strip, Saturday, May 13, 2023.
Fatima Shabair/AP
Meanwhile, hopes of an imminent cease-fire between Israel and Palestinian Islamic Jihad faded as the Israeli military on Saturday bombed an apartment of Islamic Jihad commander Mohammad Abu al-Atta, it said, among other targets including a rocket launcher.
Islamic Jihad militants fired a barrage of rockets into southern Israel, where tens of thousands of Israelis were ordered to stay near safe rooms and bomb shelters. Hundreds of residents near the border have been evacuated to hotels in the north.
Islamic Jihad has promised more attacks.
"As the killings and bombings of apartments and safe houses continue, the Palestinian resistance will renew its rocket fire … to emphasize the continuation of the conflict," the group said. Mortar shells fired by Palestinian militants hit the Erez crossing between Gaza and Israel, Israel's civil defense agency said, sharing footage of a fiery explosion on Israel's main thoroughfare.
Israeli officials have told media that efforts to broker an Egyptian-led ceasefire are still underway, but Israel has rejected the terms Islamic Jihad presented to the talks. Israel has only said it will respond calmly, while Islamic Jihad is said to be pressuring Israel to agree to end targeted killings, among other demands. If the rocket attacks from Gaza continue, Israeli officials told local media, "The attacks (on Gaza) will continue and intensify."
Hostilities began on Tuesday when Israel targeted and killed three senior Islamic Jihad commanders it claimed were responsible for firing rockets into the country last week. At least 10 civilians were killed in this initial attack, including women, young children and involved neighbors.
Over the past few days, Israel has carried out more airstrikes, killing other senior Islamic Jihad commanders and destroying their command centers and rocket-launching sites. On Friday, Israel killed Islamic Jihad commander Yad al-Hasani, who replaced a leader of the group's military operation killed in Tuesday's airstrike.
The Palestinian Ministry of Health reported that 33 Palestinians were killed – six of them children – and more than 147 were injured.
On Saturday, Palestinians were rushed by Israeli warplanes to assess the damage and salvage what they could. A man carefully pulled out papers from under the rubble. Another took a mattress.
Four houses in a densely populated residential area were razed to dust in the pre-dawn attack. The Israeli military alleged that the targeted homes belonged to or were used by Islamic Jihad militants. Residents denied the army's claims and said they did not know why their homes were targeted.
"We don't have a rocket launching pad. This is a residential area," said Auni Obaid, next to the ruins of his three-story home in the central city of Deir al-Balah.
Neighboring relative Jehad Obaid's house was also leveled. He was standing a few hundred meters away when his apartment was bombed.
He said, I am vomiting because of the dust. "This is extraordinary hate. They claim they don't hurt children, but what we see is madness, destruction."
Islamic Jihad retaliated by firing 1,000 rockets into southern and central Israel. On Friday, the group stepped up its attacks and fired rockets at Jerusalem, setting off air raid sirens in Israeli settlements south of the rival capital.
Most of the rockets were intercepted or intercepted by Israel's Iron Dome aerial defense system. But on Thursday a rocket penetrated missile defense systems and tore through a house in the central city of Rehovot, killing an 80-year-old woman and injuring several others.
Hamas, the larger militant group that has controlled Gaza since seizing power in 2007, praised Islamic Jihad's attacks but limited the scope of the conflict, according to Israeli military officials.
As the de facto government is responsible for the anomalous conditions in the besieged Gaza Strip, Hamas has recently tried to keep a lid on its conflict with Israel. On the other hand, Islamic Jihad, a more ideological and volatile militant group involved in violence, has led the past few rounds of war with Israel.
On Saturday, the Israeli attack on the Balata refugee camp returned the focus to the long-heated West Bank conflict. Residents reported that Israeli forces surrounded a militant hideout, with the crowd sharing footage of a large explosion and smoke from the camp. Discarded bullet casings littered the streets. The streets are soaked in blood.
The Israeli military said the targeted apartments harbored militants who had planned attacks against Israeli troops and made improvised explosive devices. It said the explosion and fire started after Israeli security forces detonated explosives inside the hideout. Israeli forces opened fire on a group of gunmen, killing two Palestinians, the military said.
Israeli-Palestinian conflict has escalated in the West Bank under the most right-wing government in Israel's history. Since the beginning of the year, 111 Palestinians have been killed in the occupied territories, at least half of them linked to militant groups, according to an investigation by The Associated Press — the highest death toll in nearly two decades. At that time, 20 people were killed in Palestinian attacks on Israelis.
Trending news