A US diplomatic convoy was fired upon in Sudan on Monday but those inside were unharmed, US Secretary of State Anthony Blinken told reporters on Tuesday. He termed the incident as 'reckless' and 'irresponsible'.
Blinken, who is in Japan for a meeting of a group of seven foreign ministers, said a convoy of clearly marked US embassy vehicles had come under fire and initial reports indicated the attackers were linked to a powerful force fighting the Sudanese army for control of the country. For the third day in a row. He said everyone in the convoy is safe and at home.
Blinken called for an immediate 24-hour ceasefire as a step towards a longer ceasefire.
He said he spoke by phone with Sudan's army chief, General Abdel Fattah al-Burhan, and the leader of the paramilitary Rapid Support Forces (RSF), General Mohamed Hamdan Dagalo, known as Hemedati, and informed them of any danger to US diplomats and residents. In Sudan or UN staff and other humanitarian partners were inadmissible.
The G-7 foreign ministers condemned the war in a joint statement on Tuesday. "We call on the parties to immediately cease hostilities without preconditions," it said, urging them to return to talks and de-escalate tensions.
Explosions and gunfire outside trapped Sudanese in their homes in the capital Khartoum and other cities.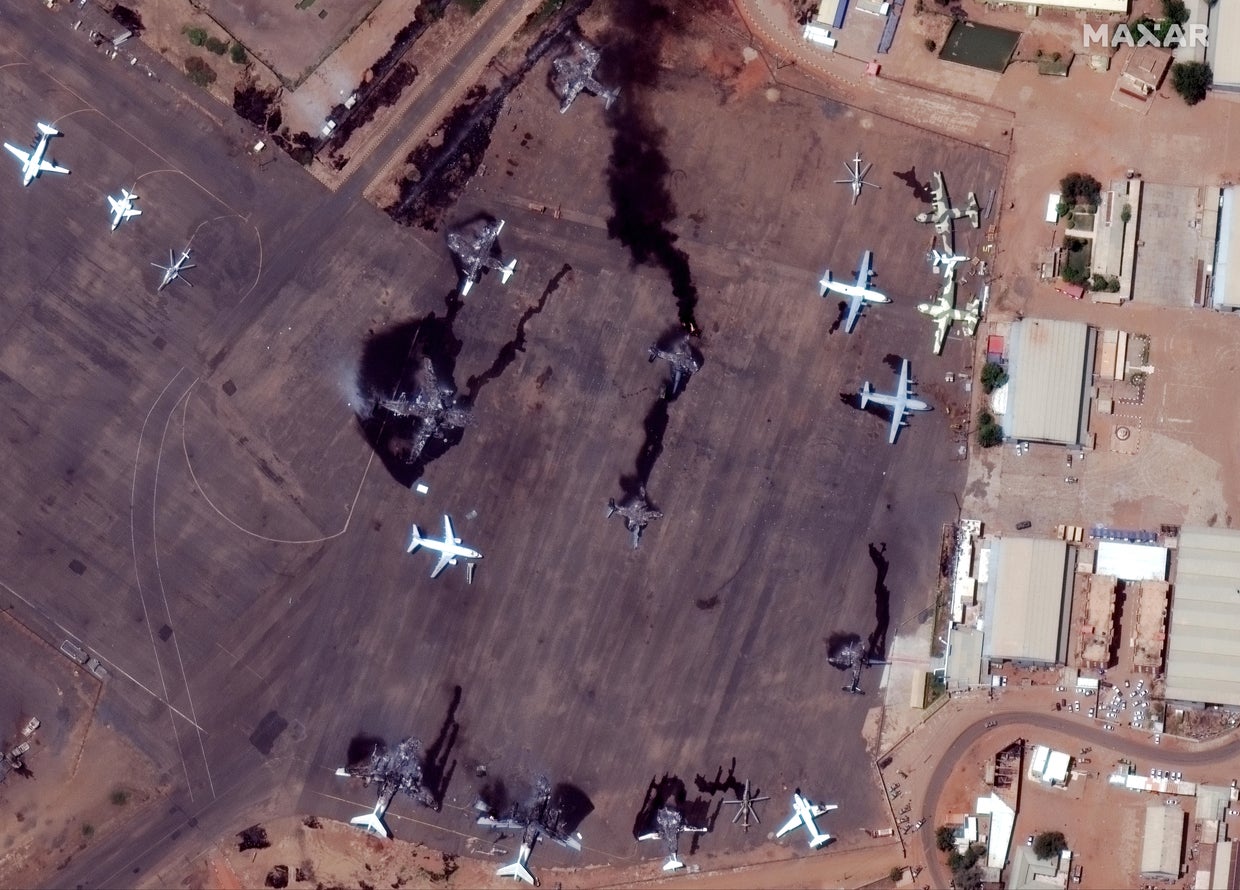 Maxar satellite images show downed planes at Khartoum International Airport in Sudan on April 17, 2023.
Maxer Technologies
At least 185 people have been killed and more than 1,800 wounded since the fighting began, UN envoy Volker Perthes told reporters.
Both sides are using tanks, artillery and other heavy weapons in densely populated areas. Fighter jets swooped overhead and anti-aircraft fire lit up the sky as darkness fell.
The toll could be high with so many bodies on the streets around central Khartoum that no one can reach because of the conflict. There was no official word on how many civilians or fighters were killed. A group of doctors earlier put the civilian death toll at 97.
A sudden outbreak of violence over the weekend between the country's two top generals, each backed by thousands of heavily armed fighters, has forced millions of people to stay in their homes or wherever they can find shelter, running low on supplies and forcing several hospitals to close. down
Top diplomats from four continents scrambled for a ceasefire and the UN Security Council prepared to discuss the crisis.
"Gunfights and shelling are everywhere," Awadeya Mahmoud Koko, head of a union of thousands of tea sellers and other food workers, said from his home in a southern district of Khartoum.
He said at least three people were killed when a shell stuck in a neighbor's house on Sunday. "We couldn't take them to the hospital or bury them."
In central Khartoum, continuous gunfire erupted and white smoke billowed near the main military headquarters, a major battleground. Nearby, at least 88 students and staff have been trapped in the library of Khartoum University's engineering college since the fighting began, a student said in a video posted online Monday. He said one student was killed and another injured during the clash outside. They have no food or water, he said, pointing to a room full of people sleeping on the floor.
Even in a country with a long history of military coups, the scene of fighting across the Nile in the capital and its neighboring city of Omdurman was unprecedented. The unrest comes just days before Sudanese celebrate Eid-ul-Fitr, the holiday that ends the Islamic month of fasting.
Under international pressure, Burhan and Dagalo recently agreed to a framework agreement with political parties and pro-democracy groups, but the signing has been repeatedly delayed as tensions rise over the integration of the RSF and the future chain of command in the armed forces.
The United States, the United Nations and others have called for a ceasefire. Egypt, which backs Sudan's military, and Saudi Arabia and the United Arab Emirates – which have developed close ties to the RSF as it sends thousands of fighters to support their war in Yemen – have also called on both sides to stand down.
Egyptian President Abdel Fattah el-Sisi said late on Monday that Cairo was in "continuous communication" with both the army and the RSF, urging them to stop fighting and return to talks.
But both generals dug in so far as to demand each other's surrender.
The EU's foreign policy chief, Josep Borrell, tweeted that the EU ambassador to Sudan was "assaulted in his own residence", without giving further details. A spokesman for Borrell told Agence France-Presse that the veteran diplomat was "fine" after the attack.
Dagalo, whose forces grew out of the notorious Janjaweed militias in Sudan's Darfur region, has portrayed himself as a defender of democracy and branded Burhan as an aggressor and a "radical Islamist". Both generals have a long history of human rights abuses and their forces have cracked down on pro-democracy activists.
Heavy gunfire broke out in several parts of the capital and Omdurman, with both sides bringing tens of thousands of troops, stationed in almost every neighborhood.
Twelve hospitals in the capital area have been "forcibly evacuated" and are "out of service" due to attacks or power outages, the Sudan Doctors Syndicate said, out of a total of about 20. Four hospitals outside the capital have also been closed. , it added in a statement late Monday.
Hadiya Said said she and her three children were sheltering in a room on the ground floor of their house, fearing shelling across Bahri district in northern Khartoum. They have food for a few more days, but "we don't know what to do after that," he said.
Heavy fighting with artillery and other heavy weapons broke out in Gabra neighborhood, southwest of Khartoum, on Monday afternoon, residents said. Asma Al-Toom, a doctor who lives in the area, said people were trapped inside their homes and screaming.
The fighting took place mainly around each side's main bases and strategic government buildings – all of which are in residential areas.
The military on Monday claimed to have secured the main television building in Omdurman, repelling the RSF after days of fighting. State-run Sudan TV has resumed broadcasting.
On Sunday, the RSF said it had abandoned its main barracks and base in Omdurman, which was hit by an airstrike by the armed forces. Videos online on Monday purported to show the bodies of dozens of men, RSF fighters strewn outside the base, on the floor of a clinic and in a courtyard. The authenticity of the videos could not be independently verified.
The military and the RSF were also fighting in most major centers around the country, including the West Darfur region on the border with Egypt and Ethiopia, and parts of the north and east. Fighting broke out on Monday around a strategic airbase in Merowe, about 350 kilometers (215 miles) northwest of the capital, with both sides claiming control of the facility.
Just four years ago, hope was raised after a popular coup in Sudan helped oust longtime dictator Omar al-Bashir.
But unrest since then, particularly the 2021 coup, has frustrated democracy and devastated the economy. A third of the population – about 16 million people – now rely on humanitarian aid in Africa's third-largest resource-rich country.
Save the Children, an international charity, said it had temporarily suspended most of its operations across Sudan. It said the robbers stormed his office in Darfur and stole medical supplies, laptops, vehicles and a fridge. The World Food Program suspended operations over the weekend after three staff were killed in Darfur, and the International Rescue Committee also halted most operations.
The United States, the European Union, African and Arab countries all called for an end to the fighting, with the UN Security Council due to discuss the development. UN Secretary-General Antonio Guterres said he was consulting with the Arab League, the African Union and leaders of the region and urged anyone with influence to push for peace.
Trending news