MOSCOW – A US journalist working for the Wall Street Journal has been arrested in Russia on charges of spying for Washington, Russia's FSB security service said Thursday. The announcement marked a serious escalation by the Kremlin Attempts to silence perceived critics, a crackdown It gained momentum after Russia's military operation in Ukraine last year.
The FSB security services said they had "stopped the illegal activities of Ivan Geshkovich, a US citizen," telling the Wall Street Journal reporter he was "suspected of espionage for the interests of the US government."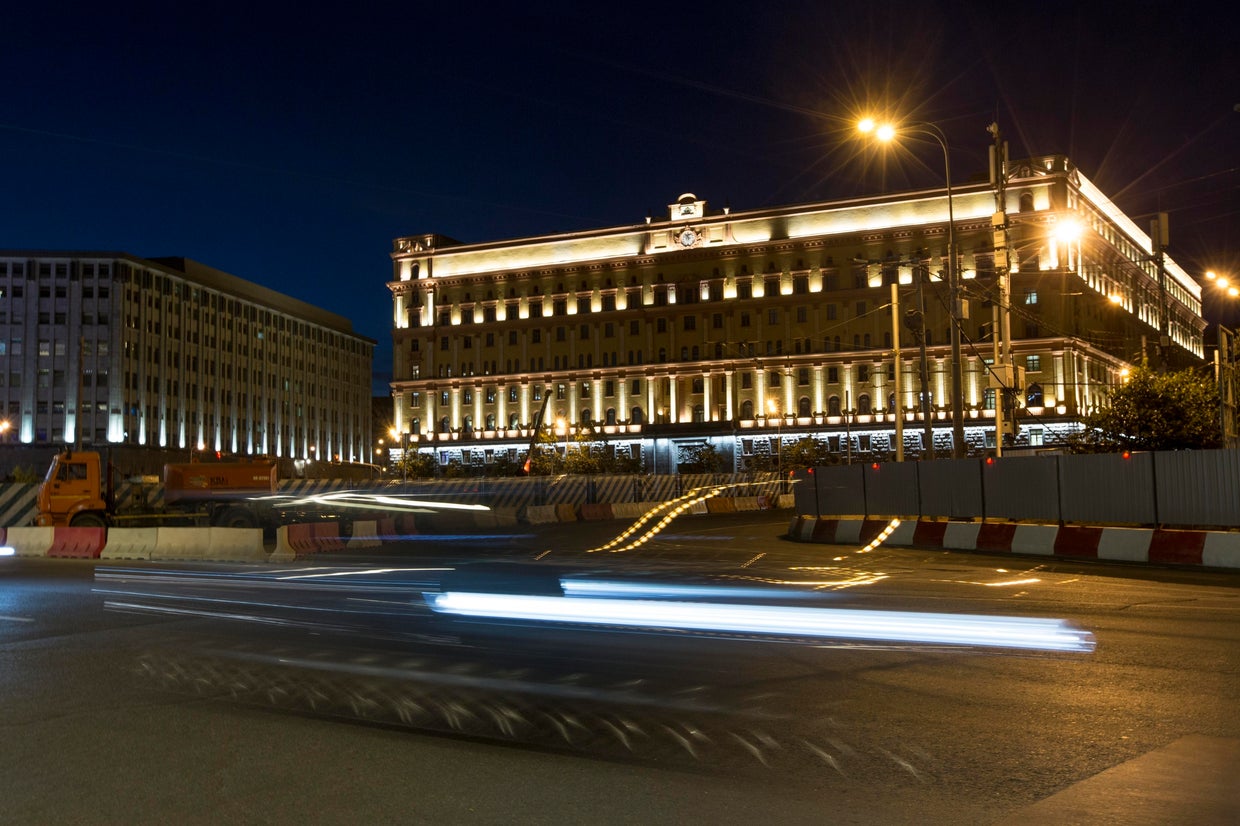 Cars pass the headquarters of the Federal Security Service (FSB) in Lubyanskaya Square in Moscow, Russia in this July 24, 2017 file photo.
Ap
Their statement confirmed that Geshkovich, 31, was working with press accreditation issued by the Russian Foreign Ministry. But the statement said he was detained for gathering information "on an initiative of the Russian military-industrial complex".
"The foreigner was detained in Yekaterinburg while trying to obtain classified information," the FSB said, referring to a city in central Russia more than 1,000 miles east of Moscow.
The Wall Street Journal said in a statement that it was "deeply concerned" by Geshkovich's detention.
Geshkovich recently contributed to a report for the Journal of the Wagner Group, an organization whose founders have ties to Vladimir Putin and whose mercenary army has played a key role in the war in Ukraine. Wagner's mercenaries have been at the forefront of Russia's ongoing assault on the Ukrainian-held, front-line town of Bakhmu, where Ukrainian forces told CBS News private fighters — many of them Previously recruited from Russian prisons — were being thrown to the front lines in waves with seemingly little regard for their lives.
Russian mercenary "lies" that lured them to Ukraine
03:01
Gershkovich, 31, worked at AFP in Moscow before joining the Wall Street Journal. A fluent Russian speaker, he was previously a reporter for The Moscow Times, an English-language news website in the Russian capital.
His family immigrated to the United States from Russia when he was a child.
Russian political analyst Tatiana Stanovaya said on social media in response to the detention, "The problem is… the way the FSB interprets espionage today means that anyone who is only interested in military matters can be imprisoned for 20 years."
Several US citizens are currently detained in Russia, and both Washington and Moscow have accused the other of politically motivated arrests.
FSB in January Opening a criminal case against a US citizen It said espionage was suspected but did not name the individual.
Paul Whelan, a former US Marine, was arrested in Russia in 2018 and sentenced to 16 years on espionage charges. He is being held in a penal colony south of Moscow. The United States said he was a private citizen visiting Moscow on private business and demanded his release.
It's been four years since Paul Whelan was detained in Russia
05:09
There have been several high-profile prisoner exchanges between Moscow and Washington over the past year. December, Moscow American basketball star Brittany Greener has been releasedwho was arrested for bringing cannabis oil into the country in exchange for Russia Arms dealer Victor Bout.
Russian authorities have also used espionage charges against Russian journalists.
Last year, Russia jailed a respected defense reporter, Ivan Safronovfor 22 years on charges of sedition.
Safronov worked for the business newspaper Kommersant and was one of Russia's most prominent journalists covering defense.
Gershkovich's arrest comes as Western journalists face increasing sanctions in Russia. Workers at Western media outlets often report nudity, especially when traveling outside the major urban centers of Moscow and St. Petersburg.
Many Russians fear speaking to foreign media because of strict censorship laws enacted in the wake of the invasion of Ukraine.
More

Source link