Andrew Tate, the divisive internet personality who has Months passed A Romanian prison on suspicion of organized crime and human trafficking has won an appeal to replace his detention with house arrest, an official said Friday.
The Bucharest Court of Appeal ruled in favor of Tate's appeal, which challenged a judge's decision last week. Extend his arrest The fourth time in 30 days, said Ramona Bolla, spokeswoman for DIICOT, Romania's anti-organized crime agency.
Tate, 36, a British-American with 5.5 million Twitter followers, was initially detained in the Romanian capital of Bucharest in late December along with his brother Tristan and two Romanian women.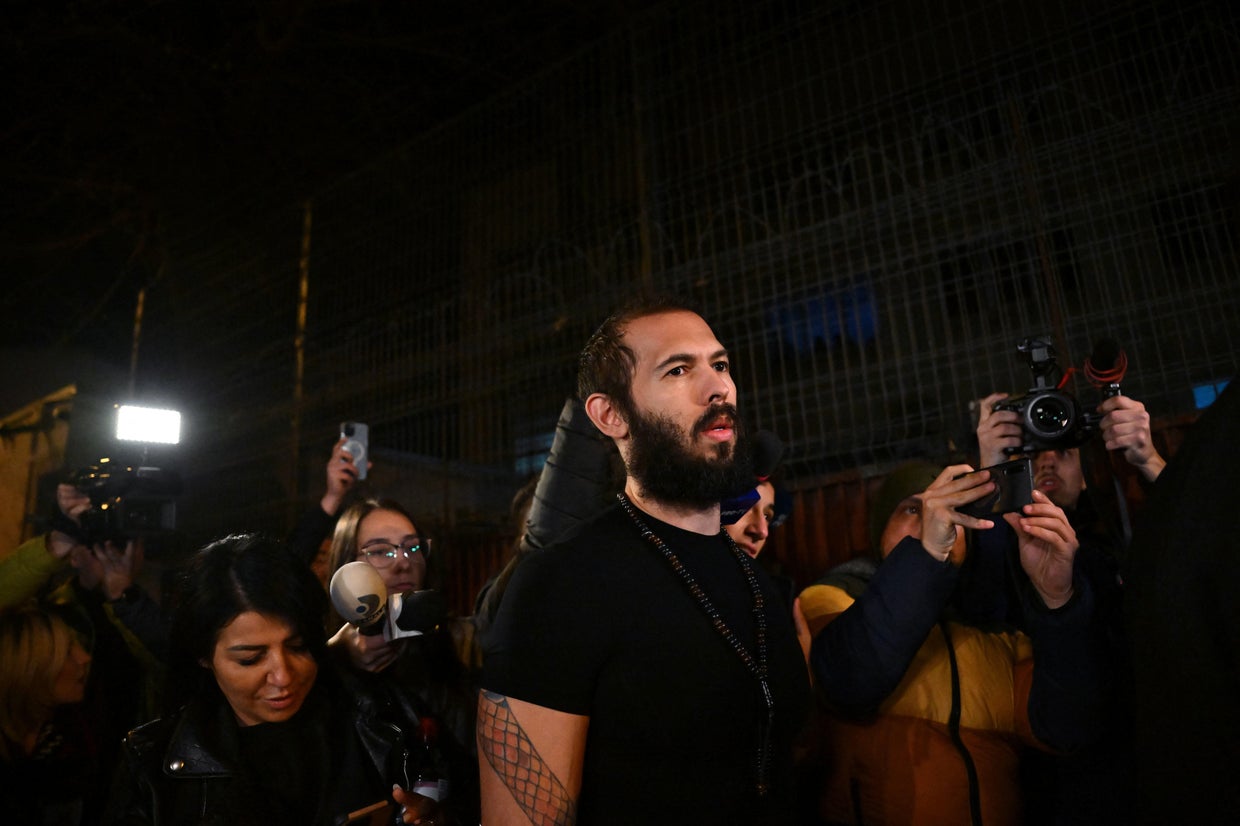 Controversial influencer Andrew Tate walks out of the Central Detention Center after three months of pre-trial detention in Bucharest, Romania on March 31, 2023.
DANIEL MIHAILESCU/AFP via Getty Images
All four won an appeal Friday and will remain under house arrest until April 29, Bolla said. None of the four have yet been formally charged. The court ruled in favor of their immediate release. Prosecutors could not challenge the appeals court's decision, which was final, Bolla added.
As the brothers left the detention facility late Friday in Bucharest, Tristan Tate told a scrum of reporters that "the judges made the right decision today."
"I respect what they did for me and they will be justified in their decision, because I am an innocent man and I can't wait to prove it," he said.
Outside the facility some Tate supporters chanted "Top-G, Top-G", using a popular moniker many of Andrew Tate's fans refer to him by.
Later, standing outside the Tate brothers' home near the capital, Andrew Tate said he wanted to thank the judges "who listened to us today, because they were very attentive and they listened to us, and they set us free."
He said, I have no anger in my heart for Romania or anyone else. "I just believe in the truth… I really believe that there will be justice in the end. There's a zero percent chance that I'll be convicted of something I didn't do."
Tate, a professional kickboxer who has been living in Romania since 2017, was previously banned from various social media platforms for expressing vulgar views and hate speech. He repeatedly claimed that Romanian prosecutors had no evidence and alleged that their case was a "political" conspiracy designed to silence him.
DIICOT said in a statement after the December arrests that it had identified six victims in the human trafficking case who had allegedly been subjected to "acts of physical violence and emotional coercion" and sexual exploitation by members of alleged criminal groups.
The agency said victims were lured with pretense of love and then subjected to intimidation, surveillance and other control tactics to engage in pornographic work for the crime group's financial gain.
In January, Romanian authorities descended on a compound near Bucharest linked to the Tate brothers and took away a fleet of luxury cars that included a Rolls-Royce, a Ferrari and a Porsche. They reportedly seized assets worth an estimated $3.9 million.
Prosecutors said that if they can prove that the car's owners obtained money through illegal activities such as human trafficking, the assets will be used to cover the costs of the investigation and compensate victims. Tate unsuccessfully appealed the asset forfeiture.
Trending news