Al Jafi, Mad Magazine's award-winning cartoonist and ageless sage who delighted millions of kids with his snark on fold-ins and "Snappy Answers to Stupid Questions." He was 102 years old.
Jaffe died of multiple organ failure in Manhattan on Monday, according to his granddaughter, Fannie Thomson. He retired at the age of 99.
Crazy magazine, with its racy, sometimes politically and culturally-directed motivations, was essential reading for teens and preteens in the baby-boom era and an inspiration for countless future comedians. Few of the magazine's self-billed "Usual Gang of Idiots" have contributed as much – and as reliably – as the bearded cartoonist. Over the decades, Jaffee has featured new material in virtually every issue. His collected "fold-ins", embracing everyone from the Beatles to TMZ in his unmistakably broad visual style, were enough for a four-volume box set released in 2011.
"It was a case of Al visiting the MAD office to drop off a fold-in," former Mad art director Sam Viviano said in a statement. "The entire staff will gather for an hour to hear about his amazing life and career."
Readers enjoyed his fold-ins like dessert, turning to them on the inside back cover after seeing other favorites like Antonio Prohias' "Spy vs. Spy" and Dave Berg's "The Lighter Side." The premise, basically a spoof of the old Sports Illustrated and Playboy magazine foldouts, is that you start with a full-page drawing and question at the top, fold two designated points in the middle, and create a new and surprising image with the answer.
The fold-in was supposed to be a one-time gag, attempted in 1964 when Jaffe satirized the biggest celebrity news of the day: Elizabeth Taylor had dumped her husband Eddie Fisher for "Cleopatra" co-star Richard Burton. Jaffe first showed Taylor and Burton arm-in-arm on one side of the picture, and a young, handsome man being held back by a policeman on the opposite side.
Fold the picture and Taylor and the young man are kissing.
The idea was so popular that Mad editor Al Feldstein wanted a follow-up. Jaffe created a portrait of 1964 GOP presidential contenders Nelson Rockefeller and Barry Goldwater that, when collapsed, became a portrait of Richard Nixon.
"It really set the tone for the intelligence of the fold-in," Jaffee told the Boston Phoenix in 2010. "It can't just bring someone from the left to kiss someone on the right."
Jaffee was also known for "smart answers to stupid questions", which delivered exactly what the title promised. A 1980 comic shows a man in a fishing boat with a noticeably bent reel. "Are you going to reel in the fish?" asks his wife. "No," she says, "I'm going to jump into the water and marry the gorgeous thing."
"Al was, at heart, a badass. He always had a mischievous twinkle in his eye and brought that sensibility to everything he created," former Mad magazine editor-in-chief John Fickera said in a statement.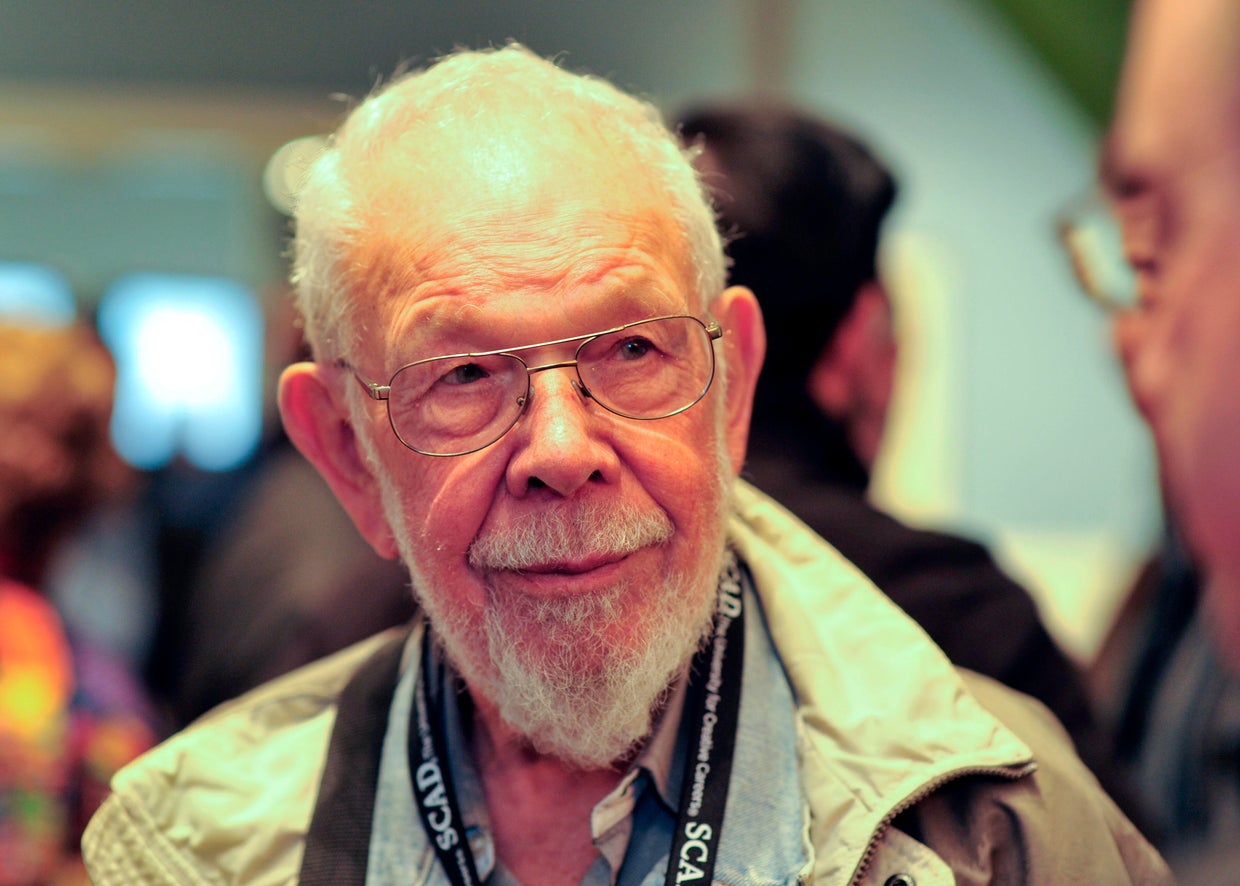 Mag magazine cartoonist Al Jaffee attends an event honoring him and eight MAD veterans by Savannah College of Art and Design and the National Cartoonists Society, Friday, Oct. 11, 2011 in Savannah, Ga.
Stephen Morton/AP
Jaffee didn't just satirize the culture; He helped change that. His advertising parodies included future real-life products such as automatic redialing for telephones, a computer spell checker and graffiti-proof surfaces. He also anticipated pillable stamps, multibladed razors and self-extinguishing cigarettes.
Jaffee's admirers ranged from "Peanuts" fame Charles M. Schulz and "Far Side" creator Gary Larson to Jon Stewart and Stephen Colbert, who marked Jaffee's 85th birthday by featuring a fold-in cake on "The Colbert Report." When Stewart and "The Daily Show" writers put together the best-selling "America (The Book"), they asked Jaffee to contribute a fold-in.
"When I was done, I called the producer who contacted me, and I said, 'I finished the fold-in, where do I send it?' And he said — and it was a great compliment — 'Oh, please Mr. Jaffee, can you deliver this in person? The whole crew wants to meet you,'" he told The Boston Phoenix.
Jaffee has received numerous awards and was inducted into the Will Eisner Hall of Fame in 2013 at the San Diego Comic-Con International. In 2010, he illustrated Mary-Lou Weizmann's "Mad Life of Al Zafir: A Biography". The following year, Chronicle Books published "The MAD Fold-In Collection: 1964-2010".
The staff of DC and MAD Magazine are heartbroken by the death of legendary artist Al Zafi. Al was the longest running contributor to MAD Magazine, creator of the MAD Fold-In and a charter member of "The Usual Gang of Idiots". His signature style and wit will be sorely missed. pic.twitter.com/SJ4827K7g9
— DC (@DCOfficial) April 10, 2023
Art was the saving presence of his childhood, leaving him with a permanent distrust of adults and authority. He was born in Savannah, Georgia, but for years was torn between the United States, where his father (a department store manager) chose to live, and Lithuania, where his mother (a religious Jew) wanted to return. In Lithuania, Jaffe endured poverty and oppression, but also developed his craft. Lacking paper and no means of attending school, he learned to read and write through comic strips sent by his father.
In his teens, he settled in New York City and was so gifted that he was accepted into a music and art high school. Among his classmates were Will Elder, a future Mad illustrator, and Harvey Kurtzman, a future Mad editor. (His mother, meanwhile, remained in Lithuania and was apparently killed during the war).
He had a long career before Mad. He drew for Timely Comics, which became Marvel Comics; and sketched the "Tall Tales" panel for the New York Herald Tribune for several years. Jaffee first contributed to Mad in the mid-1950s. He left when Kurtzman quit the paper, but returned in 1964.
After the 1970s, Mad lost much of its readership and edge, and Jaffe outsold virtually all of the magazine's stars. But he rarely lacked ideas even though his method, drawn by hand, remained largely unchanged in the digital age.
"I'm so used to drawing and reporting on so many people doing it that I don't see the magic of it," Jaffee told the publication Graphic NYC in 2009. I'm sitting down and suddenly there's a whole big picture of people. I am amazed when I see magicians at work; Although I know they are all tricks. You can imagine what someone thinks when they see someone drawing freehand. It's not a trick. It's very impressive."
Trending news