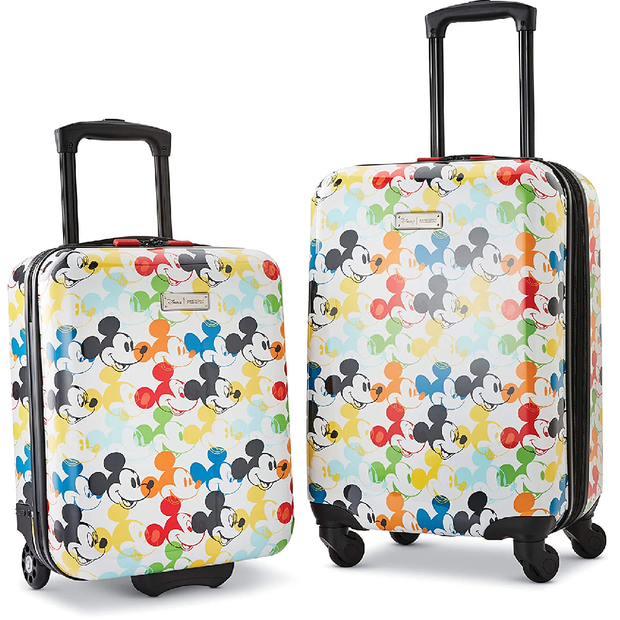 the amazon
Plan a Disney Vacation This summer? Then you won't want to miss this deal on a two-piece Disney hardside luggage set from American Tourister. The set is currently 52% off.
The set includes an 18-inch hardside carry-on suitcase and a 21-inch spinner that can be used as checked luggage. Both feature four versatile spinner wheels for easy mobility. They come with a 10-year warranty against defects, so you can be confident in your purchase.
The American Tourister set currently has an impressive 4.8-star rating on Amazon with over 1,800 reviews.
American Tourister Disney Hardside Luggage Set, $100 (reduced from $210)
If you're not a fan of Disney prints, there's also a Star Wars set for sale.
American Tourister Star Wars Hardside Luggage Set, $120 (reduced from $210)
More luggage deals on Amazon
These luggage essentials are on sale right now on Amazon
Samsonite Omni Expandable Luggage: $156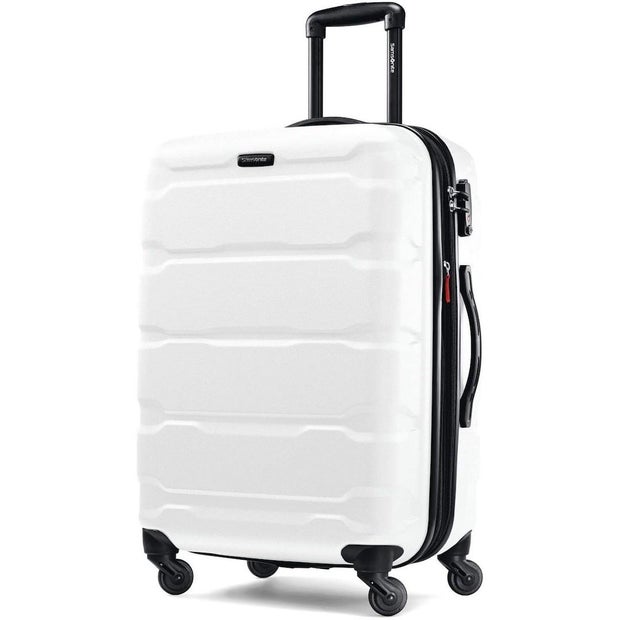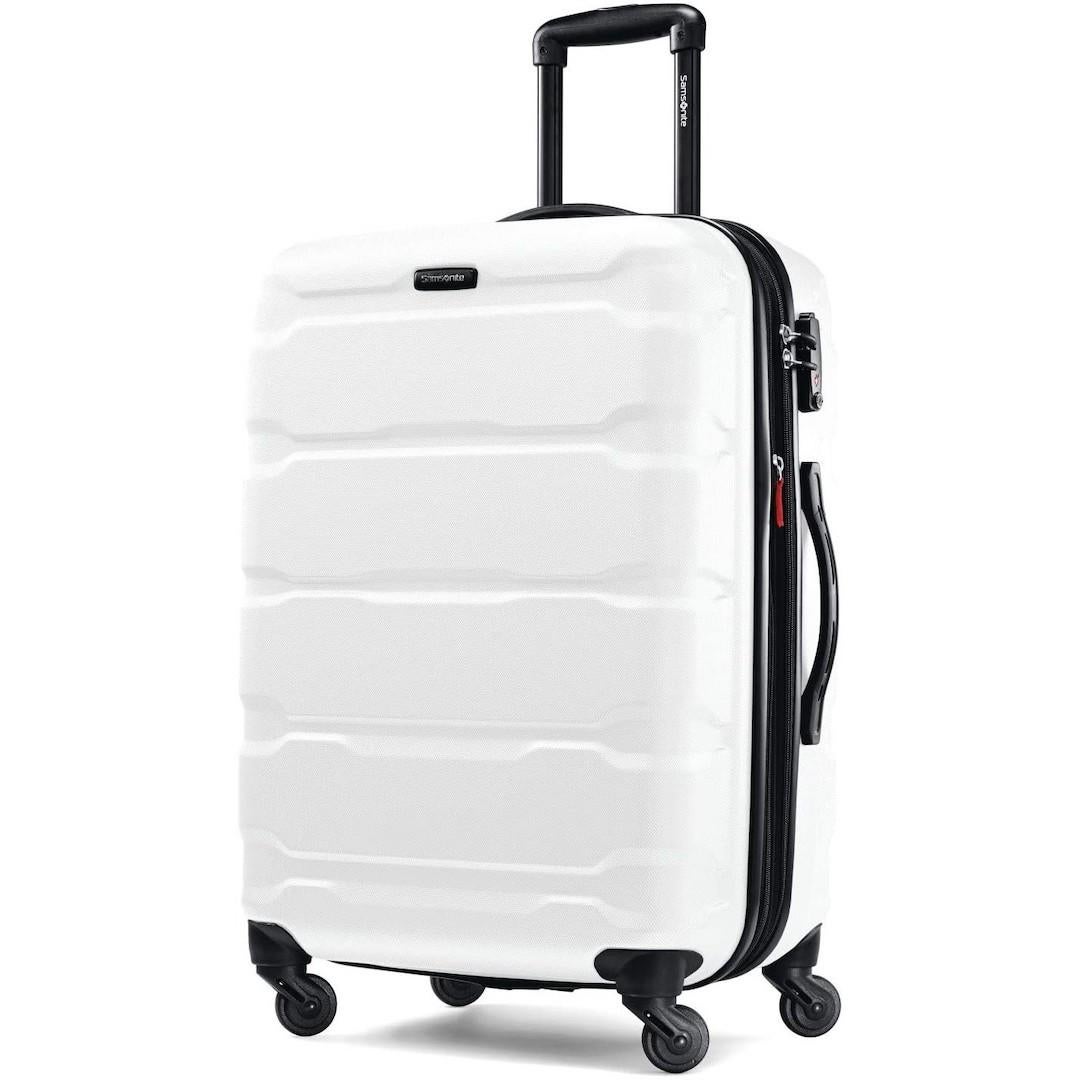 Samsonite
Polycarbonate Omni, a highly rated and popular segment from Samsonite, offers high quality at a reasonable price point. Features include TSA-approved side-mounted locks, versatile spinner wheels, an internal mesh divider and cross straps. On Amazon, the Omni is available as a carry-on or checked bag and in both medium and large sizes. It can also be purchased as part of a two- or three-piece set. Prices vary depending on which model or version you choose. The deal below is for a single, medium-sized, white checked bag.
Samsonite Omni Expandable Luggage 24″ Checked (White), $156 (reduced from $200)
Samsonite Freeform Hardside: $191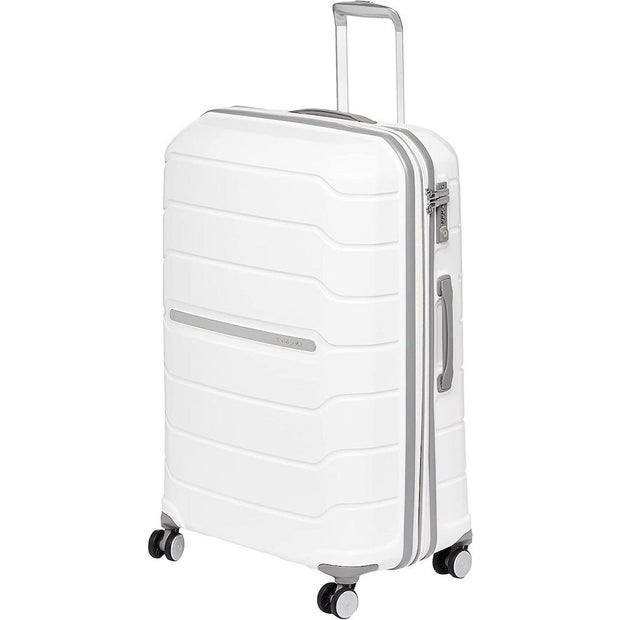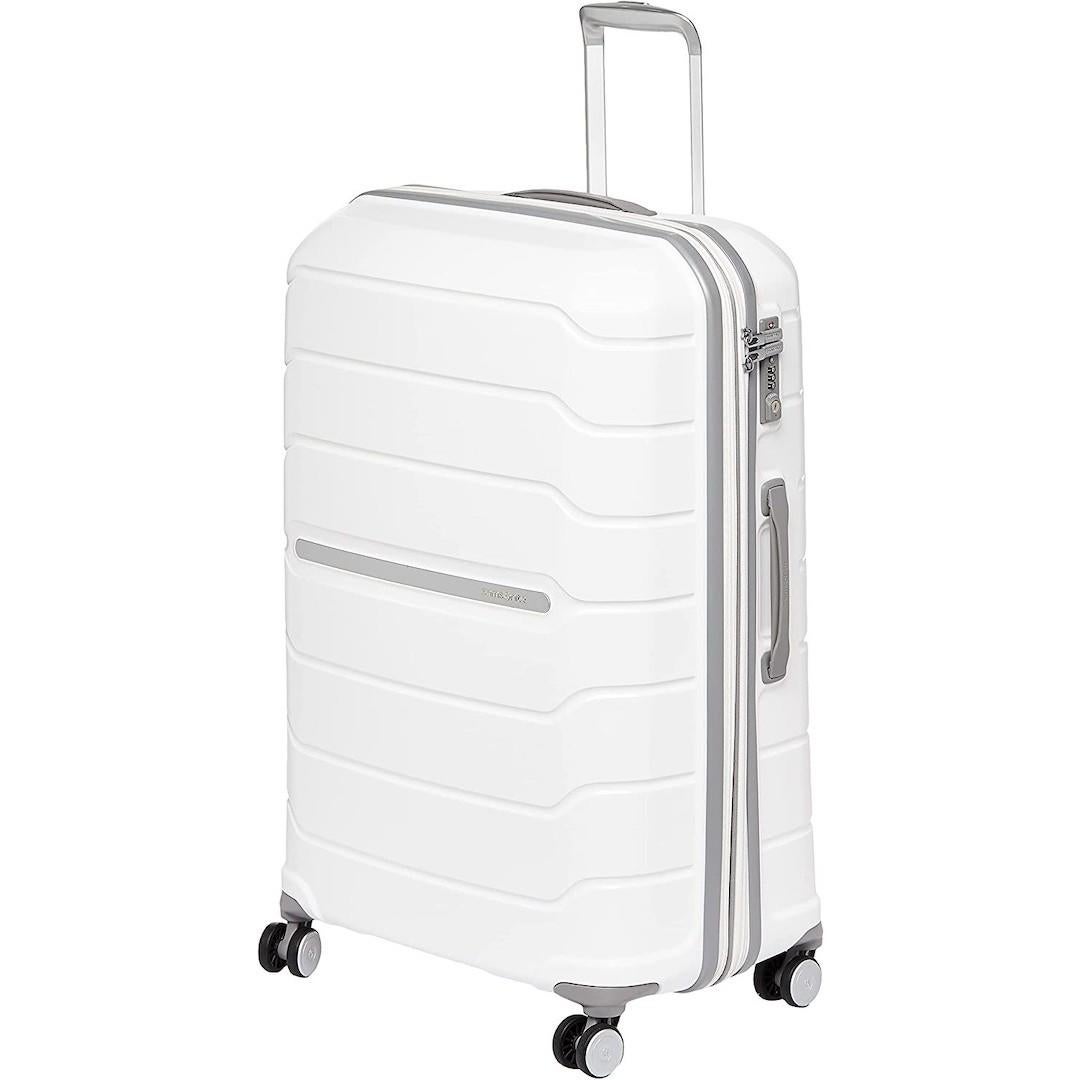 Samsonite
Packing for a family trip can be difficult, but Samsonite Freeform can make the task a lot easier. The large and durable polycarbonate compartment of the check-in luggage is extra roomy, and sports multiple pockets and compartments for organizing belongings. It has four, versatile double spinner wheels and a TSA-approved combination lock. Prices vary by color.
28″ Samsonite Freeform Hardside (White), $191 (reduced from $270)
Rockland Melbourne Hardside Expandable Spinner Luggage Set: $122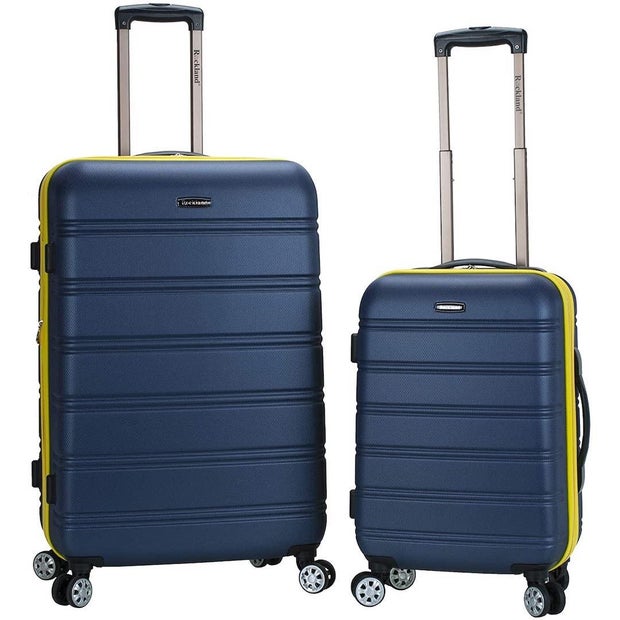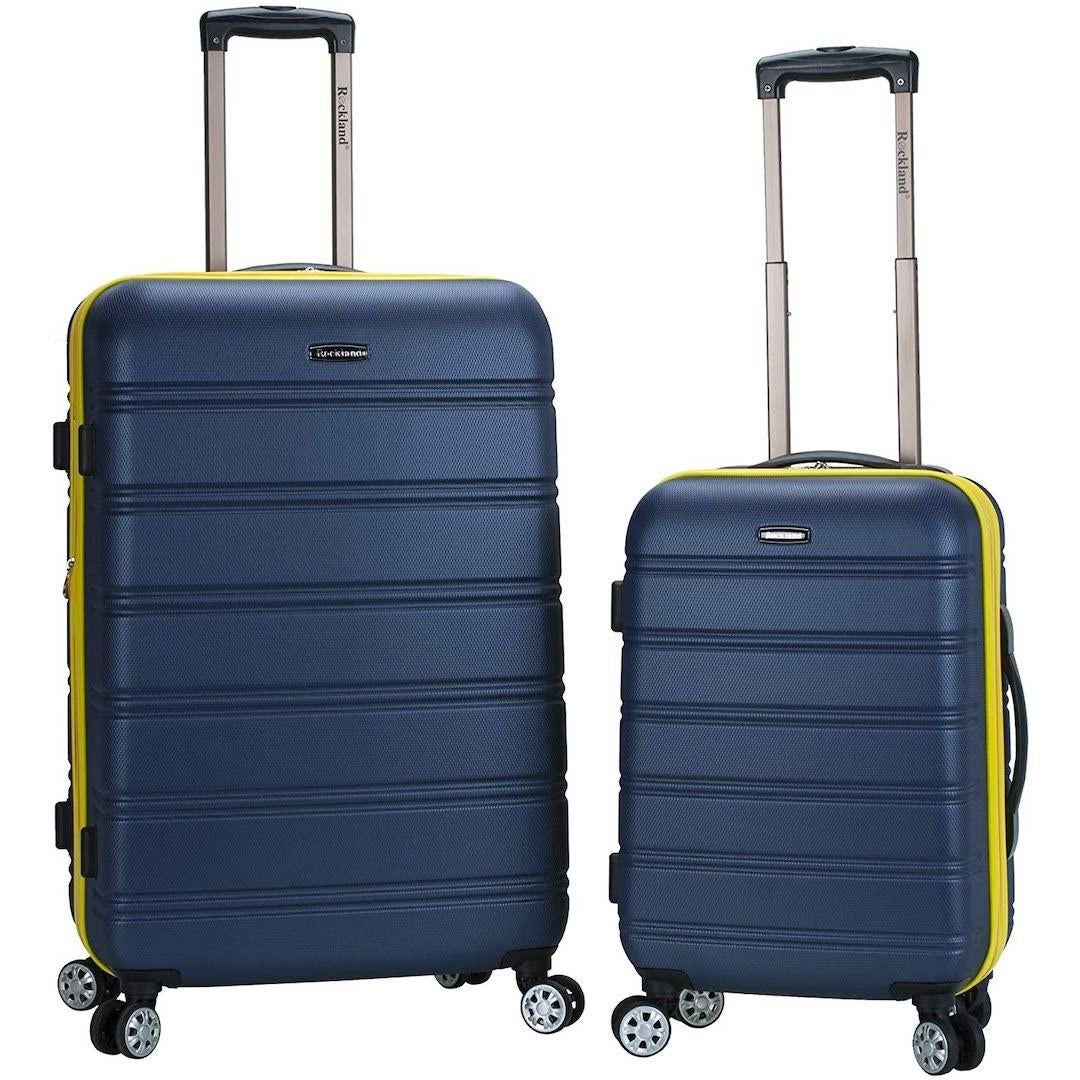 Rockland
Looking for the perfect luggage set for all of you summer trip? Rockland makes one of the best selling sets on Amazon Made of ABS, a lightweight and durable plastic, the set includes a carry-on and checked suitcase. Both pieces feature interior zips with telescoping handles and versatile double spinner wheels with mesh pockets.
Prices vary by color.
Rockland Melbourne Hardside Expandable Spinner Luggage Set, $122 (reduced from $340)
Delsea Paris Chatelet: $225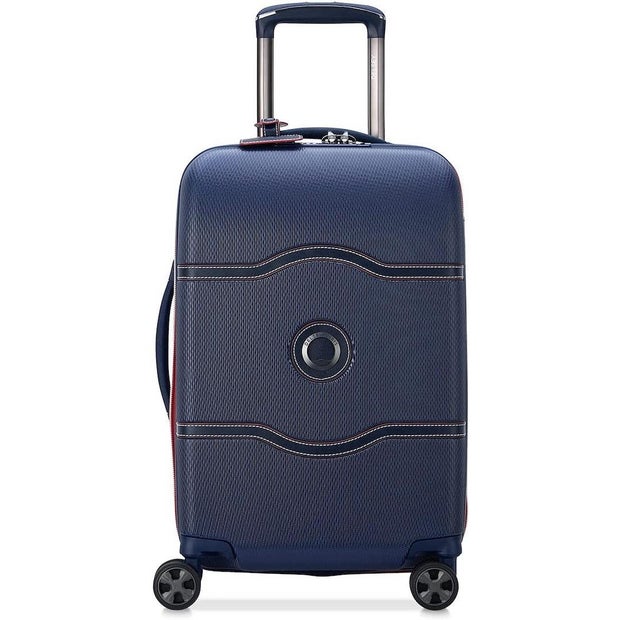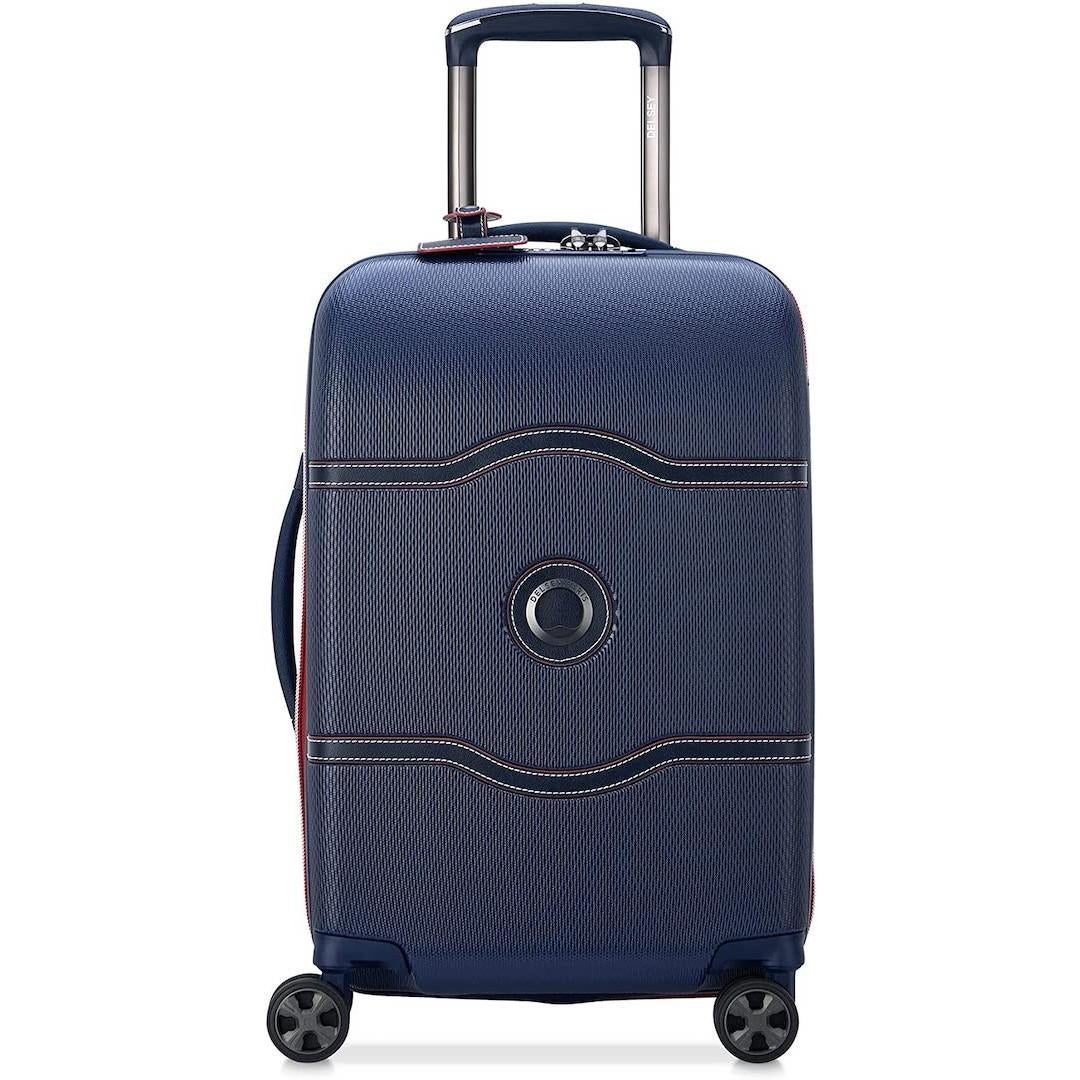 Delsey
With faux leather accents and rounded edges, the Delsea Paris Chatelet makes the perfect international travel companion. Made of polycarbonate, the durable yet lightweight suitcase packs a host of great features, including versatile double spinner wheels, a USB port for charging electronics, a TSA-approved lock, and an ergonomic handle. The suitcase comes equipped with laundry and shoe bags, as well as mesh-zippered pockets. Right now, get the Navy Blue Small Carry-On for 25% off on Amazon
Delsey Paris Chatelet, $225 (reduced from $300)
Samsonite Winfield: $117
Samsonite
The best-selling Samsonite luggage on Amazon, the Samsonite Winfield Style Carry-On weighs less than seven pounds and offers a roomy interior. Other features of this hard-shelling luggage include four-directional multispin wheels, a TSA-compatible lock and a retractable telescope handle.
Samsonite Windproof Carry-On (Navy), $117 (down from $200)
Haiku travel duffel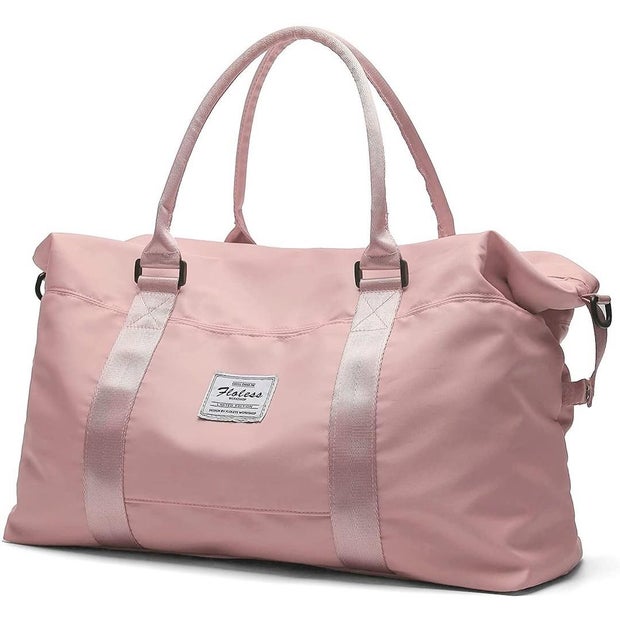 HYCOO
With plenty of interior zippered pockets and compartments, including a wet pocket for your toiletries, this cute duffel makes the perfect travel companion. Made of a high-density water-resistant material, the overnight or weekend bag keeps your clothes dry and belongings safe. Other great features include a padded pocket for your laptop, a separate wet bag for dirty clothes and an adjustable strap, which allows for shoulder or cross body wear.
Hycoo Travel Duffel (Pink), $23 (reduced from $27)
Best Travel Accessories Deals on Amazon
From backpacks and waist packs to TSA-approved refillable bottles, these luggage accessories are on sale now.
Apple AirTags: $90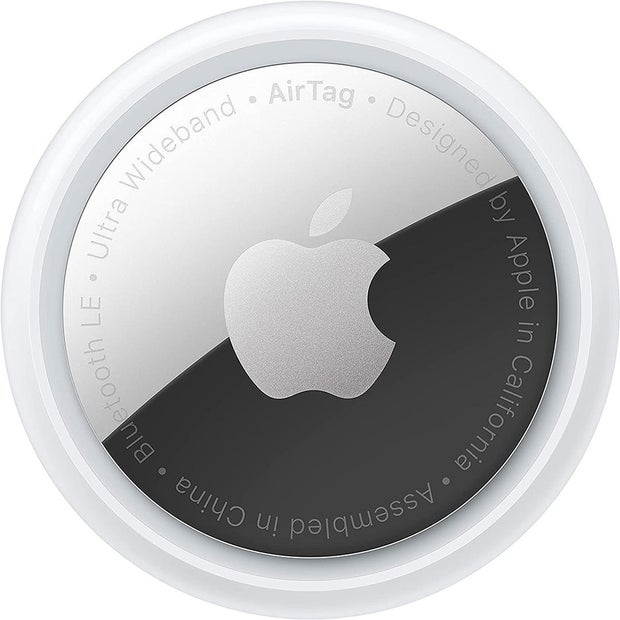 Apple via Amazon
Losing your luggage disrupts your trip. An Apple AirTag comes in handy on the rare occasion that your suitcase fails at baggage claim.
Apple AirTag 4-pack, $90 (down from $99)
TSA-approved travel bottle set: $15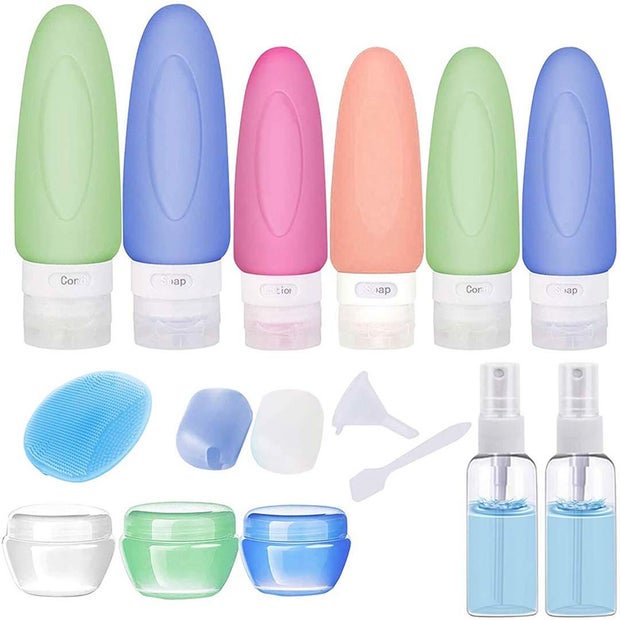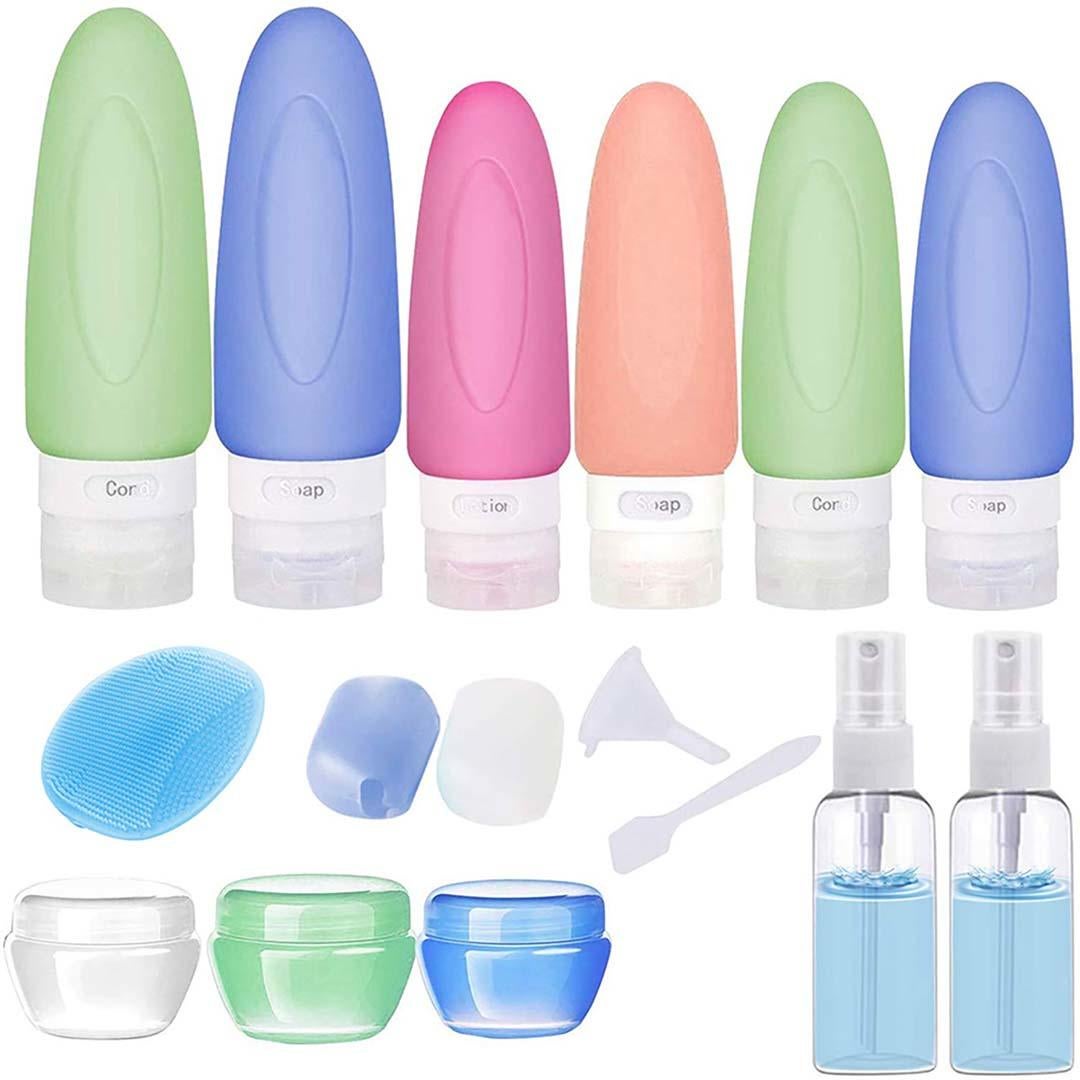 Polenta
Large toiletries like shampoo bottles take up a lot of valuable suitcase space. Skip the hassle, and invest in TSA-approved travel containers. When you use these containers to tote your essential liquids, you free up space in your checked suitcase and, at the same time, stay within the mandatory carry-on liquid limit. The set even comes with a funnel to make filling bottles a breeze.
TSA-Approved Travel Bottle Set, $15 (reduced from $26)
Fjallraven Kanken Classic Backpack: $66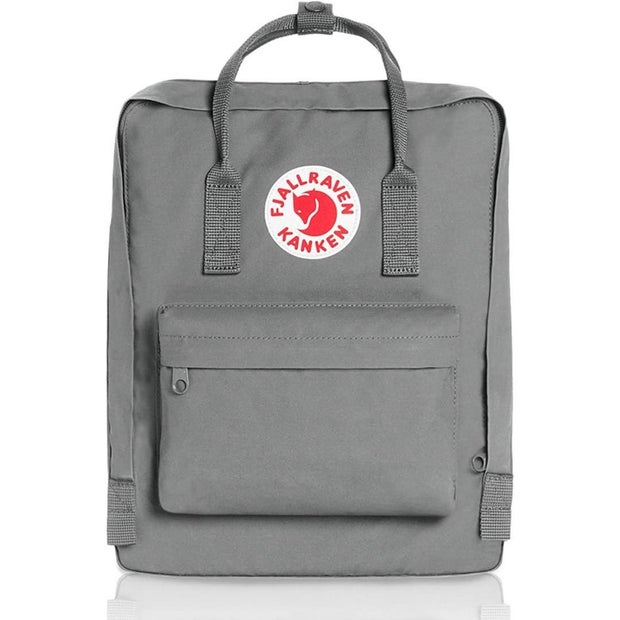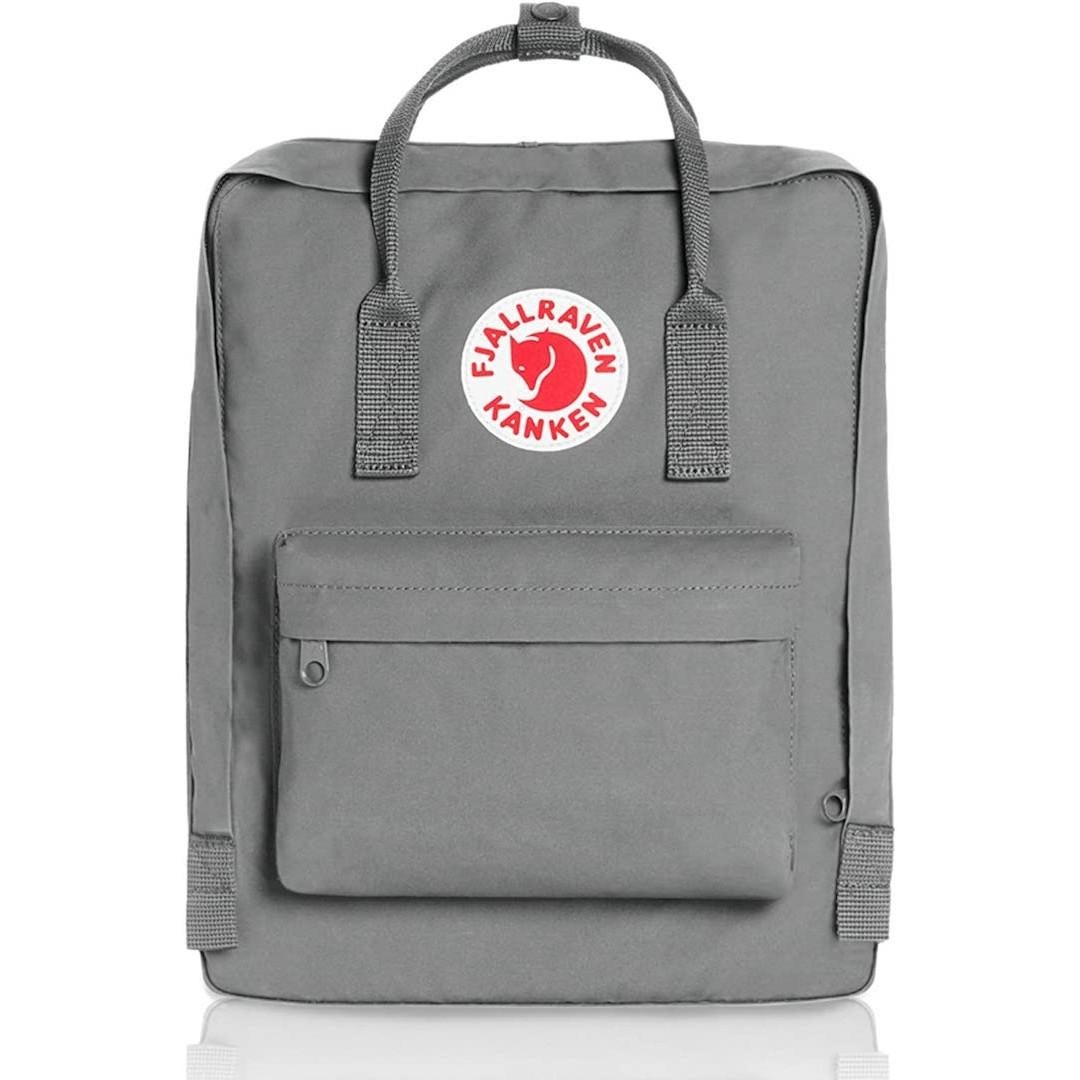 Fjallraven
When you're traveling, a sturdy, roomy backpack doubles as an essential carry-on and carry-on. This backpack is 16-inches tall — big enough for most laptops, tablets, and any other personal items. The zippers are covered by thick, water-resistant flaps, making it much harder for water — and pickpockets — to enter.
The Fjallraven Kanken Backpack is available on Amazon in 39 colorways (prices vary), so it's easy to find one that matches your style.
Fjallraven Kanken Classic Backpack, $66 (reduced from $80)
Garment Compression Bag: $15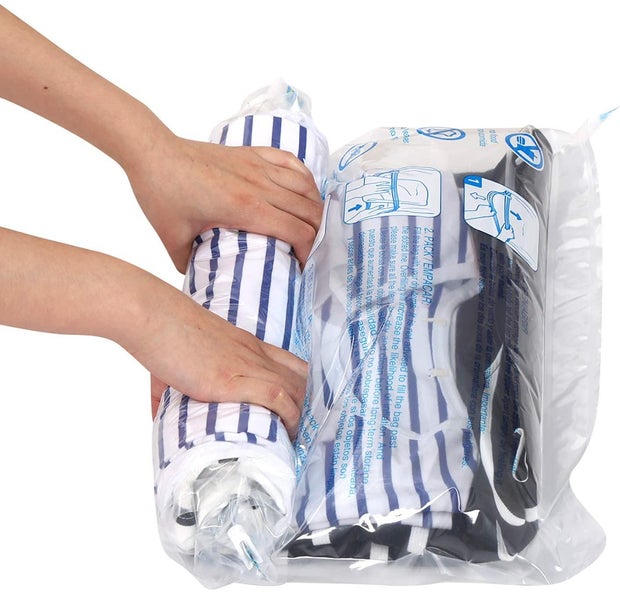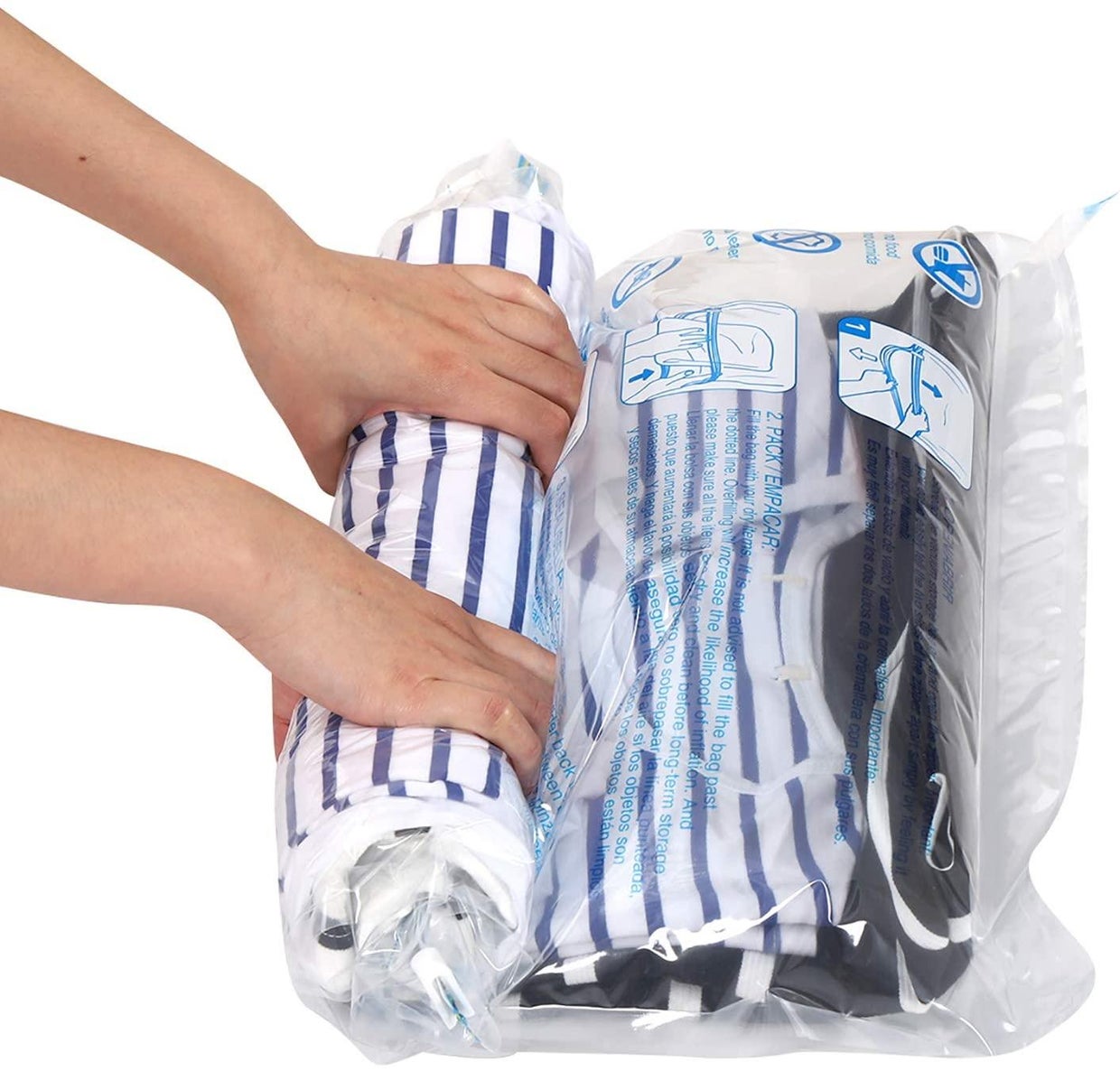 hibag
This pack of travel bags includes six medium- and six large-sized compression bags. The bags are designed so that you can save up to 80% space in your carry-on or checked luggage. Fill a bag with clothes, seal the bag with a zipper, and then gently roll the bag to compress the packed clothes.
Garment Compression Bag (12 pack), $15 after coupon (reduced from $30)
Cabeau Evolution Cool Travel Pillow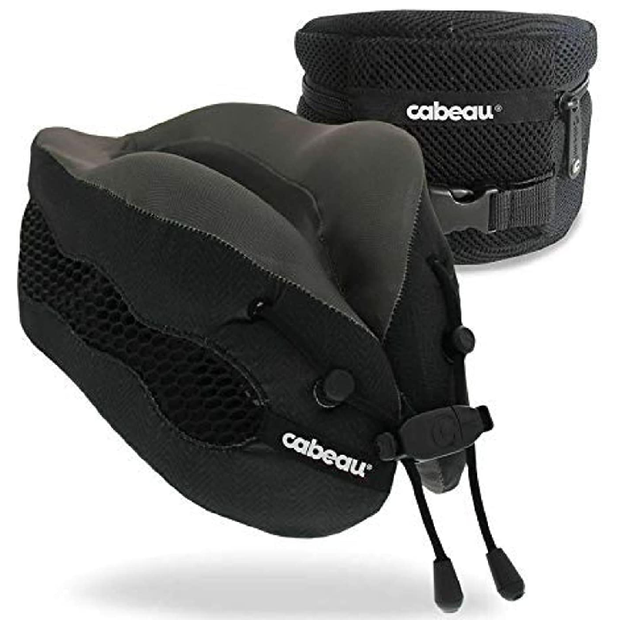 the amazon
Travel in comfort with this premium travel pillow from Cabeau. With dual-density memory foam, this Cabeau Evolution offers the perfect balance between support and comfort. The pillow also has a cooling design with side vents that allow heat to escape — making it perfect for summer travel.
Cabeau Evolution Cooling Travel Pillow, $60 (reduced from $80)
More top-rated luggage options
Are the above suitcases not right for you? No worries — your friends at CBS Essentials have compiled several luggage roundups designed to help you buy your next bag or suitcase. Check out our luggage coverage here:
Kailyn McKenna