Nashville authorities released the 911 call Thursday that captured the terror inside an elementary school Attack this week It killed three children and three adults as callers pleaded for help in hushed voices over sirens, cries and gunshots.
Police have released recordings of three calls made during Monday's attack at The Covenant School.
In one, a man tells the dispatcher that he is with a group of people, including several children, who are walking toward a main road from a Christian school. Although the man remains calm, the tension and confusion of the situation is palpable, with several adults talking to each other and children's voices in the background.
When the dispatcher requests a description of the shooter, the caller asks a second person to come on the line.
"I just saw a guy shooting through the door with an assault rifle. It was — he's currently in the second-grade hallway, upstairs," said the second man, noting the assailant was dressed in camouflage and wearing a vest.
When asked how many shots were fired, one woman responded, "I heard about 10 shots and I left the building."
Another caller told a dispatcher that he heard gunshots as he hid in a closet in an art classroom.
"It sounds like someone's shooting a gun," the caller said in the recording, which began just before 10:13 a.m., then noted that there was a pause between the gunshots.
The dispatcher asked if he was in a safe place and said two other callers reported a school shooting.
"I think so," said the caller, as children could be heard talking in the background.
The teacher then said he heard more gunshots and that there was commotion on the recording.
"I hear more shots," the caller said. "Please hurry."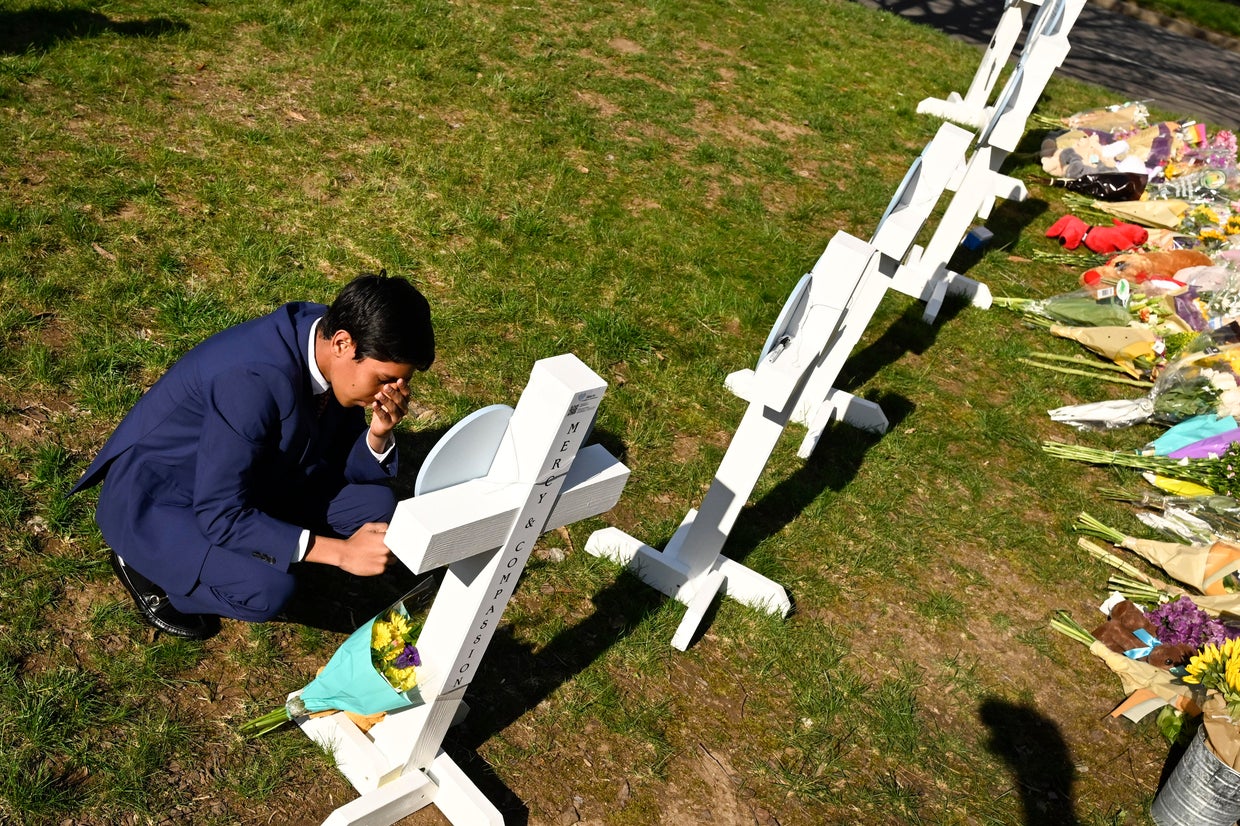 Alexander Reddy, 17, kneels at a cross and prays as he enters Covenant School on March 28, 2023, in Nashville, Tenn.
AP Photo/John Amis
A third caller said he was in a room on the second floor and asked the dispatcher to send help.
"I think there's a shooter in our church," he added later: "I'm in a room on the second floor. I think the gunman is on the second floor."
According to Nashville Mayor John Cooper, officers took down the gunman within 14 minutes of receiving reports of a shooting at the school. He said that 'many lives' were saved by quick response " said CBS Mornings"
Three adults and three 9-year-old children were killed in the attack. Authorities say police shot and killed the assailant, a former student they identified as 28-year-old Audrey Hale.
The recording came as a revelation People protested at the Tennessee Capitol In favor of stricter gun control, the Republican-led legislature to take action after school shootings.
"Save our children!" As chants echoed in the hallways between the state Senate and House chambers, protesters set up shop inside and outside the Capitol. Some silently filled the gallery of the Senate chamber, including children who held signs reading "I am nine" – a reference to the age of the children who died. Most of the protesters were removed from the gallery after some began shouting at the lawmakers, "The children are dead!"
The protest followed a candlelight vigil Wednesday night in Nashville where Republican lawmakers stood alongside First Lady Jill Biden, Democratic lawmakers and musicians including Sheryl Crow, who have called for stricter gun control since the attack.
The vigil was somber and at times tearful, with speaker after speaker reading the names of the victims and offering condolences to their loved ones but refraining from any statements that could be seen as political.
"Just two days ago we had the worst day in town," Cooper said. "I wish we weren't here, but we need to be here."
Police said the gunman entered the school early Monday morning, shot through a glass door, and began shooting indiscriminately. The gunman was later shot dead by the police.
Among the victims were three students, Evelyn Dickhouse, Haley Scruggs and William Kinney; Kathryn Koons, 60, head of school; substitute teacher Cynthia Peek, 61; and Mike Hill, a 61-year-old parent.
Absent from Wednesday's vigil was Tennessee's Republican governor, Bill Lee, who has been an advocate for less restrictive gun laws with greater school safety and once said prayer could protect Tennessee from school shootings and other things.
Lee issued a video statement Tuesday, saying Peek was a close friend of his wife, Maria, and the two planned to meet for dinner on Monday.
"Maria woke up this morning without one of her best friends," Lee said in a video statement, adding that his wife once taught with Pick and Koons. He said the women have been family friends for decades.
Lee avoided public appearances this week and did not offer any possible steps his administration might take in response to the school shooting.
As with similar responses to gun violence, state Republican leaders have avoided calls for stricter gun restrictions and instead thrown their support behind adding more school safety measures.
In a letter to Lee, Republican Lt. Gov. Randy McNally called for window and glass security in school buildings, magnetic locks on doors, modernized camera systems and increased armed guards.
"While these changes will come at a cost, I believe it is important for us to discuss how to enhance and modernize safety in Tennessee's schools," McNally wrote.
In addition to improving school safety systems, McNally told reporters Thursday that he favors red flag laws like Florida's.
Meanwhile, Tennessee's US senators, Republicans Marsha Blackburn and Bill Haggerty, are pushing for legislation that would create a $900 million grant program to "harden" schools and hire security officers.
Blackburn and Hagerty said Thursday they will introduce the SAFE Schools Act, which would help public and private schools train military veterans and former law enforcement officers to provide safety. They said the donations could also be used to strengthen physical security measures. Blackburn introduced similar legislation in the last Congress, but it failed to gain support.
Metropolitan Nashville Police Chief John Drake did not say what police believe the shooter's motive was, only noting that the assailant did not target specific victims and had "some distaste for going to that school."
Firearms recently became the number one cause of death for children and teenagers in the United States, surpassing motor vehicle deaths and deaths from other injuries, according to analysis by KFF, a nonprofit that provides health policy analysis and journalism.
Since the Columbine High School massacre in 1999, 175 people have died in 15 mass shootings involving U.S. schools and colleges, according to a database compiled by The Associated Press, USA Today and Northeastern University.
Trending news