Heavy rain caused pools of standing water across Augusta National to halt play at the Masters on Saturday, and Brooks Koepka and the rest of the field will have a long Sunday slog to decide who wears the green jacket.
Many players returned to the course early to finish the second round, which Friday was adjourned When a storm passes through the area. It caused three towering pine trees to fall — no one was injured — and workers made sure there was little evidence that even happened by the time patrons returned to the course.
Crushed chairs and other debris were cleared away, and all that remained were three 10-by-10-foot areas near the 16th green and 17th tee that were roped off. Some wood chips were scattered where the workers had cut the pine, and two areas were covered with green gravel and another with pine straw.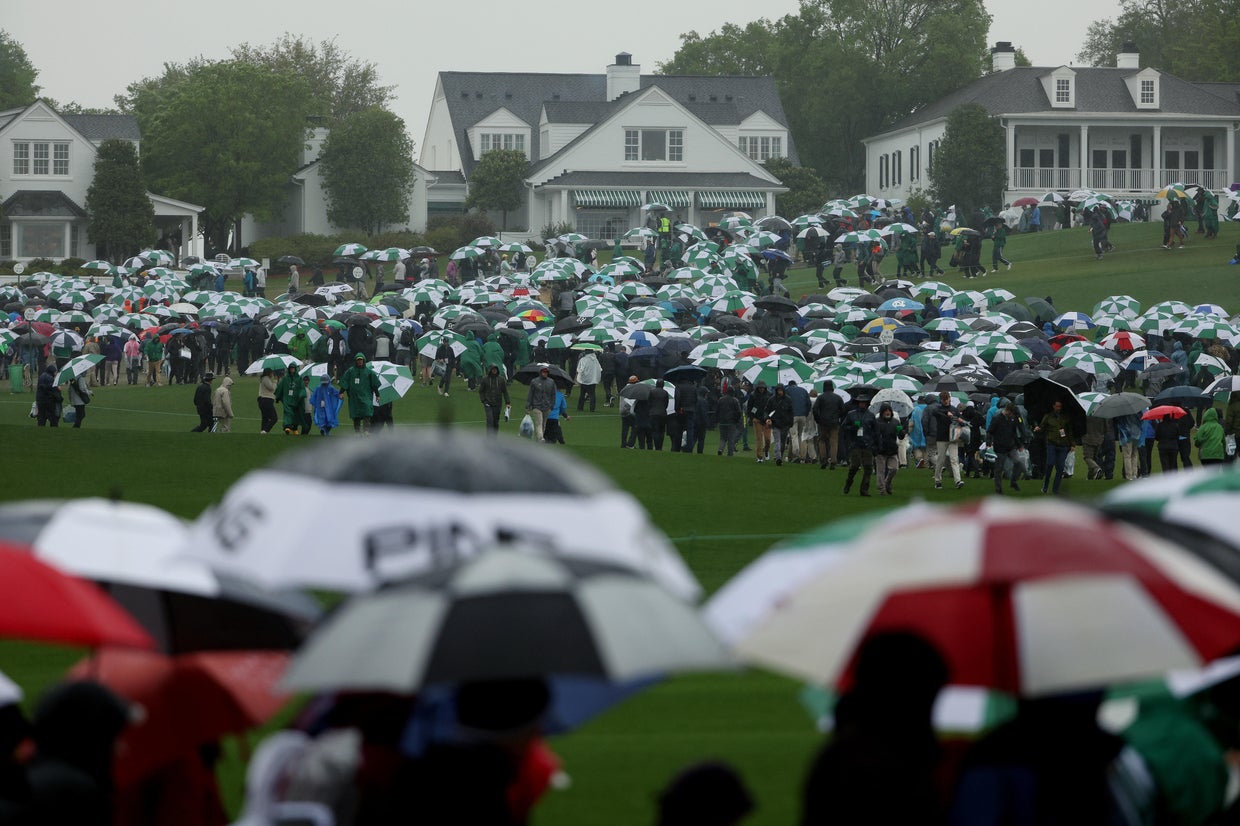 Patrons evacuate the field after weather suspended play for the day during the third round of the Masters Tournament at Augusta National Golf Club on April 8, 2023 in Augusta, Georgia.
Getty Images
Sergio Garcia teed off on the 17th as he finished his second round, and the 2017 champion tried to crane his head over the patrons to see where the trees stood in the direction of his shot. Several workers around the area were still discussing what happened, and one called it "a miracle" that no one was injured or killed.
"I was standing on the right side, which is around 17, lining up my putt on 16 in the back right bunker," said 1987 champion Larry Mize. "Then all of a sudden, I heard it, and I looked around and I saw the trees.
"I'm thinking, 'Oh, my God, people, get out of there,'" Mize said. "Thank God no one was hurt."
Heavy rain returned early in the third round, forcing play to be suspended. The forecast looks even drier for Sunday, when that round ends before the field plays its final round.
"It is," said Fred Cupples, 63. "Am I going to be thrilled to play 18 holes this afternoon? No, I'm a wimp. I'm an old wimp. But I'm excited to play."
It appeared that Couples had played just nine, three holes more than Koepka, who was 13 under and had a four-shot lead.
On Friday, the course was cleared once for 21 minutes by the initial band of storms. At 4:22 p.m. the air horn sounded again as another set arrived, forcing patrons to evacuate and players and officials to scramble for cover.
Just before the second horn, three giant pines slowly fell near the 17th tee, sending about 50 people scattering beneath them. On the nearby 16th green, Harrison saw a crow tree fall and began to backpedal in surprise, while on the 15th green, Garcia stopped and stared at what seemed to be happening in slow motion.
"We were cresting the fairway on 15. We thought it was a scoreboard or a grandstand," said Sahit Thegala, who is playing in his first Masters. "We were hoping it wasn't something that didn't hurt anybody."
The uprooted pines fell slowly, and two of them served as supports for the third, and this gave time to the patrons below to get out of the way. But the close call was evidenced by several crushed chairs under fallen trees.
"I was talking to my friends next to me and all of a sudden we heard a crack," said Katie Waits, who was competing in the second round from Charleston, South Carolina. "And there were three trees on the other side of the pond, and all of a sudden we saw them fall and everybody – it was just like ants. They were, just like ants scattered from the bottom. All three fell at the same time. And then I just held my friends' hands and we were , 'Is everyone okay?' And it was silent."
Waits said he saw a woman standing between two fallen trees and heard a man crawl out from under some limbs. Like the workers Saturday, Waits called it an "absolute miracle" that no one was injured.
"The safety and well-being of everyone participating in the Masters Tournament will always be a top priority," Augusta National said in a statement. "We will continue to monitor the weather closely today and through the tournament."
Trending news