California Gov. Gavin Newsom announced Saturday that the state has launched a 10-year partnership with a drugmaker to make insulin at a significantly lower cost to its residents.
The state plans to sell insulin for $30 for a 10-milliliter vial, Newsom said at a news conference near Los Angeles on Saturday. The insulin will be manufactured by Civica Rx, a non-profit pharmaceutical company. The product isn't expected on store shelves until at least next year.
"Thank you for being willing to disrupt the market," Newsom said. "Thank you for being willing to save lives without fear of failure, but more importantly your motivation without money."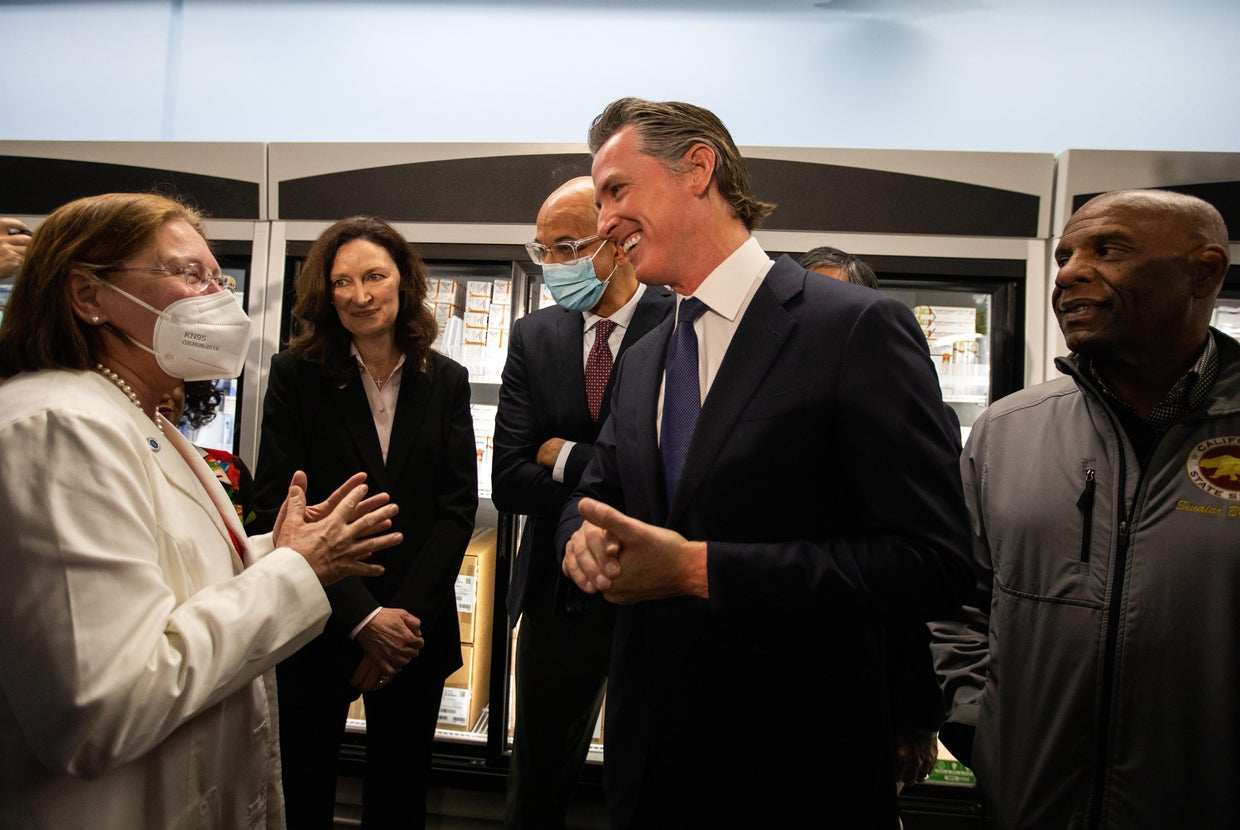 Dr. Tanya Spirtos, MD, president-elect of the California Medical Association, left, speaks briefly with California Governor Gavin Newsom after a press conference in Downey, California. Newsom announced that the state has entered into a partnership with a company to produce affordable insulin. March 18, 2023.
Los Angeles Times via Francine Orr/Getty Images
In July 2022, Newsom announced that he had approved a budget that allocated $100 million California to make its own insulin.
Many questions remain, however. The state and Civica have yet to locate a California-based manufacturing facility. Regulatory approval will be required. It is possible that competitors may lower their prices and undercut state products.
This comes after several major insulin manufacturers recently announced that they too would be cutting prices. Eli Lilly And Novo Nordisk This month they will reduce insulin prices by up to 70% and 75% respectively.
Eli Lilly said it would automatically cap out-of-pocket insulin costs at $35 for uninsured people and expand its Insulin Value program.
Anthony Wright, executive director of Health Access California, a statewide consumer health care advocacy group, welcomed Newsom's announcement, saying efforts by California and others to develop competing generics could be a reason for insulin makers to lower their prices.
Still there are obstacles.
"Developing a generic, getting FDA approval and setting up manufacturing will take real time," Wright said in an email. "Physicians can spend more time trying to prescribe the drug, insurers and (pharmacy benefit managers) to include it on their formularies and to get patients and the public to take it and ask for it."
There may be other risks. State analysts warn that California's entry into the market could prompt other manufacturers to reduce the availability of their drugs, a potentially unintended consequence.
Even with the challenges of entering a competitive, established market, Newsom said taxpayers would have "very substantial protections."
If for some reason the deal doesn't work out to the state's advantage, "there are all kinds of provisions that allow us to … withdraw," he said.
The proposed program could save many patients between $2,000 and $4,000 a year, according to state documents. Additionally, lower costs can result in substantial savings as the state buys products for millions of people each year in its publicly funded health plans.
Just days ago, President Biden said his administration was "intensely" focused on reducing healthcare costs, including pressuring pharmaceutical companies to cut insulin costs. Legislation last year made insulin available for Medicare beneficiaries at $35 per month. Biden has proposed expanding that cap to all Americans.
The state of California is also exploring the possibility of bringing other drugs to market, including the overdose drug naloxone. The drug, available as a nasal spray and in an injectable form, is considered a key tool in the fight against the nationwide overdose crisis.
"We're not stopping here," Newsom said.
Trending news