Cairo – a fragile Ceasefire in Sudan The capital Khartoum and the neighboring city of Omdurman appeared to be holding on Friday morning despite loud explosions and gunfire echoing across the city. But the shaky ceasefire between Sudan's two top generals, whose gruesome power struggle has left more than 500 people dead, has not been nearly enough to stem an influx of Sudanese and foreign nationals – desperate to flee the country.
Hundreds of American citizens are believed to be trapped in Sudan, and the US government has not announced plans for evacuation flights or other efforts to bring those people to safety, as European and other countries have been doing all week.
The danger of such an evacuation operation amid chaos in Sudan was made clear on Friday as Turkey said one of its planes was hit by gunfire outside the capital, although no casualties were reported.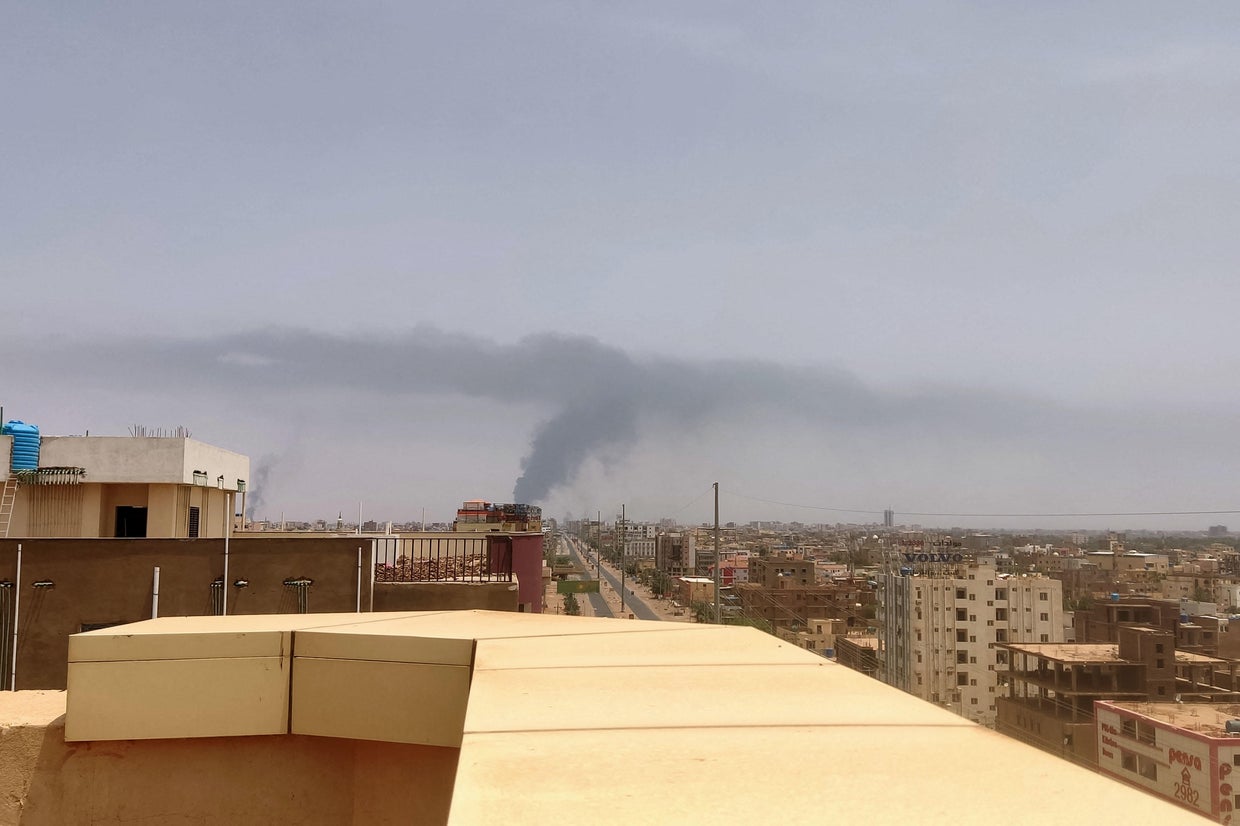 Smoke rises on the horizon in an area east of Khartoum, Sudan, as fighting continues between the Sudanese army and paramilitary forces despite a fragile ceasefire, April 28, 2023.
AFP/Getty
Reports of fresh violence on Friday came just hours after both sides said they had agreed to a 72-hour extension to a ceasefire that expired on Thursday evening. The warring generals appeared to be interrupting their battle for control of the East African state as other countries tried to evacuate their own civilians.
But Sudan's own people have even fewer options. Thousands of people have flocked to Sudan's border, including its northern border with Egypt, hoping to escape. Egyptian authorities said Thursday that 16,000 non-Egyptians had entered the country from Sudan in just a few days and that more than 5,300 Egyptian citizens had been evacuated.
But thousands of civilians are stuck at the Egyptian-Sudanese border crossing in what CBS News described as horrific.
A Sudanese university student who crossed the border into Egypt on Wednesday told CBS News that the situation when she left Khartoum was "terrible."
"We couldn't sleep, and all we heard were gunshots and planes. There was no water, no electricity and we were just trying to survive," said the woman, who requested anonymity. He said that when he finally arrived at the Egyptian border, after a very long bus ride, thousands of people were already waiting there.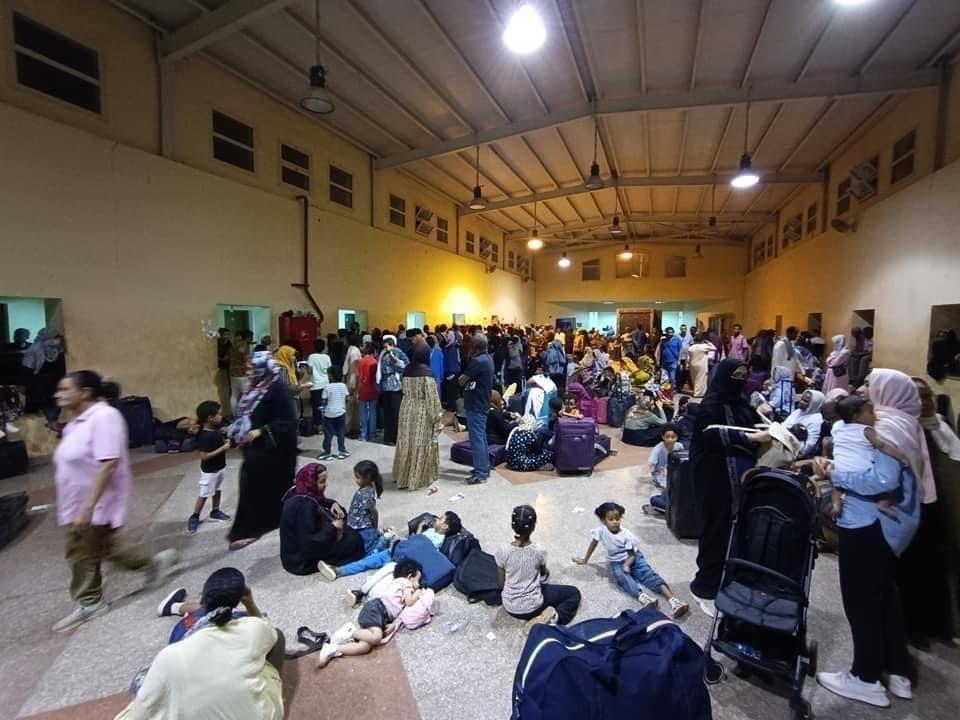 Sudanese nationals are seen in a holding area on the Egyptian side of the Arjen border crossing with Sudan, in a photo provided to CBS News by a Sudanese student fleeing violence in his country, on April 24, 2023.
CBS News
"People were sleeping on the ground and children were crying," he said. "There was a shortage of food and water and no bathrooms that people could actually use."
Sudanese women or children in Egypt do not require a visa to enter the country, but men over the age of 50 do require documentation. This means that some families are forced to be separated as the men wait for visas.
Ebtihal al-Niyamah told CBS News that she finally arrived in Cairo with her children on Friday, but her brother was forced to stay behind.
"We were traveling together, me and my kids and my brother and other relatives, mostly women," he said. "My brother couldn't enter with us because he didn't have a visa. Even after he told them, 'I'm with my sister and she has a baby' and he's helping me."
He said it was difficult to keep in touch with his brother now because the war had cut off electricity in many parts of Sudan, leaving people unable to charge their phones.
It is not clear who is being granted visas or visa exemptions to enter Egypt, and people in Sudan say information is increasingly difficult to obtain. At first, Egyptian authorities appeared to be making many concessions, which encouraged more people to cross the border, but as crowds swelled after more than a week of violence in Sudan, Al-Niyamah said little reliable information was available.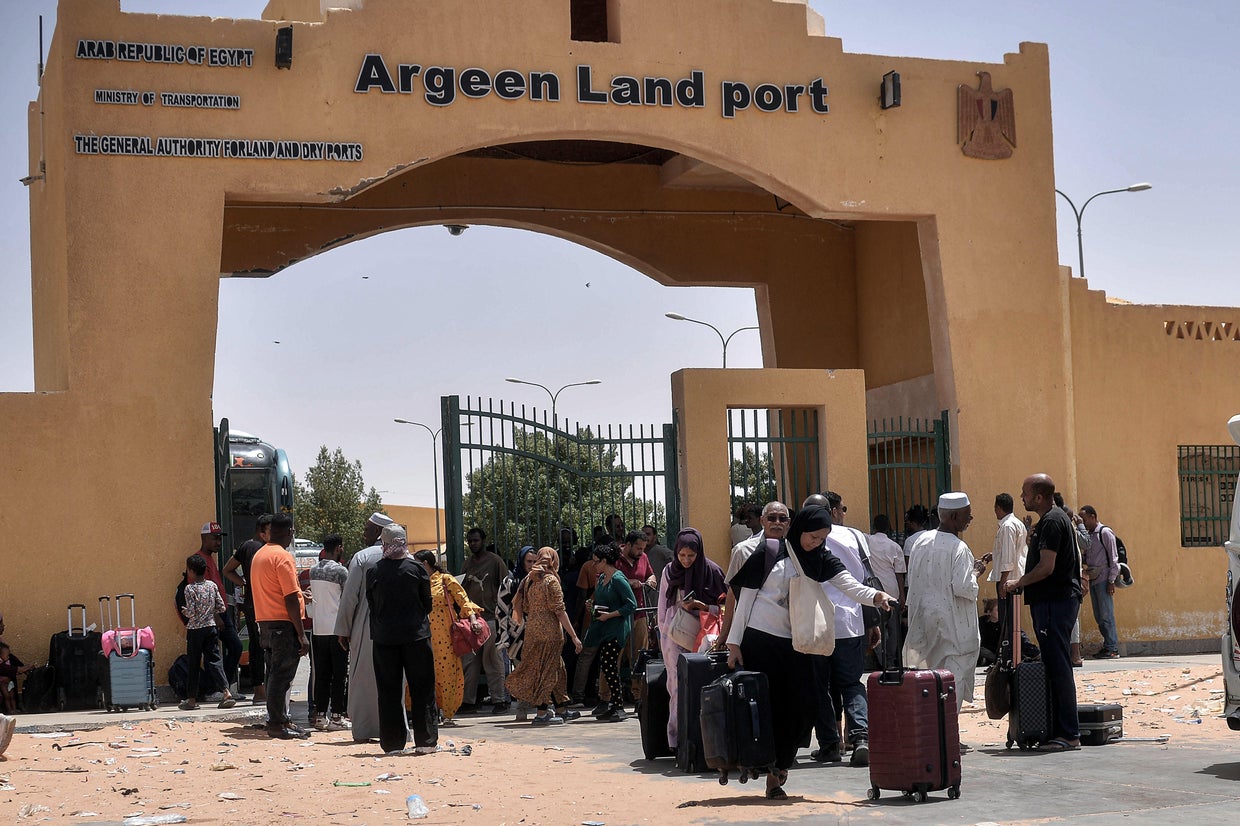 Sudanese refugees enter Egypt through the Argen border crossing to escape conflict in their home country on April 27, 2023.
STR/Image alliance via Getty
The student who crossed the border Wednesday told CBS News that he saw some Sudanese civilians crossing the border into Egypt and then realized they didn't know what to do next.
"Some don't have money to get on the train, no food or water. They're scared, and they have to leave Sudan, but they don't have a plan of what to do," he said.
After safely entering Egypt, he joined other people in the southern Egyptian city of Aswan, about 100 miles north of the border, collecting donations to buy food, water and medicine to help other new arrivals.
Mahmoud Mahdi, a representative of the Sudanese American Physicians Association who left his country last month and spoke to CBS News in the Egyptian capital Cairo on Friday, said the priority for his organization and others trying to help is the people stuck at the two border crossings. nations
The two crossings at Wadi Halfa and Arjen are very different. Wadi Halfa is a town, and local residents have opened their homes and schools to accommodate the influx of refugees. But Mahdi said the situation was worse in Arjen, located in the desert and far from the nearest Sudanese city.
Mahdi said an estimated 20,000 to 25,000 people were trapped at the two border crossings.
"We are trying to coordinate with the Egyptian Red Crescent, but they are telling us that the government is not giving them the necessary permits to allow them to cross the border," he said.
Mahdi, a doctor himself, said his organization is also trying to work with local Egyptian humanitarian agencies, as it might make it easier for them to get the necessary permits to distribute aid across the border.
Some Sudanese civilians still in the country have taken it upon themselves to try to help those stranded at the crossing.
Dr. Abir Dirar told CBS News that he heard about the dire situation in Argen, including reports that two people had died there, and decided to do what he could.
He told CBS News he spent Thursday morning with a few friends shopping for supplies and making sandwiches for those stuck on the Sudanese side of the desert crossing point.
Trending news