The Biden administration is making it clear in advance that an expected unofficial stopover in the United States by Taiwanese President Tsai Ing-wen would follow recent precedent and should not be used as a pretext for action by Beijing. Offensive activity in the Taiwan Strait.
In recent weeks, senior U.S. officials in Washington and Beijing have emphasized to their Chinese counterparts that transit visits through the United States during Taiwan's president's extensive international travels have become routine in recent years, according to a senior administration official. The official spoke on condition of anonymity to discuss the sensitive matter.
But Reuters news agency reported that China's foreign ministry on Tuesday condemned the possible visit, with spokesman Wang Wenbin saying Beijing had already made "firm representations" to Washington.
"We once again warn the Taiwan authorities that there is no way for Taiwan's independence, and any illusions about trying to collude with external powers to seek independence and provocations will fail," Reuters quoted Wang as saying.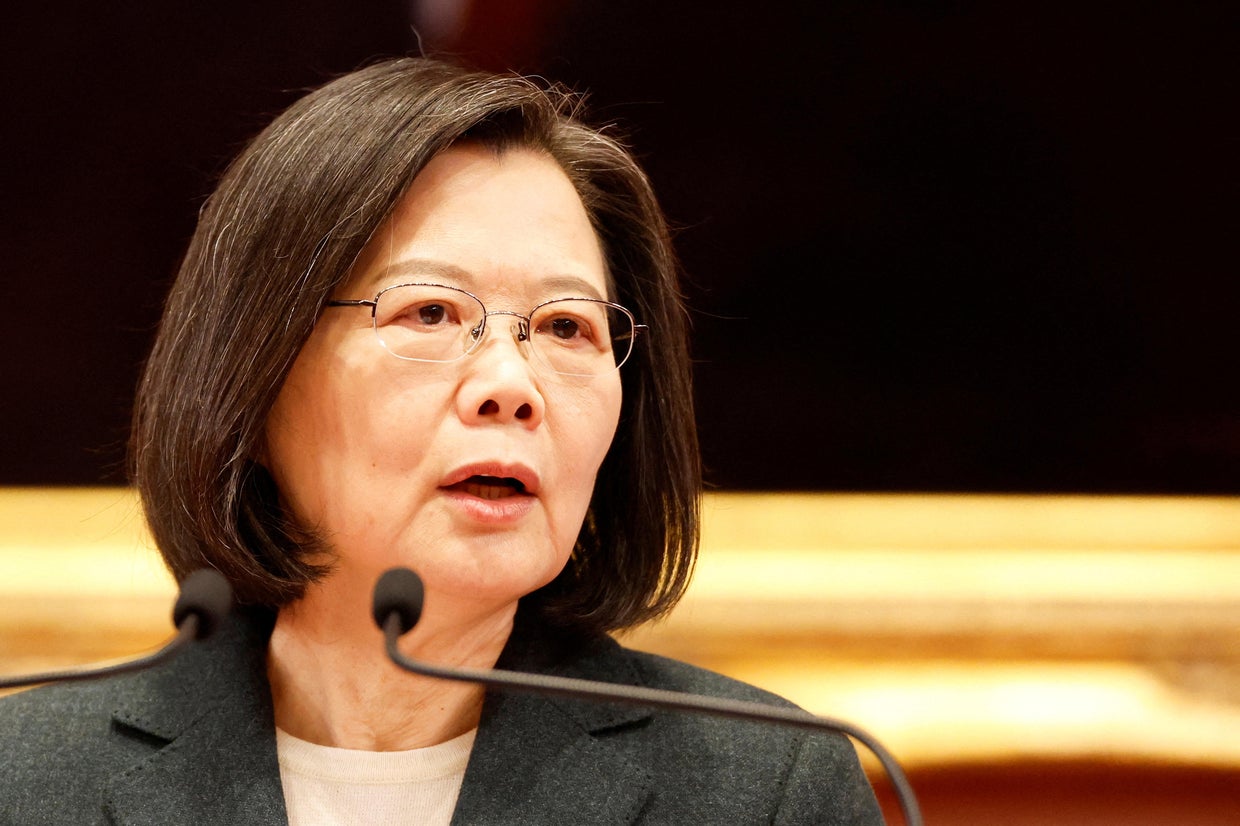 Taiwan President Tsai Ing-wen speaks at a news conference on January 27, 2023 in Taipei, Taiwan.
Carlos Garcia Rollins / Reuters
On such visits in recent years, Tsai has met with members of Congress and the Taiwanese diaspora, and has been welcomed by the chairperson of the American Institute on Taiwan, a US government-run nonprofit that maintains informal ties with Taiwan.
Tsai transited through the United States six times between 2016 and 2019 before slowing international travel. The covid-19 pandemic. In response to the visit, China launched rhetorical attacks against China and Taiwan.
The Biden administration is trying to avoid a repeat of China's heavy-handed response that followed then-House Speaker Nancy Pelosi, D-Calif., visited Taiwan last year.
After Pelosi's August visit, Beijing fired missiles at Taiwan, deployed warships across the middle line of the Taiwan Strait and conducted military exercises near the island. Beijing has suspended climate talks with the United States and limited military-to-military communications with the Pentagon.
Beijing sees formal American contact with Taiwan as an encouragement to perpetuate the island's decades-old de facto independence, a step US leaders say they do not support. Pelosi is the highest elected American official to visit the island since Speaker Newt Gingrich in 1997. Under the "One China" policy, the United States recognizes Beijing as the government of China and maintains no diplomatic relations with Taiwan. Taipei is an important partner in the Indo-Pacific.
US officials are increasingly concerned about China's long-term goal of integrating Taiwan with the mainland and the possibility of war against Taiwan. The self-governing island democracy is claimed by Beijing as part of its territory. The Taiwan Relations Act of 1979, which regulated U.S. relations with the island, created American policy to ensure that the U.S. would not have to take military action if China attacked, but that Taiwan had the resources to defend itself and prevent unilateral status changes. by Beijing.
The strained US-China relationship has become more complicated since Pelosi's visit.
Last month, President Biden said A Chinese spy ordered the balloon to be shot out of the sky After it crosses the continental United States. And the Biden administration has said in recent weeks that U.S. intelligence findings show that China is sending arms to Russia for its ongoing arsenal. War in Ukraine But there is no evidence that Beijing has decided to supply Moscow.
The Biden administration has suspended Secretary of State Anthony Blinken's planned visit to Beijing after the balloon controversy but has indicated it wants to get the trip back on track.
The White House also said Monday that officials are discussing possible visits to China by Treasury Secretary Janet Yellen and Commerce Secretary Gina Raimondo on economic issues. Mr. Biden also said he hopes to have a call with China's Xi Jinping soon.
"Keeping the lines of communication open" is still valuable, said John Kirby, a spokesman for the White House National Security Council.
President Vladimir Putin and Xi See you in Moscow on Monday And Tuesday, the first face-to-face meeting between the allies since Russia launched its offensive more than a year ago.
Taiwan's government said earlier this month that Tsai plans to make stops in New York and Southern California during an upcoming larger international tour.
Reuters Presidential Office spokeswoman Lin Yu-chan told reporters he would transit through New York and Los Angeles as part of a trip to Guatemala and Belize, leaving Taipei on March 29 and returning on April 7.
House Speaker Kevin McCarthy, a California Republican, said he would meet with Tsai when he is in the United States and did not rule out a trip to Taiwan in a show of support. But Reuters says Taipei will not confirm McCarthy's meeting.
Trending news