LONDON – A song that used artificial intelligence to clone the vocals of A-list musicians Drake and The Weeknd was pulled from social media and music streaming platforms on Tuesday after a backlash from giant Universal Music Group, which said the song violated copyright laws.
The AI-generated song, "Heart on My Sleeve," went viral over the weekend, garnering more than 8.5 million views on TikTok before being pulled from the platform on Tuesday. The song, which the artists never actually sang, was also taken down by many YouTube channels, although versions were still available on both platforms.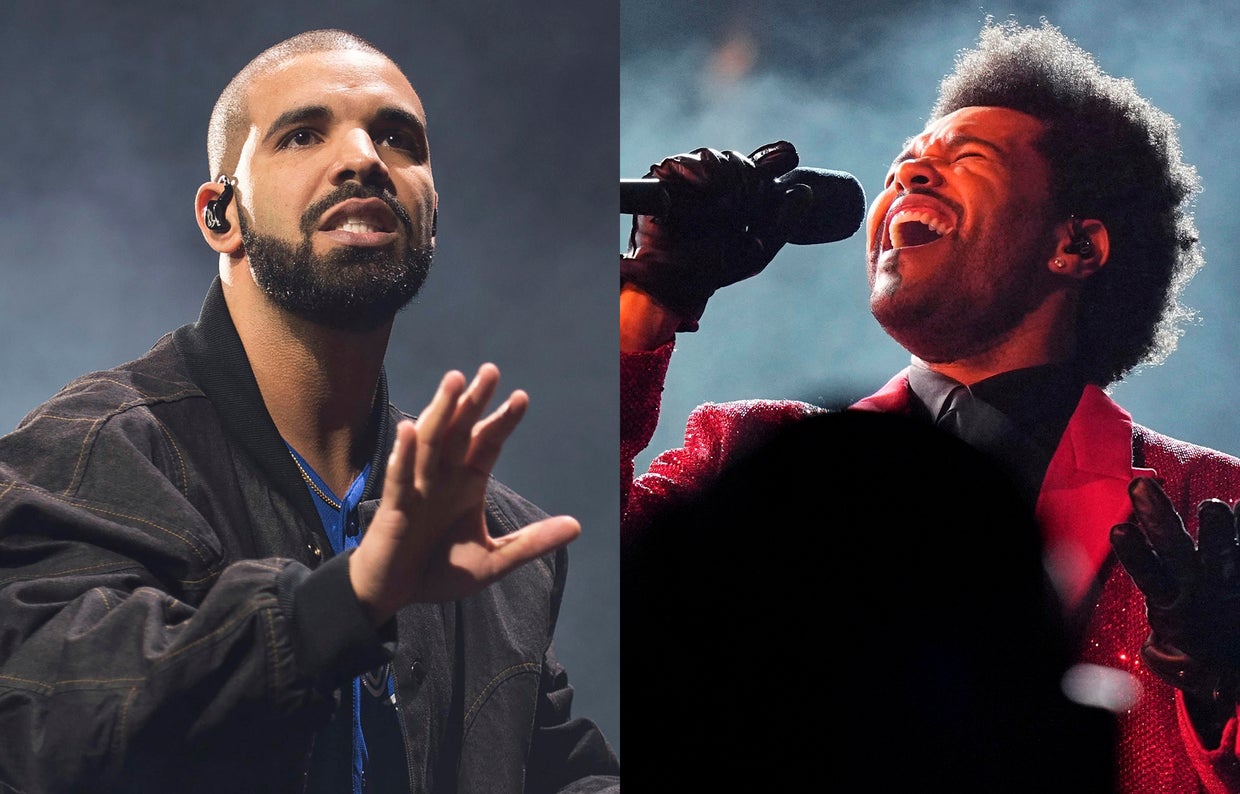 Drake, left, performs on stage in Toronto on Oct. 8, 2016, and The Weeknd performs during the halftime show at the NFL Super Bowl 55 football game on Feb. 7, 2021, in Tampa, Fla.
Ap
The full version was played 254,000 times on Spotify before being yanked by the leading music streaming platform.
Universal Music Group, which publishes the music of both Drake and The Weeknd, quoted the BBC as saying that digital platforms have a "legal and ethical responsibility" to prevent the use of services that harm artists.
The song's creator, identified only by the handle "@ghostwriter", claimed on their now-deleted YouTube account that the track was created using AI software trained on musicians' voices from existing video clips.
"I think that's part of what makes it difficult for the untrained ear to distinguish between these AI-generated and non-AI-generated melodies," music journalist Hattie Lindert told CBS News on Tuesday. "It's pretty convincing when there are so many Drake tracks that the AI ​​can train from."
Google CEO: AI impact more profound than invention of fire, electricity
06:02
Neither artist has publicly responded to the song, but Drake has previously criticized the use of artificial intelligence to clone his voice.
"This is the final straw, AI," he said in a now-deleted post on Instagram after watching a fan-made AI-generated video in which he was rapping.
The latest AI controversy comes after the launch of Google's Bird AI software last month as tech giants Microsoft and Google face off to develop competing AI-powered "chatbot" technology.
"AI will create its own problems. Could Hemingway write better short stories? Maybe. But Bird could write a million before Hemingway finished one," Google senior vice president James Manica told "60 Minutes" correspondent Scott Pell in an interview. Aired on Sunday. "Imagine that level of automation across the entire economy."
Trending news