The Four people were killed The Mexican resort of Cancun was possibly related to drug gang rivalry, authorities said Tuesday.
The Caribbean coastal state of Quintana Roo said drug gang leader Hector Flores Aceves, nicknamed "Pantera" or "The Panther," was involved in the killings.
The bodies were found in the city's hotel zone near the beach on Monday. The killings occurred as Cancun began its Easter week holiday, one of the busiest times of the year.
The state offered a $50,000 reward for Flores Aceves on Tuesday, saying he was involved in the murder. But in May 2022, it was the same reward for his arrest after a series of attacks and murders in bars in Cancun. Officials said Flores Aceves is also known by the nicknames "El 15" and "Ray" ("King").
#FGEQuintanaRoo offers 1 million pesos prize, Héctor Elías Flores Aceves aka…
Posted by Quintana Roo State Attorney General's Office on Monday, April 3, 2023
In 2022, Quintana Roo's then-police chief, Lucio Hernandez, said Flores Aceves and a member of a rival Sinaloa cartel involved in bar attacks, which split into the state. On May 6, 2022, two people were killed and eight injured in shootings at two bars in Cancun.
At the time, Hernandez said the two were "trying to control what they call the 'marketplace' to carry out their criminal activities."
He said the gangs' activities include drug dealing, kidnapping and extorting "protection money" from businessmen, threatening to attack or kill them if they don't pay.
Information provided Tuesday did not provide further details about the motive for the latest killing, in which two suspects were detained. But gangs in Mexico often stake out exclusive areas where only they can sell drugs to tourists and kill anyone selling drugs for rival gangs.
Photos released by Reuters show local police, the Mexican National Guard and a car belonging to the attorney general's office at the Fiesta Americana hotel.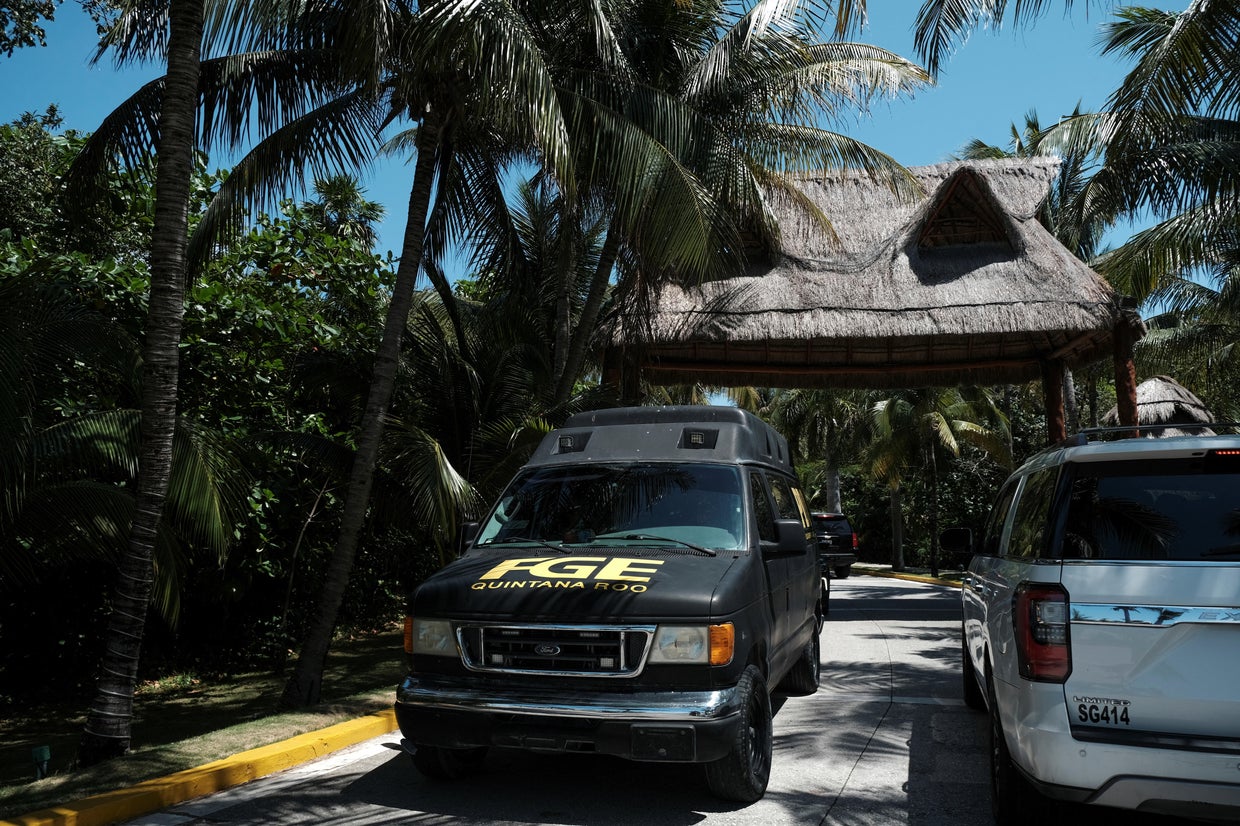 An Attorney General's Office vehicle leaves the Fiesta Americana Hotel after people were shot dead near the hotel's beach, in Cancun, Mexico, April 3, 2023, according to local media.
Paula Chiomante / Reuters
This is less than a week after Monday's murder The American tourist was shot in the leg In the nearby town of Puerto Morelos. Its motive is under investigation.
US State Department A travel warning has been issued Mexico's Caribbean beach resorts such as Cancun, Playa del Carmen and Tulum, which have been plagued by drug gang violence in the past, warned travelers last month to "take extra precautions" especially after dark.
This warning came in view of this Kidnapping of four Americans in Mexico earlier this month. The State Department posted a "Level 4: Do Not Travel" advisory for Tamaulipas, the Mexican state where the Americans were when they were abducted.
There has been a series of violence along the Caribbean coast, the crown jewel of Mexico's tourism industry.
In June 2022, Two Canadians were killed in Playa del Carmen, apparently due to debt among international drug and arms trafficking rings. Last January, two other Canadians were killed and one wounded when a gunman opened fire at a resort near Cancun.
In March 2022, a British resident of Playa del Carmen was shot dead in broad daylight while traveling in his car with his daughter.
In October 2021, further south in the quiet destination of Tulum, two tourists – one California travel blogger The Indian-born and other Germans – were killed when they were apparently caught in the crossfire of a gunfight between rival drug dealers.
The following month, two suspected drug dealers were killed in a shootout that sent swimsuit-clad tourists fleeing in panic from a beach near Cancun.
AFP contributed to this report.
Trending news