Scientists at the Alaska Volcano Observatory are warning that Tanaga Volcano may erupt after recording an earthquake beneath the volcano's summit.
According to a post on the observatory's Facebook account, at 1:30 p.m. local time on March 8, seismic activity beneath the volcano, located on an uninhabited island, began to increase "gradually." By 8:45 that evening, activity increased. Two or three earthquakes were occurring every minute, the observatory said.
"We started having a lot of earthquakes happening every minute," John Power, a research geophysicist with the U.S. Geological Survey, or USGS, based in Anchorage, the observatory, told The Associated Press.
The earthquakes were all relatively small, with magnitudes of 2 to 3, the observatory said. Their position below the summit of the volcano poses a threat.
"This indicates that we are seeing significant instability in the volcano," Powers told The Associated Press.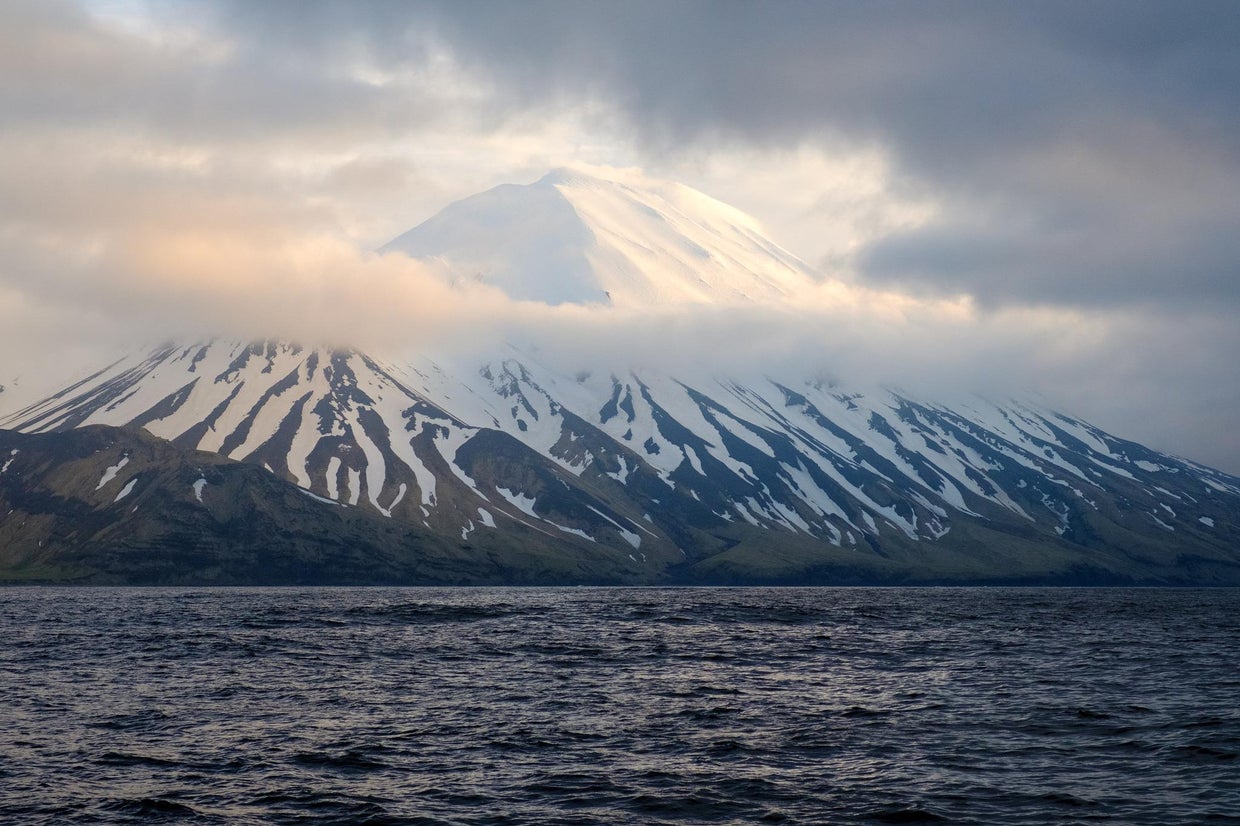 Tanaga Volcano.
Matt Loewen/Alaska Volcano Observatory
As a result, the volcano's alert level has been raised from "Normal" to "Advisory". It is the second of four levels used by the USGS, which is part of the US Department of the Interior. An advisory warning means that a volcano is "exhibiting signs of elevated volatility above known background levels," according to the USGS.
Power told The Associated Press that despite the increased threat level and increased seismicity, it is still too early to tell if an eruption is likely.
"But we are concerned enough about it that we have raised the alert level," he said.
The volcano, which is monitored with local seismic and infrasound networks, regional infrasound and lightning detection networks, and satellite data, is the tallest of the three volcanic edifices on Tanaga Island. The island in the Andrenof Archipelago is about 50 miles west of Adak and 1,260 miles southwest of Anchorage.
Tanaga last erupted in 1914, the observatory said on Facebook. Earlier, eruptions were reported in 1763, 1770, 1791 and 1829. The eruption appears to have produced blocky lava flows and occasional ash clouds, the observatory said, based on deposits on the volcano.
Power instead told The Associated Press Red river of lava Many people associate volcanic eruptions with more viscous, slow-moving lava of the type seen there. Mount St. Helens When it exploded in 1980. The biggest threat would be to aircraft, he said, because the islands are under the route that jets use to fly between North America and Asia.
Trending news