A fire ripped through a hostel in New Zealand's capital overnight, killing at least six people and forcing others to flee the four-story building in their pajamas in what a fire chief called his "worst nightmare" on Tuesday.
Fifty-two people were accounted for at Wellington's Loafers Lodge hostel, but firefighters were still searching for others, Wellington Fire and Emergency District Manager Nick Pite said. He said that they were called to the hostel around 12:30 pm
Authorities told local media that 11 people were still unaccounted for and that no water had been sprayed into the building.
Prime Minister Chris Hipkins told the AM Morning News program that he understood six people had been confirmed dead and that the death toll could rise. Police said they did not have an exact count of the dead, although they believed the total death toll was less than 10.
"This morning I went and thanked the fire and emergency crews who attended the tragic event at Loafers Lodge in Wellington. Along with our other first responders they did an amazing job in dire circumstances," Hipkins wrote on Instagram.
Hipkins said the building is currently not safe for police to enter and it may take some time for authorities to confirm the death toll.
"It's an absolute tragedy. It's a terrible situation," the prime minister told reporters. "In the fullness of time, of course, there will be many investigations into what happened and why it happened. But for now, the focus must clearly be on dealing with the situation."
Responding to emergency officials' comments that the building had no fire sprinklers, Hipkins said New Zealand's building code currently does not require older buildings to be retrofitted with sprinkler systems.
Loafers Lodge resident Tala Seeley told news outlet staff that she was surrounded by thick smoke and could feel the heat of the fire although could not see the flames.
"It smells like poison," he said.
Seeley said he jumped from a window to escape and sprained an ankle.
Other residents told reporters that fire alarms would go off regularly in the building, possibly from smokers or oversensitive smoke monitors, so many initially thought it was another false alarm.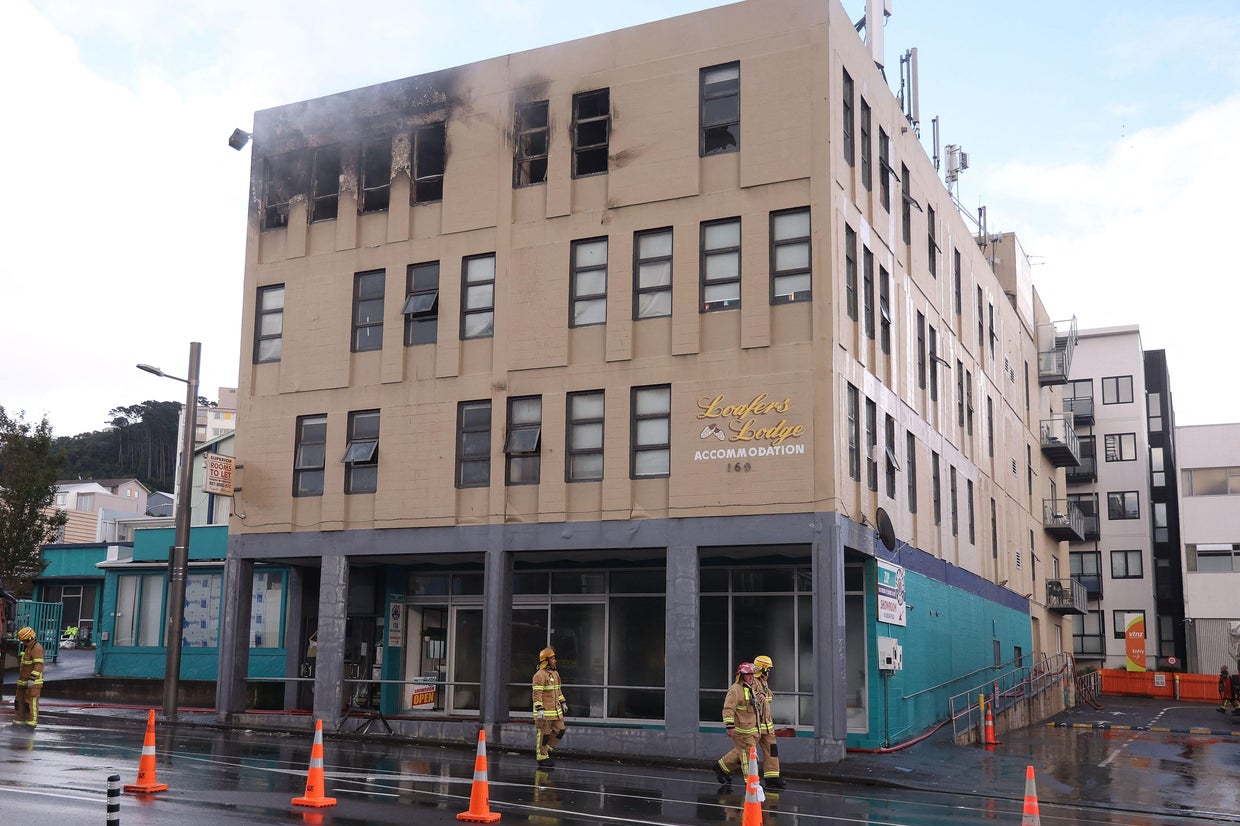 Damage to the Loafers Lodge hostel building is seen after a deadly fire in Wellington on May 16, 2023.
Marty Melville/AFP via Getty Images
Pite, the fire chief, said his thoughts are with the families of those killed and with the crews who rescued those who could and tried to rescue those who couldn't.
"This is our worst nightmare," Pyatt said. "It doesn't get any worse than that."
Police said the cause of the fire was not immediately known.
Wellington City Council spokesman Richard McLean said city and government officials were helping about 50 people who escaped the fire and were set up at the council's local running track in an emergency center that has showers and other facilities.
He said several elderly people fled the building with their pajamas on.
"Many are clearly shaken and confused by what happened," he said.
The hostel offers a mix of short-term and long-term rentals, McLean said. He didn't have all the details, he said, but he believed it was used by various government agencies to provide needed housing to clients.
Health authorities said two people in the building were being treated at a hospital and were both in stable condition. Three others were treated and discharged, while the sixth patient chose to leave before receiving treatment.
Loafers Lodge advertises itself as an affordable place for people to stay while in the capital, whether on business or needing to visit the nearby Wellington Hospital. It has 92 rooms and advertises them as long-term availability
Trending news