WASHINGTON — Former MasterCard CEO Ajay Banga was confirmed Wednesday as the 14th president of the World Bank and is set to begin his five-year term at the helm of the institution next month.
Bengal was nominated In February, President Joe Biden will take over the role and succeed David Malpass as World Bank president. Malpass was tapped for the role by former President Donald Trump and announced earlier this year that he planned to step down nearly a year ago.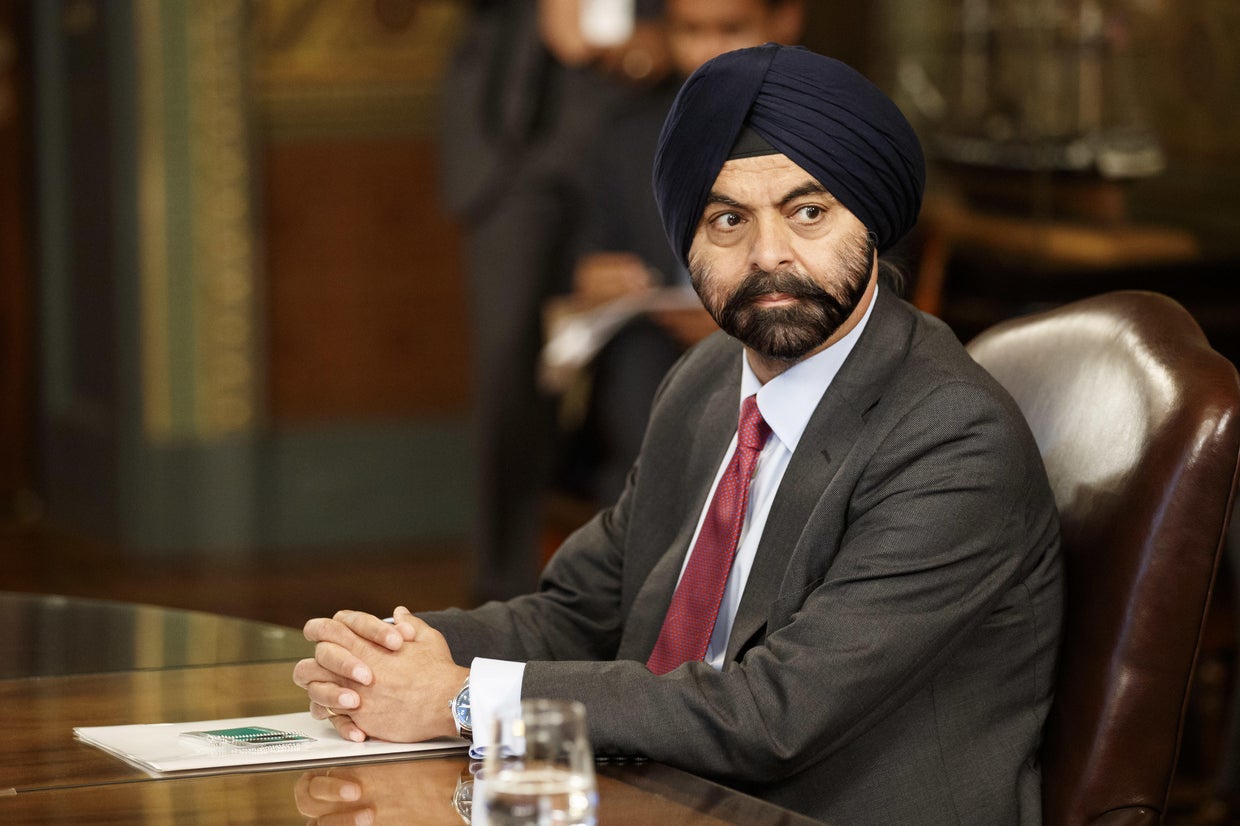 FILE: Ajay Banga, president and chief executive officer of MasterCard Inc., listens during a meeting at the official office of the vice president, Thursday, May 27, 2021, in Washington, DC, U.S.
Ting Shen/Bloomberg via Getty Images
Mr Biden congratulated Bengal on its "encouraging endorsement" by the World Bank's board of governors and predicted he would be a "transformational leader".
"Together with the World Bank's leadership and shareholders, he will help drive the organization as it expands and addresses global challenges that directly affect the core goal of poverty reduction — including climate change," the president said. "Ajay will be integral in bringing together philanthropists as well as the public and private sectors to usher in the fundamental changes in development financing that are needed at this time."
Treasury Secretary Janet Yellen said Bengal will play a "crucial role" in the World Bank's efforts to address global challenges such as climate change and praised its record of work in the public and private sectors.
"Ajay understands that the challenges we face — eradicating extreme poverty from climate change, epidemics and fragility, and promoting shared prosperity — are deeply intertwined," Yellen said in a statement. "He has effectively built a broad global coalition around his vision for the bank during his candidacy."
The leader of the World Bank has been an American citizen since its founding after World War II, and a candidate from the United States is traditionally chosen to lead the bank.
Banga, who grew up in India, will join the World Bank from private equity firm General Atlantic, where he served as vice chairman. He worked at MasterCard for more than a decade, as its president and chief executive and then as its executive chairman. Banga was also the CEO of Citigroup's Asia-Pacific region and worked with Nestlé in India for 13 years. He has served on the boards of the American Red Cross, Kraft Foods and Dow Inc.
Banga's selection to replace Malpass comes after the latter came under fire after he refused to say during a New York Times event in September whether he believed the burning of fossil fuels was warming the planet. Malpass instead declared "I'm not a scientist," a comment that claimed he was a climate-change denier.
The World Bank leader sought to clarify his position, telling CNN International that he is "not a denier" and that "it's clear" greenhouse gas emissions are coming from man-made sources, including fossil fuels."
"We're working hard to change that," Malpass said.
Trending news