Gunmen stormed a school in Pakistan's restive northwest on Thursday, killing seven teachers and shooting dead another teacher in a separate attack. Earlier in the day, six Pakistani soldiers were killed in a gunfight with militants elsewhere in the region.
The violence underscores the challenges facing Prime Minister Shahbaz Sharif's government amid a surge in militant attacks across the country in recent months.
In Kurram, a district in northwestern Khyber Pakhtunkhwa province bordering Afghanistan, a group of gunmen attacked a government school where students were taking exams. The seven teachers killed are members of Pakistan's minority Shia community, which is often targeted by militants.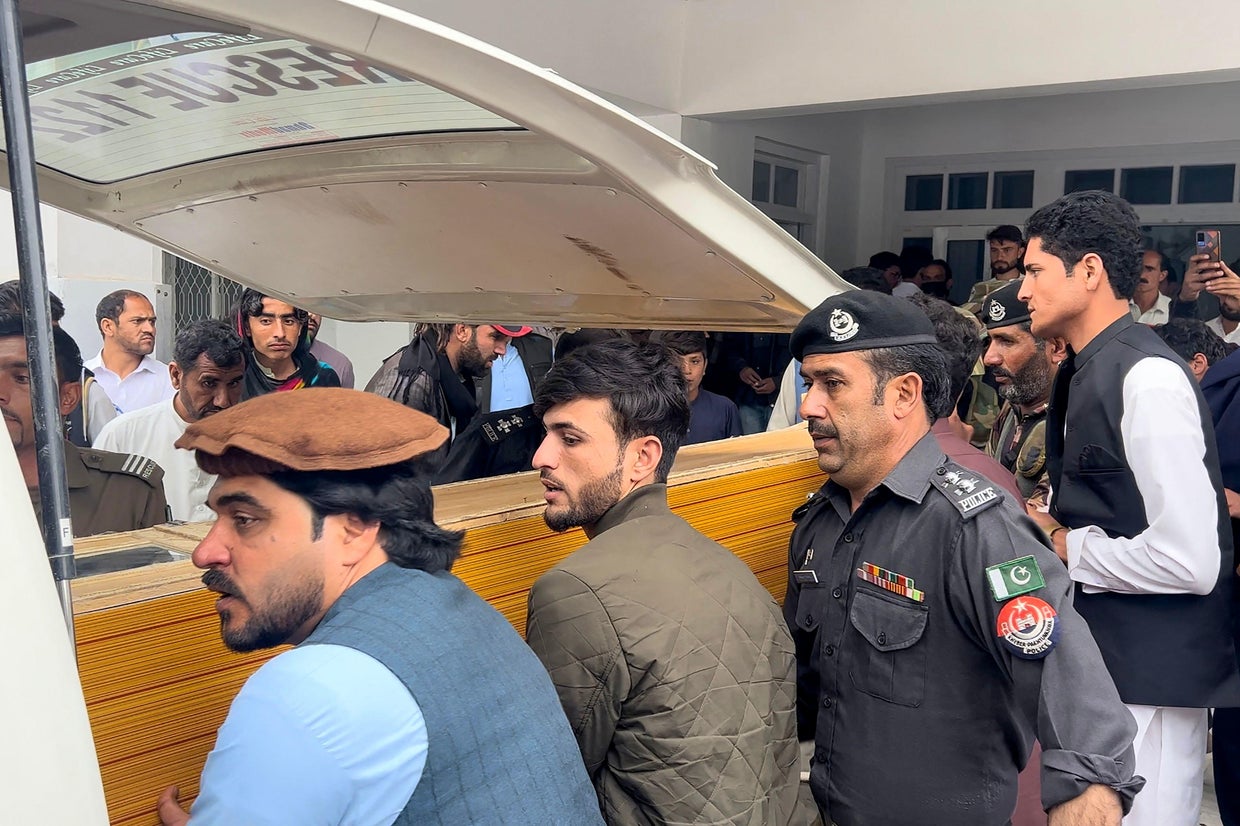 People carry the body of a teacher in an ambulance from a hospital after communal violence broke out inside a school in Parachinar, Kurram district on May 4, 2023.
Getty Images
Another teacher from the same school, a Sunni Muslim, was shot on the street in a separate attack earlier in the day in Kurram, according to local police official Abbas Ali.
No one immediately claimed responsibility for the attack and Ali said it was unclear if they were involved.
"We are looking into all aspects, and so far we don't know who killed the teachers," he said. The Prime Minister condemned the attack on the teachers and ordered an inquiry into the killings.
Earlier on Thursday, six soldiers were killed in a gunfight in North Waziristan, another district of Khyber Pakhtunkhwa province. The army did not elaborate on the firing but said three militants were also killed.
The region is a former stronghold of the Pakistani Taliban — as the outlawed Tehrik-e-Taliban Pakistan, or TTP, group is also known — and other militants. The TTP is a separate group but allied with the Afghan Taliban.
The Taliban's takeover of Afghanistan in August 2021 encouraged the TTP, which increased attacks across Pakistan, primarily targeting security forces. In recent weeks, the military has carried out a series of raids on militant hideouts in the northwest, killing and arresting dozens of insurgents.
Separate from the surge in militant attacks, Sharif's cash-strapped government is struggling to revive a bailout package from the International Monetary Fund and recover from last year's massive floods that killed hundreds of people and caused $30 billion in damage.
Trending news
Thanks for reading CBS News.
Create your free account or login
For more features.