In the months following the January 6, 2021, attack on the Capitol, an Arizona man named Ray Epps became the target of a conspiracy theory that accused him of being a federal agent who incited the riots.
The baseless allegation began on a right-wing website and made its way onto Fox News Channel's prime time shows, including "Tucker Carlson Tonight" and "The Ingraham Angle." The conspiracy theory was then expanded by elected members of Congress, including Senator Ted Cruz, R-TX, and Representatives Marjory Taylor Green, R-GA, and Matt Gaetz, R-FL.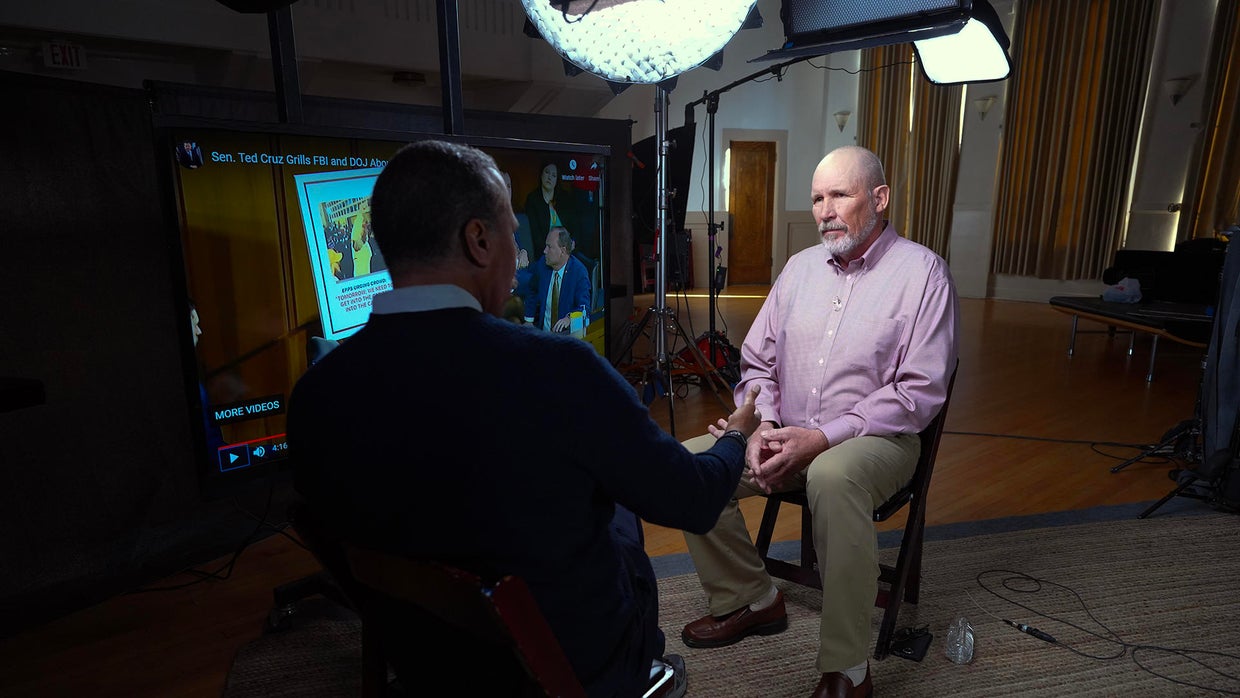 Bill Whittaker asked Ray Epps why he was in the Capitol on January 6, 2021.
60 minutes
This week on 60 Minutes, correspondent Bill Whittaker interviewed Ray Epps. Epps is a staunch conservative and former member of the Oath Keeper militia who twice voted for former President Donald Trump. He told 60 Minutes that he was forced to sell his house and move into an RV because he started receiving threats because of conspiracy theories.
"No matter how many times they push this conspiracy theory, this lie, it will never come true," Epps told 60 Minutes. "The truth stands on its own. What I'm telling you is the truth."
Epps told 60 Minutes that he traveled to Washington, D.C., to attend Mr. Trump's Jan. 6 rally in 2021. The night before the uprising, Epps was recorded at an impromptu rally in Washington, encouraging people to enter the Capitol the next day. His suggestion was met with shouts from other Trump supporters who accused him of being a federal agent.
Epps maintains that he did not enter the Capitol on Jan. 6 and broke no laws. His photo initially appeared on an FBI website seeking information about those in and around the Capitol grounds that day. The photo was taken after Epps was questioned by the FBI.
In a statement to 60 Minutes, the FBI said: "Ray Epps was never an FBI source or an FBI employee."
According to Thomas Josselin, who served on the House Select Committee to investigate the January 6 attack on the United States Capitol and helped author its final report, there is no evidence that Epps was involved in planning or organizing the uprising.
"I'm not going to defend Ray Epps or anyone else who was on the Capitol grounds that day," Jocelyn told 60 Minutes. "I'll just defend the facts. And the facts are that there is still absolutely zero evidence that Ray Epps was a federal agent, or a federal provocateur, or had any kind of contact with the FBI or any other federal agency."
You can see Bill Whittaker's full report on Ra Epps below.
Ray Epps: The 60 Minutes Interview
13:23
The video at the top was produced by Keith Zubrow and edited by Sarah Shafer Prediger.
Trending news