A New York judge on Wednesday dismissed former President Donald Trump's lawsuit against The New York Times and three of the paper's journalists over a 2018 article alleging Trump engaged in a "dubious tax scheme." Three of the article's authors — David Barstow, Suzanne Craig and Russ Buettner — later won the 2019 Pulitzer Prize for explanatory reporting on the piece.
New York Supreme Court Justice Robert Reed dismissed Trump's lawsuit against the paper and its reporters and held him financially responsible for their attorney fees and additional costs, writing in his opinion that Mr. Trump's claims "fail as a matter of constitutional law."
"Courts have long recognized that journalists are entitled to engage in legal and general newsgathering activities without fear of tort liability—because these actions are at the very core of protected First Amendment activity," Reed continued.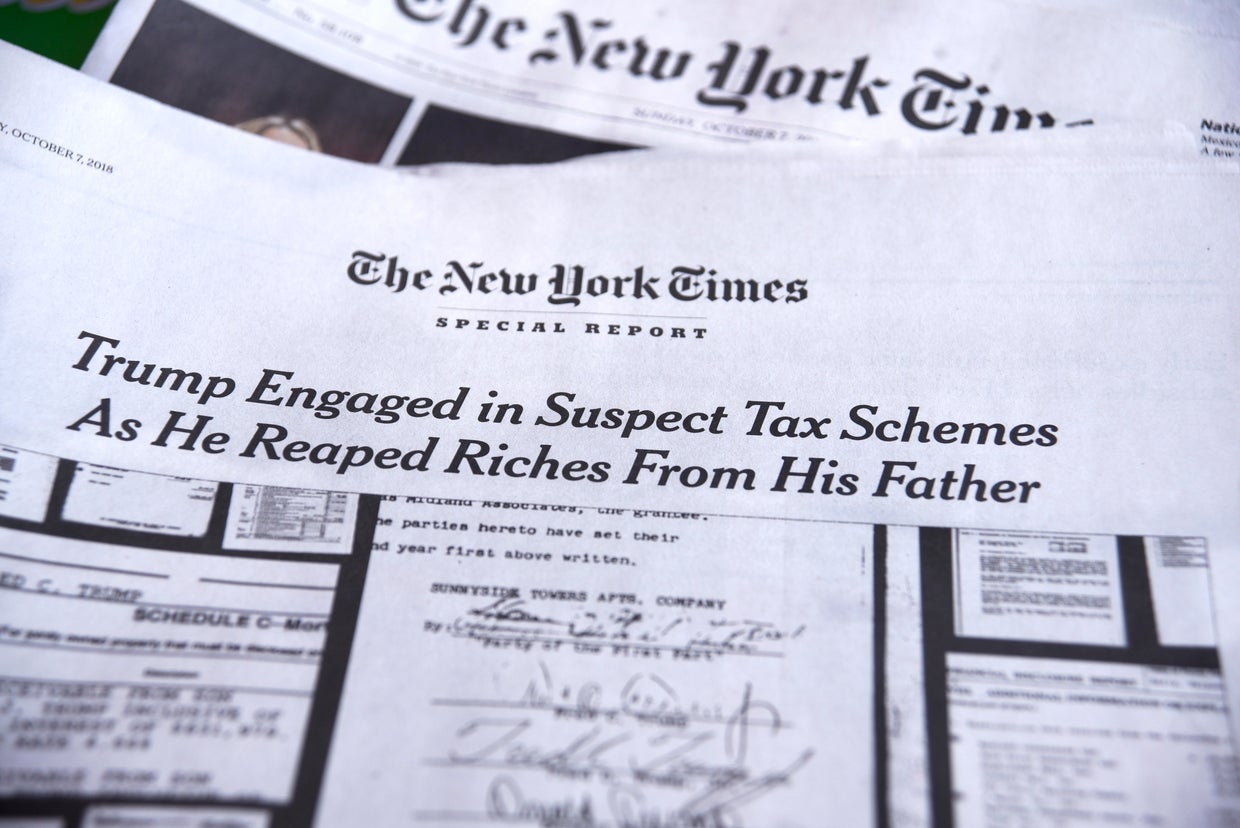 A special report in the October 7, 2018 edition of The New York Times investigates questionable tax schemes used by Donald Trump and his father, Fred Trump, to avoid paying taxes.
Robert Alexander/Getty Images
Trump initially filed suit against The Times, three journalists and his niece Mary Trump in late 2021, alleging that the paper engaged in a "disingenuous conspiracy" to illegally obtain copies of his secrets. Tax documents Through Mary Trump, and their subsequent exploitation. Trump's attorneys alleged that by providing papers with Trump's 20-year-old tax documents, his niece violated a 1999 court ruling involving the will of the former president's father, Fred C. Trump, the New York Times reported.
Reid asserted that Mary Trump "owned the files she disclosed to The Times, and thus there was nothing wrong with the paper and its reporters requesting the documents from her for journalistic use".
Reed has thrown out the claims against the Times, Barstow, Craig and Buettner, the claims against Mary Trump have yet to be ruled on. It was not immediately clear when a decision would be made.
"The New York Times is pleased with the judge's decision today," a spokesperson for the paper said in a statement to CBS News. "This is an important precedent that reaffirms that the press is protected when it engages in routine news gathering to get important information to the public."
Trump's lawyer, Alina Habba, said in a statement: "All journalists must be held accountable when they make civil wrongs. The New York Times is no different and its reporters went beyond conventional newsgathering techniques permitted by the First Amendment. In light of the court's decision, we consider our client's options." I will and will continue to fight vigorously for him." He did not say whether they would appeal.
This is not the first time Trump has failed to sue The New York Times. In 2020, the former president filed a defamation suit against the paper, claiming it falsely reported "collusion with Russia" in a 2019 opinion piece. The case was dismissed in 2021.
– Graham Cates contributed reporting.
Trending news
C nuts