The NBA fined the Dallas Mavericks $750,000 on Friday, after the team engaged in "conduct detrimental to the league" against the Chicago Bulls on April 7 despite having most of its key players reach the postseason.
The league's investigation, which took less than a week, said Dallas violated the league's policy on resting players and intended to forfeit that game to the Bulls to improve its chances of being a first-round pick in the 2023 NBA draft. "
Kyrie Irving sat out the entire game against the Dallas Bulls. Luka Doncic played about a quarter, possibly getting minutes as the Mavericks scheduled a tribute to Doncic's home country of Slovenia.
The Mavericks blew an 11-point fourth-quarter lead, lost and were eliminated from postseason consideration.
"The Dallas Mavericks' decision to completely restrict key players from participating in an elimination game last Friday against Chicago undermines the integrity of our game," said Joe Dumars, NBA head/executive vice president of basketball operations. "The Mavericks' actions have failed our fans and our league."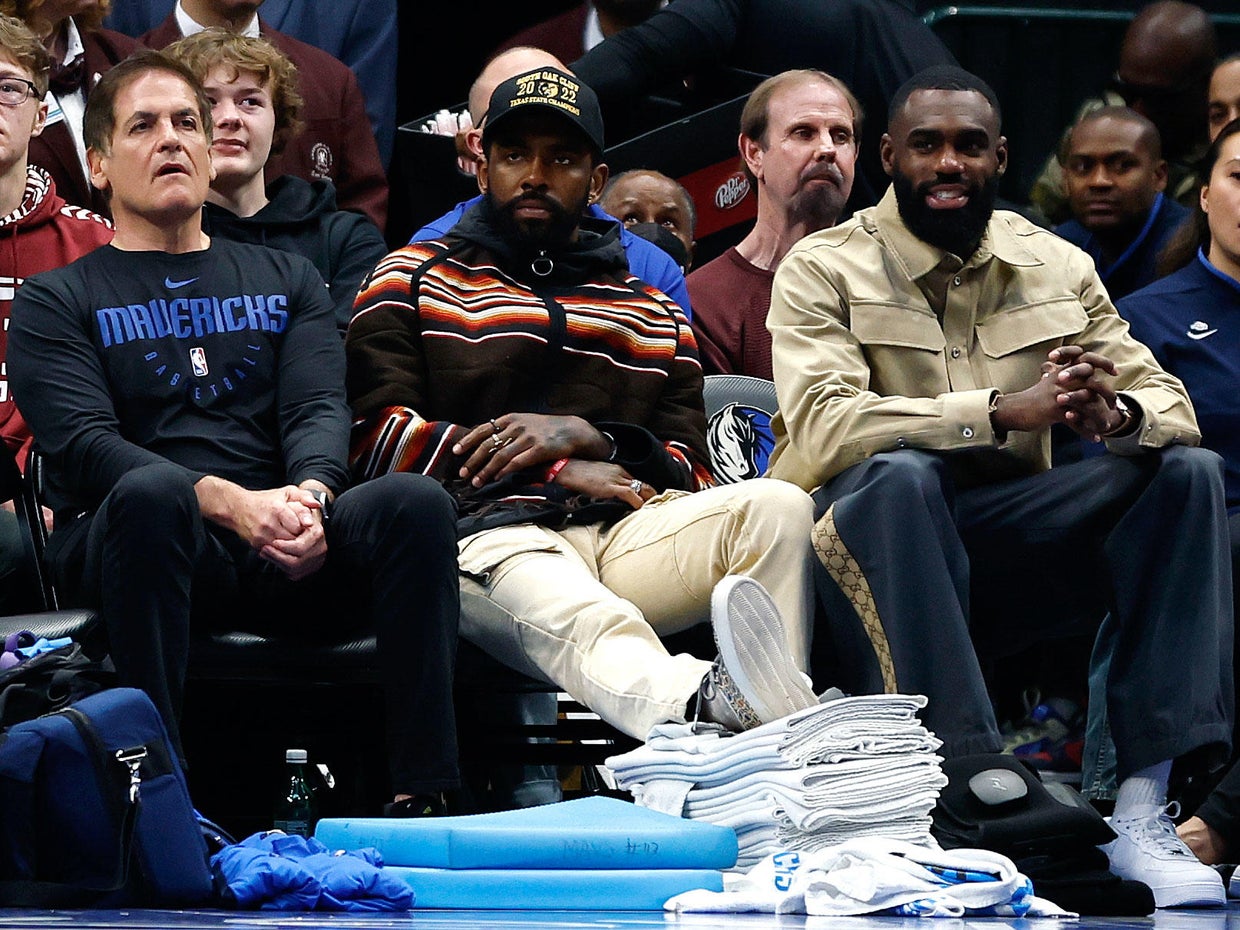 From left, Dallas Mavericks owner Mark Cuban, Kyrie Irving and Tim Hardaway Jr. sit courtside during the game against the Chicago Bulls on April 7, 2023 at American Airlines Center in Dallas, Texas.
Tim Heitman/Getty Images
Losing that game and missing the play-in tournament could help ensure Dallas has a top-10 draft pick this summer — and with it, a chance to potentially win the lottery and select French phenom Victor Wembanyama.
A top-10 pick is important, because otherwise, Dallas won't have it at all. If the Mavs pick is between No. 1 and No. 10, Dallas keeps it. If it goes No. 11 or deeper in the draft, it tells the New York Knicks as part of the compensation agreed to in the Kristaps Porzingis trade in 2019.
The league said it did not find that Dallas players participating in the game were not playing to win. Dallas coach Jason Kidd said before the game that the decision to sit players was made by "the organization" and after the game noted that the decision was made by his bosses — owner Mark Cuban and general manager Nico Harrison.
"It's not so much like waving the white flag," Kidd said, according to USA Today. "Decisions are sometimes difficult in this business. We're trying to build a championship team. With this decision, it's maybe a step back. But hopefully it leads to moving forward."
Dallas had Irving, Tim Hardaway Jr., Maxi Kleber, Josh Green and Christian Wood all out for a win-or-loss game, also limited Doncic. The Mavs cite a right foot injury recovery for Irving, a right hamstring injury recovery for Kleber, a sore left ankle for Hardaway and rest for both Wood and Green.
This is the second time that the Mavericks have been penalized after potentially tanking.
In February 2018, the NBA fined Cuban $600,000 for comments he made about tanking during a podcast with Basketball Hall of Fame player Julius Erving. The Mavericks were coming off a 24-58 season when Cuban spoke with Erving and discussed tanking. Commissioner Adam Silver called these "public statements damaging to the NBA."
Trending news