Mexico's government has agreed to accept non-Mexican migrants and asylum seekers deported by US authorities at the southern border even after the pandemic-related emergency rule known as Title 42 expires next week, Mexican and US officials said in a joint statement late Tuesday.
The deal between Washington and Mexico City would allow the Biden administration to continue deporting some immigrants whom US officials have struggled to deport to their home countries for diplomatic or logistical reasons, such as Cubans, Haitians, Nicaraguans and Venezuelans.
It would allow the United States to continue a key element of the border strategy that President Biden unveiled this year — enforcing "consequences," or deporting, of immigrants who enter the country illegally and fail to use a legal immigration channel created by his administration.
The deal was announced after senior US officials, including Liz Sherwood-Randall, Mr Biden's homeland security adviser, met with Mexican President Andres Manuel Lopez Obrador in Mexico City to outline their plans to manage immigration when Title 42 expires next week.
From March 2020, Title 42, a World War II-era public health authority, allowed U.S. border agents to deport hundreds of thousands of immigrants to Mexico or their home countries without allowing them to seek asylum. The policy is set to sunset on May 11 as the COVID-19 public health emergency expires.
Most of the migrants were deported to Mexico, which accepted the return of migrants from Guatemala, Honduras and El Salvador under Title 42.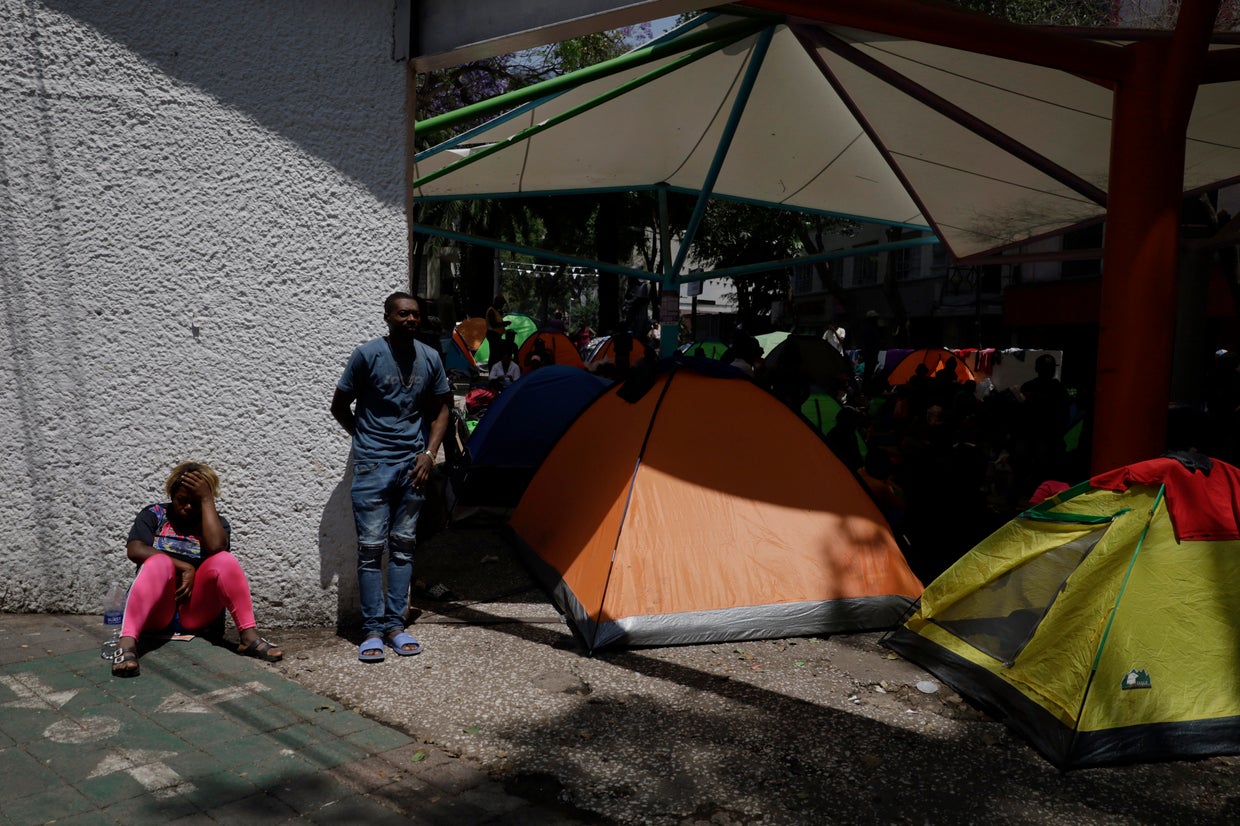 A group of people in a camp for Haitian migrants who are stranded in Mexico City's Plaza Giordano Bruno.
Gerardo Vieira/NurPhoto via Getty Images
Senior US officials, including Homeland Security Secretary Alejandro Mayorkas, had previously said they intended to continue deporting migrants from the four crisis-hit countries to Mexico. But Mexico did not publicly announce their deal until Tuesday. In the joint statement, Mexico said it would continue accepting non-Mexican migrants for "humanitarian reasons."
Deportations after the end of Title 42 will be handled under immigration control laws, including a process known as expedited removal, which can result in the expedited deportation of immigrants and deportation from the United States for up to five years if they do not claim asylum or are found ineligible for protection. Considered
These deportations are expected to work in conjunction with soon-to-be-finalized regulations that would disqualify non-Mexican immigrants from asylum if they fail to seek asylum in a third country before entering the United States illegally.
The five-pillar plan unveiled Tuesday by the United States and Mexico also outlines efforts to target human traffickers, including a campaign with Panamanian and Colombian officials to stem the flow of migration near the notorious and roadless Darien jungle that connects Panama to South America.
The plan includes improving conditions in Central America, modernizing ports of entry along the US-Mexico border to facilitate legal trade and travel, and expanding legal immigration pathways for immigrants. Officials also pointed to the establishment of processing centers in Colombia and Guatemala, announced by the United States last week, so migrants could be considered for resettlement in those countries, the United States, Canada or Spain.
The plan revealed for the first time that the United States has committed to admit up to 100,000 immigrants from Guatemala, Honduras and El Salvador under a program that would allow citizens of those countries to enter the United States legally if they approve visa sponsorship requests from family members. Those who are US citizens or legal residents.
Tuesday's agreement underscores the growing influence and role of the Mexican government in U.S. efforts to manage and prevent migration at the southern border, where U.S. officials are preparing for what could be a historic spike in illegal crossings.
The Biden administration is preparing more than 10,000 immigrants per day to enter US border detention after lifting Title 42, which would double the daily average in March. In the lead up to the policy change, border arrivals have already increased sharply, with US border agents recording 7,000 to 8,000 migrant apprehensions in recent days.
Pentagon on Tuesday announcement Another 1,500 troops have been deployed along the southern border to ease some of the pressure on border agents by helping with operational duties such as transport and data entry. In accordance with federal law and long-standing practice, active-duty service members will not detain or otherwise process immigrants.
More Camilo Montoya-Galvez