A 1-year-old Australian shepherd made an epic 150-mile trek across the frozen Bering Sea ice that included being bitten by a seal or polar bear before returning safely to his home in Alaska.
Nanook's owner, Mandy Iorigan, who lives in Gambell, Alaska, and her family were visiting Savogna, another St. Lawrence island community in the Bering Strait, last month when Nanook disappeared along with their other family dog, Starlight, the Anchorage Daily News reported.
Starlight was spotted a few weeks later, but Nanook, meaning polar bear in Siberian Yupik, was nowhere to be found.
About a month after Nanook disappeared, people in Wells, 150 miles northeast of Savonga on Alaska's west coast, began posting pictures online of what they described as a missing dog.
"My dad texted me and said, 'There's a dog in Wales that looks like Nuck,'" Yorigan said.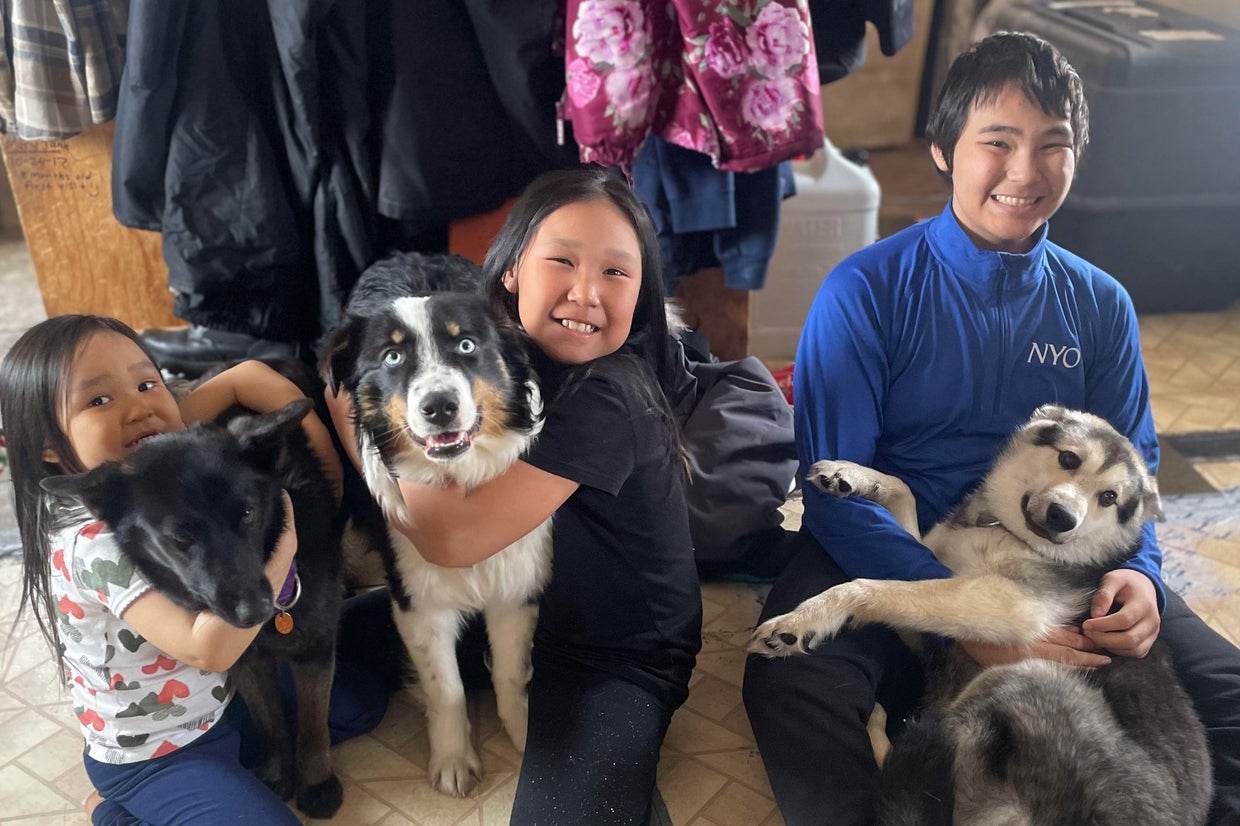 Nanook, Brooklyn Faith, center, in this photo provided by Mandy Iorigan, after bringing the 1-year-old Australian shepherd back to Gambell, Alaska, on April 6, 2023, after it disappeared for a month and walked on the Bering, 150 miles of sea ice from Wells, Alaska. Zoey with Starlight on the left and Ty with Cuzo on the right.
Mandy Iorigan/AP
He reactivated his Facebook account to see if it could be his stalker.
"I was like, 'No way! That's our dog! What's he doing in Wales?'" she said.
The events of Nanuk's journey will probably always remain a mystery.
"I don't know why he got to Wales. Maybe the ice moved while he was hunting," Yorigan said. "I'm pretty sure he ate seal scraps or caught a seal. Probably birds too. He eats our native food. He's smart."
She used airline points last week to fly her dog back to Gambell on a regional air carrier, a charter that was transporting athletes for the Bering Strait School District's Native Youth Olympic tournament.
Iworrigan filmed the happy reunion as the plane landed at Savonga's airstrip, where both he and his daughter Brooklyn screamed with joy.
"Sounds like a Disney movie- but it's real!" Yorigan posted on Facebook.
Except for a swollen leg with bite marks from an unidentified animal, Nanook was in pretty good health.
"Wolverine, seal, little dwarf, we don't know, because it's like a really big bite," she said.
On Tuesday, Yorigan posted a photo of Nanook thanking a local animal shelter for providing medication for the dog.
Nanook got his medicine. Thanks PAWS of Nome♥️🫶🏼 he took his first medicine today🫶🏼♥️ Kenny Iorigan
Posted by Mandy Iorigan on Tuesday, April 11th, 2023
Trending news