EL PASO, Texas – Immigrant advocates filed a lawsuit late Thursday in federal court challenging the Biden administration's new ban on asylum that officials say will prevent illegal crossings of the U.S.-Mexico border.
The American Civil Liberties Union and other groups have asked a federal district court in San Francisco to block the rule, saying the policy, which went into effect Friday, violates the U.S. Asylum Act.
At the center of the lawsuit is a rule that the Biden administration hopes will prevent illegal border crossings after the end of the Title 42 pandemic-era deportation policy. It expired at midnight on Thursday due to the end of the national COVID-19 public health emergency.
The policy, which mirrors Trump-era rules, disqualifies migrants who cross the southern border without permission to seek asylum unless they first request humanitarian asylum in a third country, such as Mexico, on their way to the United States.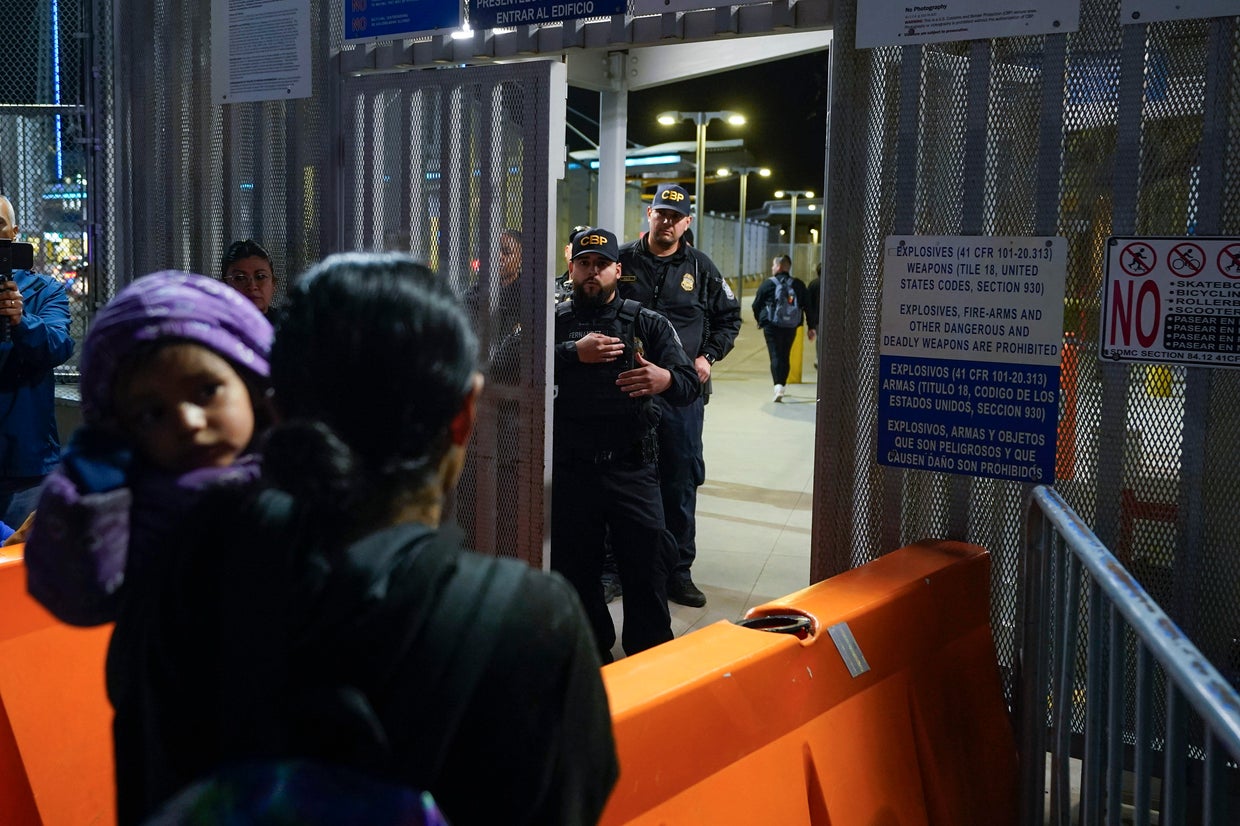 Guatemalan foreground Paula holds her daughter as she asks U.S. Customs and Border Protection officials about new asylum rules at the San Isidro Port of Entry, May 11, 2023, in Tijuana, Mexico.
Gregory Bull/AP
In practice, this rule would disqualify most non-Mexican immigrants from asylum. Under the rules those found ineligible for asylum could face expedited deportation to their home country or Mexico and a five-year ban on re-entering the U.S. Those who try to re-enter the country illegally could face criminal charges, the Biden administration warned. .
In their lawsuit, the advocates said the Biden administration's rule "attempts to combine the resurrected and illegal features" of two Trump administration policies blocked in court. One of these rules disqualifies immigrants from asylum if they enter the United States between ports of entry, while the other bars immigrants from asylum if they fail to seek protection in a third transit country.
The ACLU successfully challenged both Trump-era rules and convinced judges to halt them.
"The rule operates similarly to the Trump administration's prior asylum ban: the rule expressly bars asylum seekers—all non-Mexicans—unless they satisfy one of enumerated and limited conditions or exceptions," the lawsuit says.
Under US asylum laws, immigrants on American soil are allowed to request protection, regardless of how they entered the country. Because the system is heavily backlogged, immigrants wait years on average for a decision. The legal threshold for asylum is very high and many migrants ultimately do not meet the eligibility criteria to prove that they are fleeing persecution that stems from factors such as their religion or politics.
It's unclear whether a federal court will find the Biden administration's rule invalid. While the new restriction is based on punishing immigrants for entering the United States without permission and not seeking asylum elsewhere, it is less restrictive than the nearly total asylum ban enacted under former President Donald Trump.
The Biden administration's asylum ban, for example, does not apply to unaccompanied children or migrants who secure an appointment to enter the U.S. through a mobile app for asylum seekers in Mexico or who are sponsored by U.S.-based individuals under a program for Cubans, Haitians, Nicaraguans and Venezuelans. .
The rule includes limited exemptions for migrants facing "imminent and extreme threats" to Mexico, those with "severe" medical emergencies and victims of serious human trafficking.
The Biden administration has also argued that its approach to asylum restrictions differs from the Trump administration's efforts because it is pairing the measure with expanding channels for immigrants to fly or otherwise enter the United States legally.
"This rule responds to the heightened encounters we are experiencing at the border and is critical to creating an orderly process for seeking protection in the United States when Congress refuses to reform our broken immigration laws or provide the funding needed to provide adequate asylum. Officers and Immigration judges to process claims in a timely manner," Department of Homeland Security spokeswoman Luis Miranda said in a statement.
US border officials have reported record highs in immigrant apprehensions under President Biden, and the number of illegal crossings has risen to unprecedented levels in recent days in the lead-up to the end of Title 42.
In the first three days of this week, an average of 10,000 migrants were arrested per day after crossing the US-Mexico border illegally. The U.S. government estimates that about 60,000 migrants are waiting in northern Mexico for a chance to enter the United States, according to Border Patrol Chief Raul Ortiz.
More Camilo Montoya-Galvez