Denver Nuggets All-Star center Nikola Jokic was assessed a technical foul in the second quarter of Game 4 on Sunday after an altercation with Phoenix Suns owner Matt Ishbia.
Late in the second quarter, Suns guard Josh Okogie crashed into the seat trying to save a loose ball. He landed on the baseline to a group of fans that included Ishbia, who grabbed the basketball.
Jokic was trying to get the basketball quickly – apparently so the Nuggets could start their offensive possession – when he tried to strip the ball away from Ishbia. The ball bounced back into the crowd and then was knocked back by Isbia Jokic's elbow.
Suns owners Matt Ishbia and Nikola Jokic had a tense moment. Jokic received a technical foul for pushing Ishbia. pic.twitter.com/1RxC5wNPPR
— Evan Sidery (@esidery) May 8, 2023
Jokic was unapologetic after the game, which the Suns won 129-124.
"The fans hit me first," Jokic said. "I thought the league was supposed to protect us. Maybe I'm wrong. I know who he is, but he's a fan. Right?
Nuggets coach Michael Malone said: "(Jokic) is going to get the ball and some fans are holding the ball like he wants to be part of the game. Just let the ball go, man."
There were minutes of confusion as officials sorted out the strange scene, and then Jokic was assessed a technical foul. The Suns made the next free throw.
Suns star Devin Booker — who finished with 36 points and 12 assists — said he knew it was Ishbia in the middle of the fracas.
"He's got us a point!" Booker said with a smile.
Ishbia told The Associated Press at halftime that he was "good" and more worried about the game than the brawl. He returned to his usual seat in the second half. The altercation didn't seem to bother Jokic either — the MVP runner-up finished with 53 points on 20-of-30 shooting.
Ishbia has only owned the Suns for a few months, buying the team from the embattled Robert Sarvar. In December, Ishiba bought the Suns and the WNBA's Phoenix Mercury For $4 billion.
Game 5 is Tuesday in Denver. The series is tied in both matches.
According to CBS Sports, under normal circumstances, a fan involved in such an incident would normally be ejected. Less clear is the NBA's recourse in an incident between a player and an owner. At the very least, it's likely the league will consider a possible fine for Ishbia, who disrupted the flow of the game by denying Jokic the ball.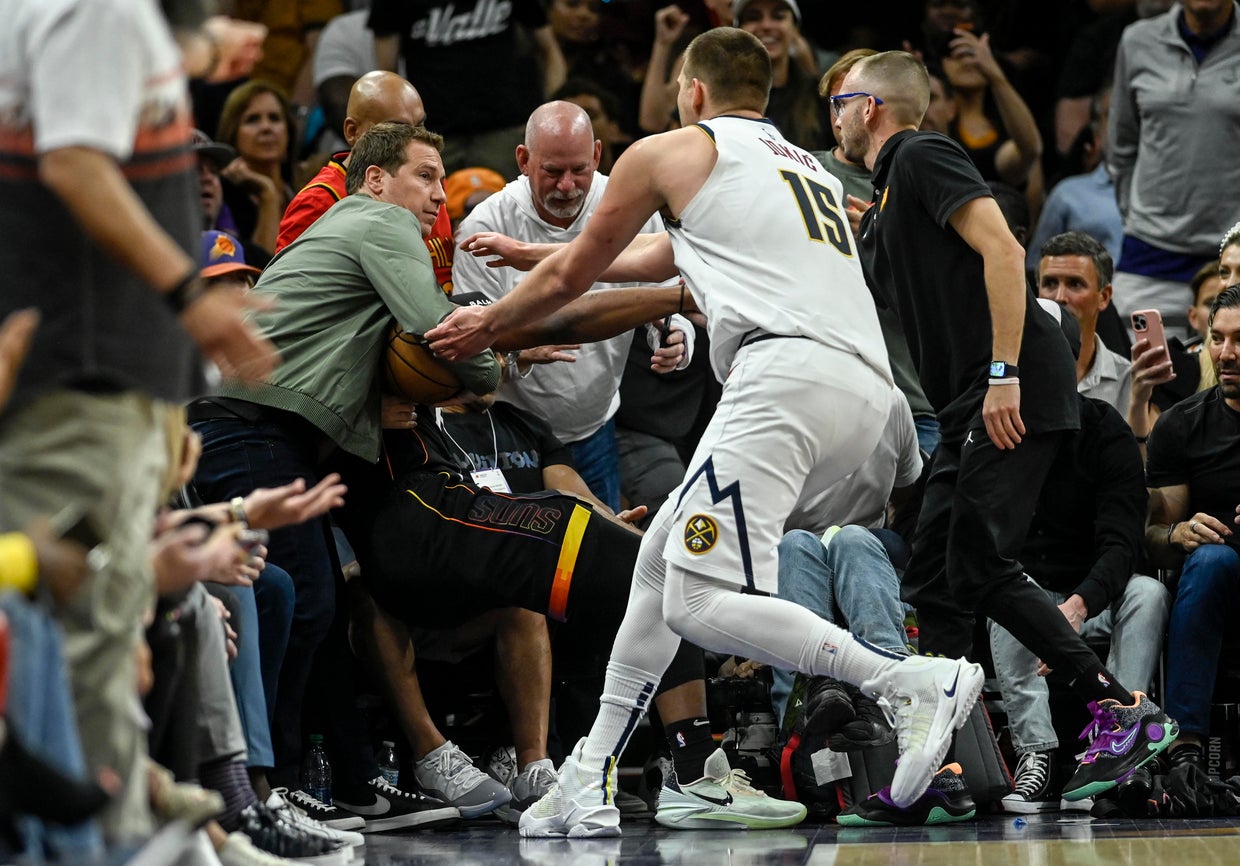 Denver Nuggets' Nikola Jokic (15) rushes to retrieve the game ball as Phoenix Suns owner Matt Ishbia grabs the ball and inserts himself into the action as he helps Josh Okogie (2) to his feet after Okogie flies into the stands for the second time, Sunday, May 7, 2023. Quarters at the Footprint Center in Phoenix.
Aaron Ontiveros/The Denver Post via Getty Images
Trending news