This sweet dessert was adapted by James Beard Award-winning chef Alon Shaya, who discovered the recipe in a cookbook that once belonged to the Fenivs family, Hungarian Jews whose homes were looted during the Holocaust. The cookbook was saved by the family's maid, Maris, and later added to the archives of the United States Holocaust Memorial Museum.
Shaya told "CBS Sunday Morning" that, in researching her recipes that were recorded in Jewish ghettos and concentration camps, "I was just amazed how in one of the most terrifying moments of someone's life they could turn to food and that food would have that power. "
Don't miss the story of Alon Shire and his search for the taste of childhood on "Sunday Morning" on April 2!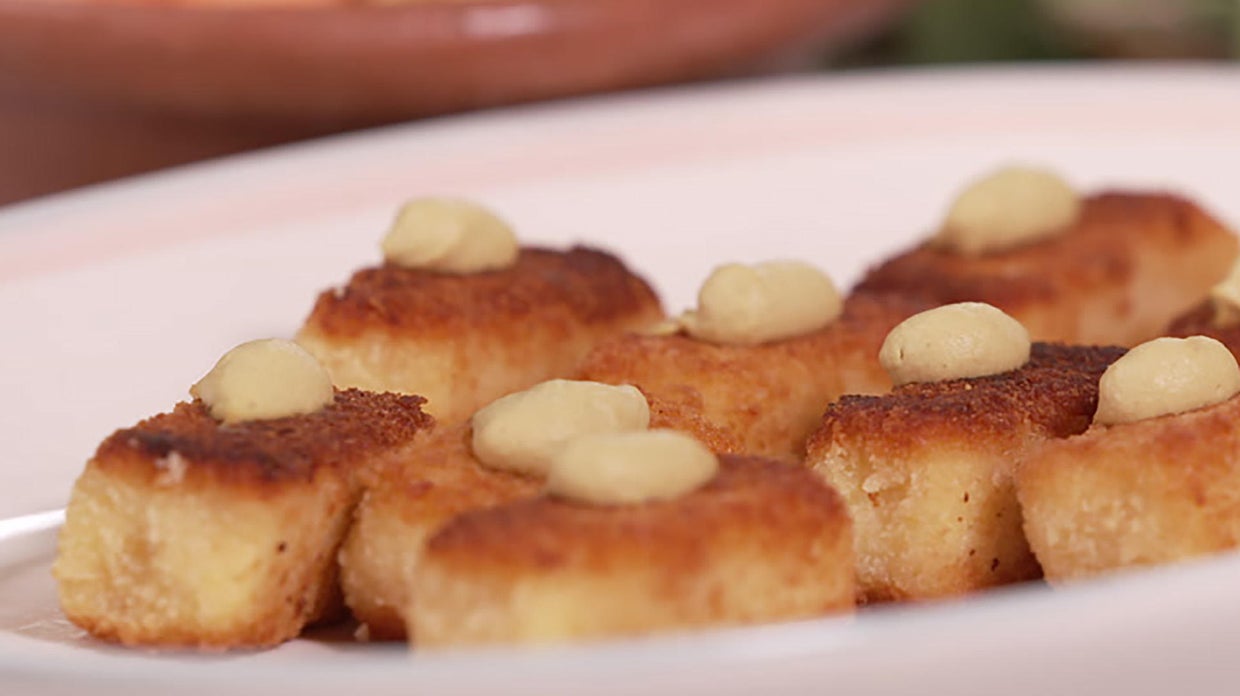 Semolina Sticks.
CBS News
Semolina Sticks
Yield: 4-8 servings (16 semolina sticks)
Active Time: 45 minutes.
Total time: 1 hour 45 minutes.
Make Ahead: The semolina dough can be made 1 day ahead before being sliced ​​and fried.
Storage Notes: Store in an airtight container in the refrigerator for up to 3 days. Reheat in a 350-degree oven for about 5 minutes.
Ingredients:
2 1/2 cups (600 milliliters) whole milk, divided
4 tablespoons (56 g) unsalted butter
1 teaspoon granulated sugar
1/2 teaspoon ground salt
1/2 cup (180 g) semolina flour
1 cup (125 grams) all-purpose flour
2 large eggs
1 cup (100 g) plain breadcrumbs
4 cups (960 mL) vegetable oil
Dijon mustard, for serving (optional)
Instructions:
Line a rimmed eighth-sheet pan with parchment paper (see notes below). In a medium saucepan over medium heat, whisk together 2 cups (480 mL) milk, butter, sugar, and salt until combined. Bring to a boil and stir in the semolina. Let the mixture simmer, adjusting the heat as needed, until it thickens and the wheat grains have reduced, 3 to 5 minutes. Pour the semolina mixture onto your lined baking sheet and spread evenly using a rubber spatula. Refrigerate until the mixture is firm and cool to the touch, about 1 hour. Invert the baking sheet onto a cutting board to remove the semolina cake from the pan and peel off the parchment. Use a long, sharp knife to cut the rectangle, making 16 slices (each about 3 inches by 1 inch). Set three shallow bowls. In one, add flour. Next, whisk together the eggs and remaining 1/2 cup (120 milliliters) of milk. In the third, place the breadcrumbs Place a wire rack over a large, rimmed baking sheet or line a tray with a layer of paper towels and set it near your work surface. In a 3-quart saucepan or Dutch oven over medium-high heat, heat the oil until it registers 350 degrees on a deep-frying thermometer. (No thermometer? Test the oil by adding a pinch of breadcrumbs to the oil. The oil should be at the right temperature when the crumbs start to sizzle before they darken.) Reduce the heat to medium and work in 4 to 5 batches, to coat the semolina sticks completely. Immerse it; Then dip in the egg mixture, letting the excess drip off. Finally, dip them in the breadcrumbs until completely coated. Carefully, slide the breaded sticks into the hot oil, one at a time. They should sizzle immediately. Fry until golden brown, 4 to 5 minutes, then transfer to prepared pan using a tongs. Adjust heat as needed to maintain oil temperature. Repeat with remaining semolina sticks (see notes). Place semolina sticks on a serving dish and drizzle with Dijon mustard, if using Serve hot.
Note: The pan should be as close to 6-by-9 inches as possible with a one-inch rim. A rimmed one-eighth baking sheet will do just fine.
Lathi is best when served hot. To keep them warm, preheat the oven to 200 degrees and keep the fried sticks in until ready to serve.

For more information:
More David Morgan
Thanks for reading CBS News.
Create your free account or login
For more features.