MOSCOW – When a powerful explosion shook a Russian town near the border Ukraine Residents thought it was a Ukrainian attack. But the Russian military quickly admitted that it was a bomb mistakenly dropped by one of their warplanes.
Belgorod, a city of 340,000 about 25 miles east of the border with Ukraine, has experienced regular drone attacks that Russian authorities blame on the Ukrainian military, but Thursday's latest explosion was far more powerful than anything its residents had heard before.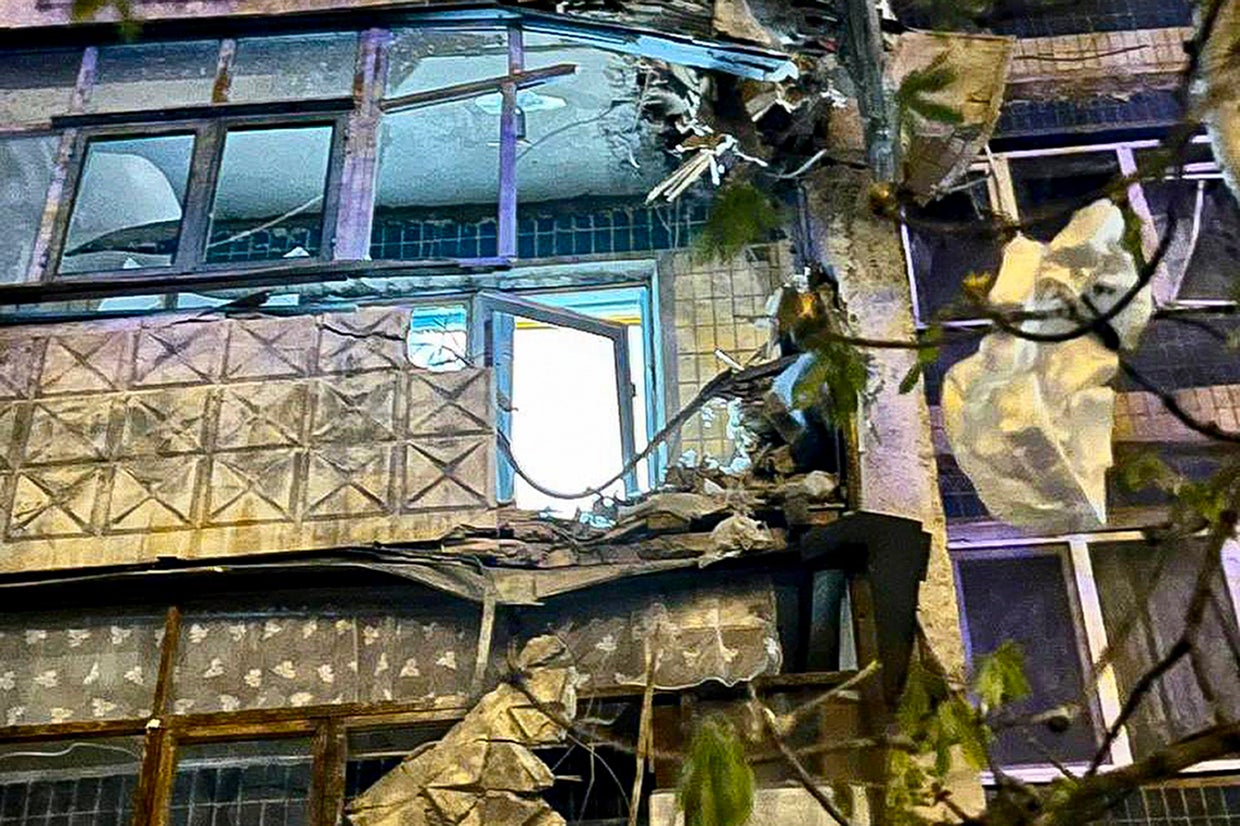 This handout photo posted on the Telegram channel by Belgorod Region Governor Vycheslav Gladkov shows damaged apartment buildings near the crater after an explosion in Belgorod, Russia, on April 21, 2023, after a Russian Su-34 fighter jet accidentally dropped munitions over the city.
Telegram/Bacheslav Gladkov/AP
A low hissing sound was followed by an explosion that shook nearby apartment buildings and threw a car onto the roof of a shop, witnesses said.
It left a 66-foot-wide crater in the middle of a tree-lined boulevard next to apartment buildings, shattering their windows, damaging several cars and injuring two residents. A third person was later hospitalized with high blood pressure.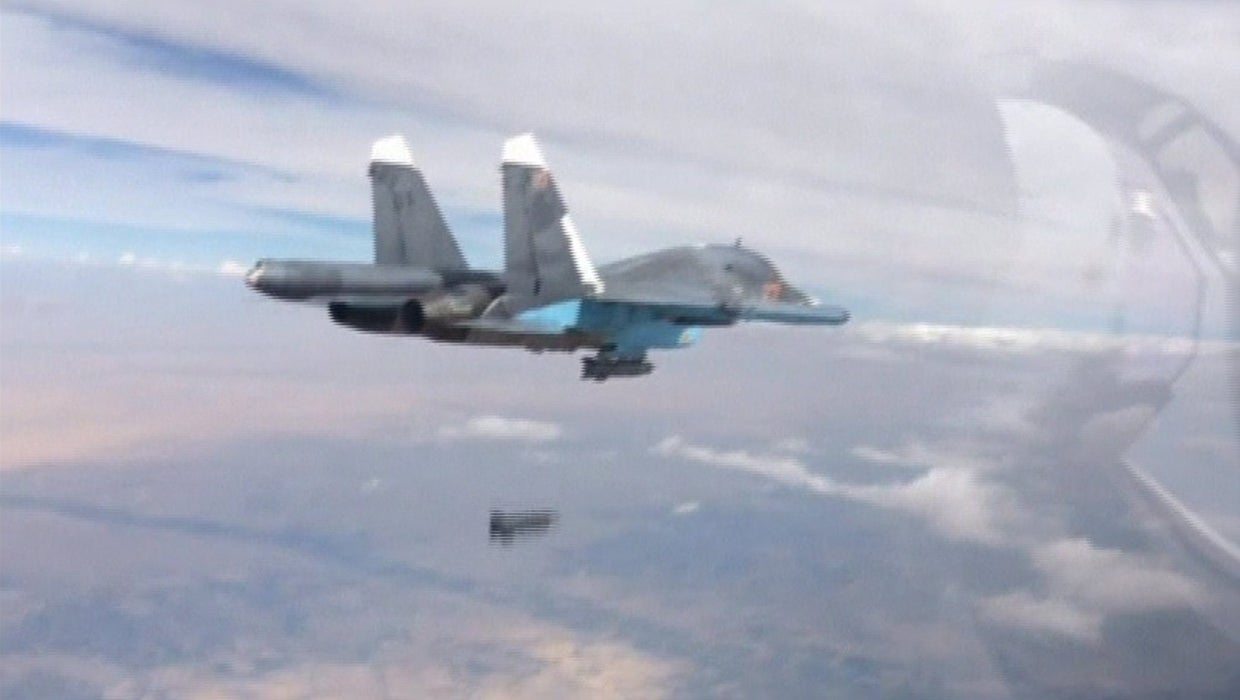 A frame grab from video released by the Russian Defense Ministry on October 9, 2015, shows a Russian Su-34 fighter-bomber dropping a bomb in the air over Syria.
REUTERS/Ministry of Defense of the Russian Federation/Handout
In the immediate aftermath of the explosion, Russian commentators and military bloggers were abuzz with theories about what weapons Ukraine had used for the attack. Many called for stronger retaliation. But about an hour later, the Russian Defense Ministry admitted that the explosion was caused by an accidental drop of a weapon by one of its own Su-34 bombers. It gave no further details, but military experts said the weapon was likely a powerful 1,100 pound bomb.
In Thursday's explosion, the weapon was apparently set to detonate with a slight delay after impact to hit underground facilities.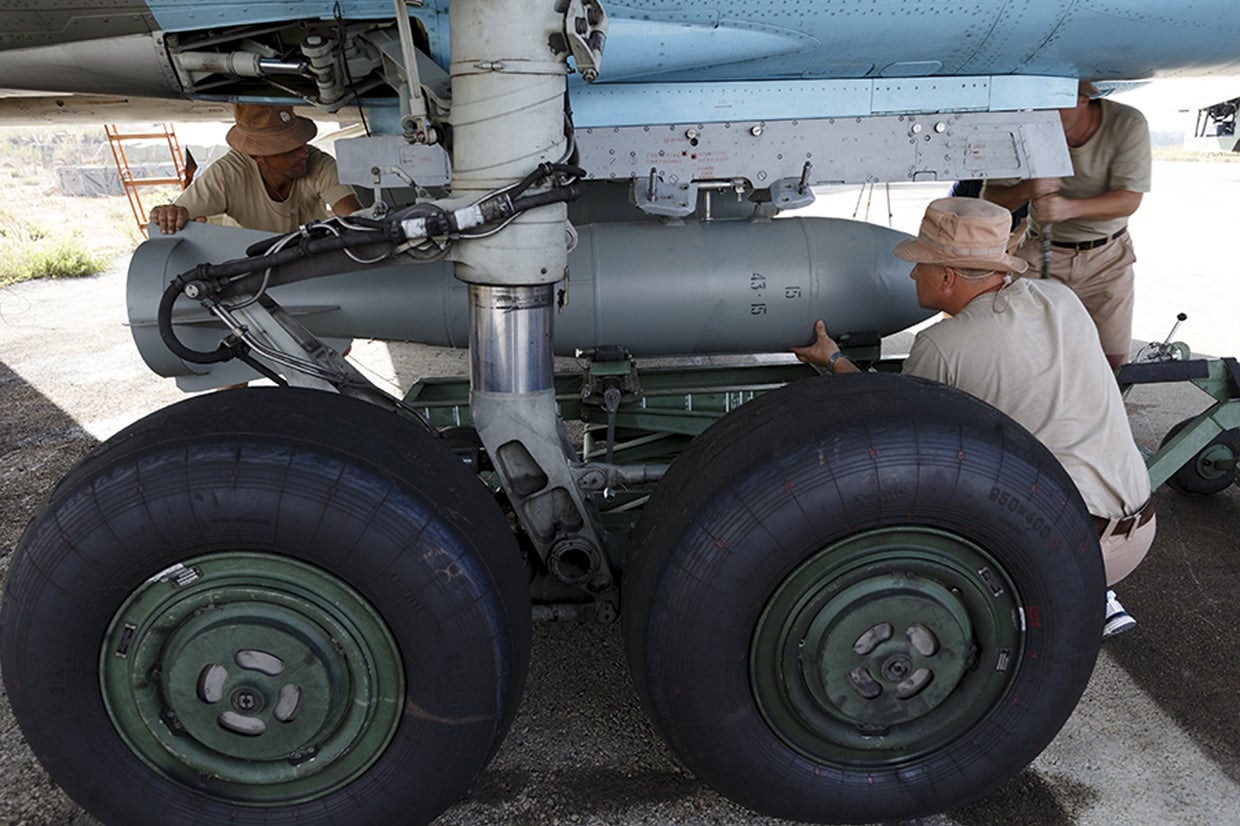 Russian ground crews load a Sukhoi Su-34 fighter-bomber with weapons at the Hamemim air base near Latakia, Syria, in a handout photo released by the Russian Defense Ministry on Oct. 22, 2015.
REUTERS/Ministry of Defense of the Russian Federation/Handout
Belgorod Governor Vacheslav Gladkov said local authorities had decided to temporarily resettle residents of a nine-story apartment building near the blast while it was inspected to ensure it had not suffered irreparable structural damage.
The Belgorod explosion happened soon after A Russian fighter jet crashes 15 people were killed next to a residential building in the Azov Sea port city of Yesk. Yesk hosts a large Russian airbase with fighter jets flying missions over Ukraine.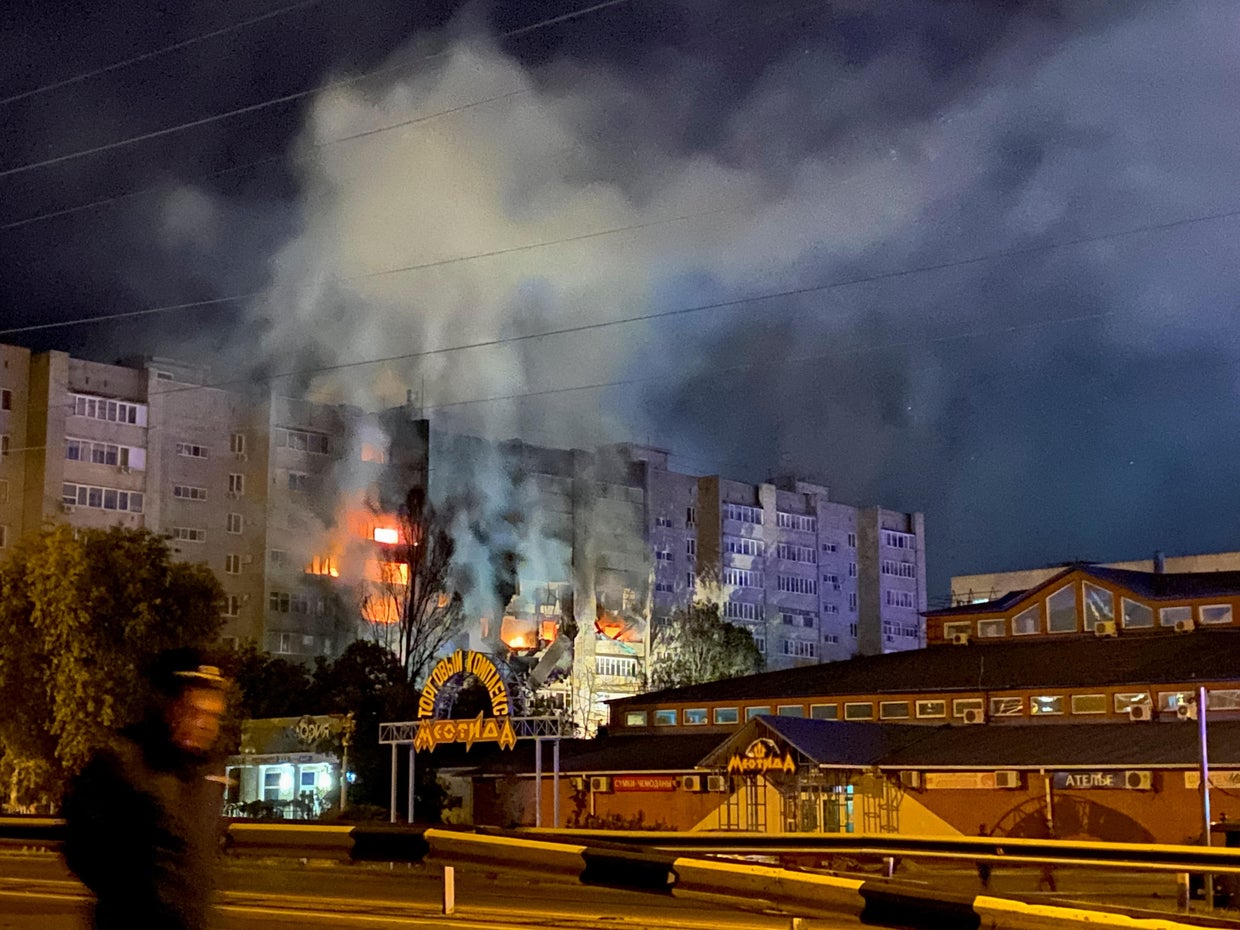 A Russian warplane crashed into a residential area in the southern Russian city of Yesk on October 17, 2022.
Reuters/Stringer
Military experts point out that as the number of Russian military flights increased sharply during the war, so did accidents and incidents.
Analysts and US officials have described Russia's strategy in the Ukraine war as similar to that used by the armies of both sides in World War I, as Moscow has done. Both men throw wave after wave And machines on the front line for months, fast reducing its resources With little to show in return.
Last month, the Russian military arrived Soviet-era tanks rolling off the storage base Where they mothballed for decades, presumably to bolster its forces amid the wanton destruction of its hardware on the battlefield.
Ukraine has also relied heavily on its stockpile of old Soviet-era tanks and other weapons during the war, but it has begun taking delivery of dozens of modern warheads. The tank is promised by its European partnersWith US tanks also expected to arrive this year.
in March, Poland Dr It will give Ukraine nearly a dozen MiG-29 fighter jets, becoming the first NATO member to meet Kiev's increasingly urgent request for fighter jets to defend against Russian aggression.
Trending news