SpaceX launched two SES broadband communications satellites from Cape Canaveral, Florida, aboard a Falcon 9 rocket on Friday and then attempted to launch a Viasat Internet relay station from nearby Kennedy Space Center aboard a triple-core Falcon Heavy booster. However, a last-minute error caused a frustrating abort at the end of the launch window.
SpaceX tweeted that the ViaSat payload and rocket — the company's most powerful operational booster — were healthy and another launch opportunity was available Saturday. But no details were provided, and it was not immediately known whether anything that went wrong could be fixed in time to allow for a 24-hour turnaround.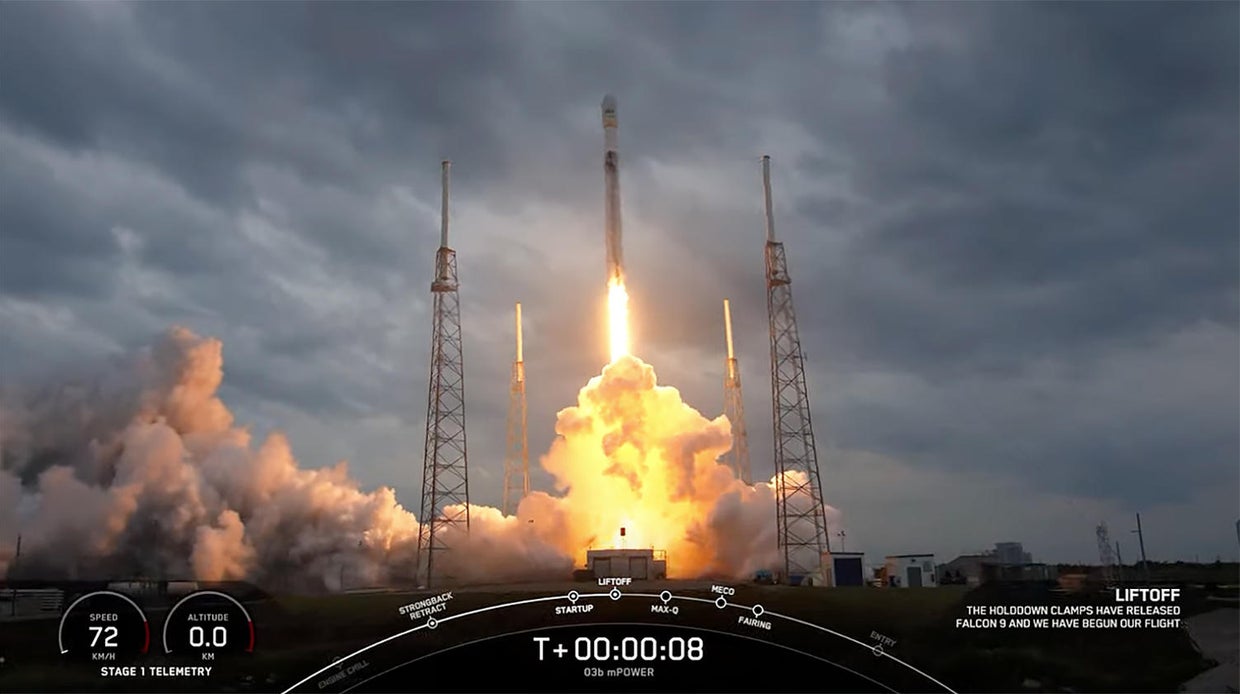 A SpaceX Falcon 9 rocket blasts off from Cape Canaveral Space Force Station carrying two broadband relay satellites, the third and fourth launched by the California rocket maker for Luxembourg-based SES.
SpaceX
The scrub capped a particularly busy day in space, with the first launch coming just two hours after NASA astronaut Stephen Bowen and UAE astronaut Sultan Al Neyadi completed a 7-hour-and-a-minute spacewalk outside the International Space Station to prepare for the installation. Roll-out solar blanket in June to boost lab's aging energy system.
The spacewalkers also attempted to bring a degraded communications antenna back to Earth for repairs, but were thwarted by a jammed bolt and forced to leave it in place to await another attempt by a future spacewalk. It was the eighth spacewalk for Bowen, who now ranks 10th on the list of most experienced spacewalkers, and the first for Alaniadi.
"Sultan, you have now entered an exclusive club of people who have stepped into the vacuum of space, and in doing so you have marked a milestone for the United Arab Emirates," astronaut Anne McClain radioed from mission control in Houston. "Congratulations to you both."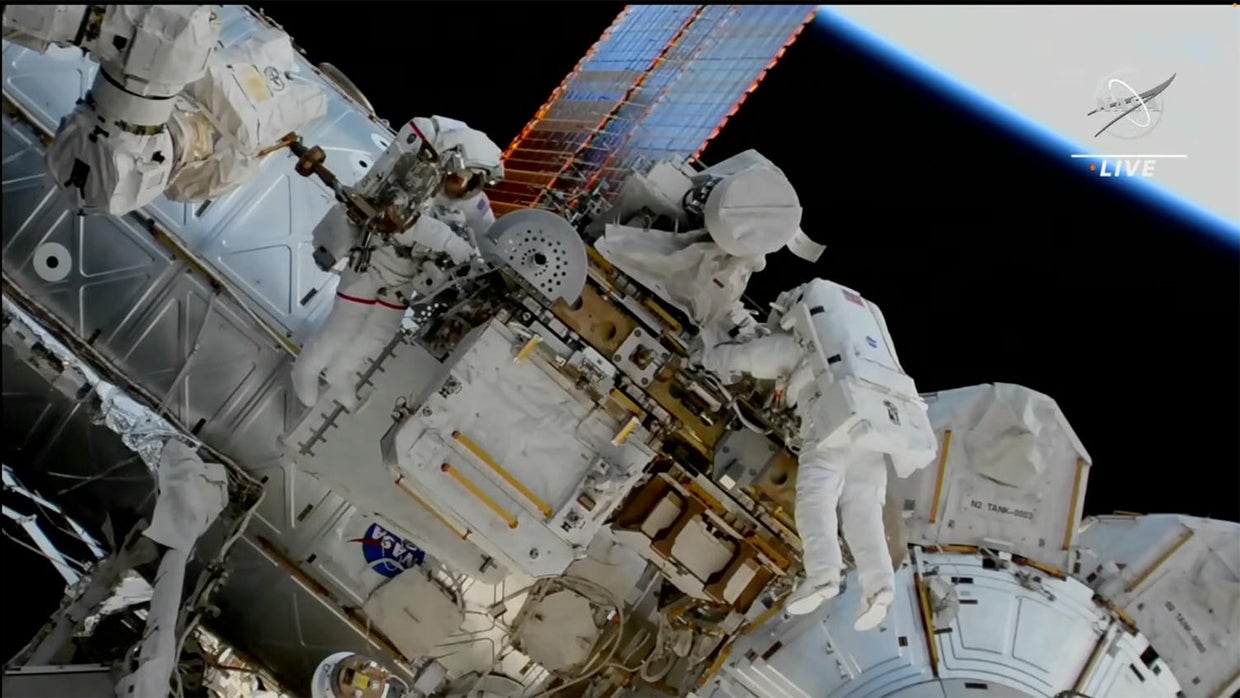 Astronaut Stephen Bowen, left, and UAE astronaut Sultan Al Neyadi, right, are seen after a failed attempt to retrieve a degraded 145-pound antenna assembly, center, for return to Earth, refurbishing and relaunch. A stuck bolt prevents removal of the unit from a stowage platform. NASA will likely make another attempt during a future spacewalk.
NASA
Alneyadi, the first Arab astronaut to perform both a long-duration flight and a spacewalk on the ISS, thanked NASA and the leadership of both countries for the opportunity, saying, "This is a great moment for the UAE."
"This may be the first in the Arab world, but it will certainly not be the last," he said. "Our astronauts are now in training for missions to the ISS, the Moon and Mars. I want to thank everyone who helped get us to this point."
Back on Earth, SpaceX was gearing up for a dramatic doubleheader and what would have been the shortest time between two orbital-class launches since 1966. It would also be the company's second and third launches in just two days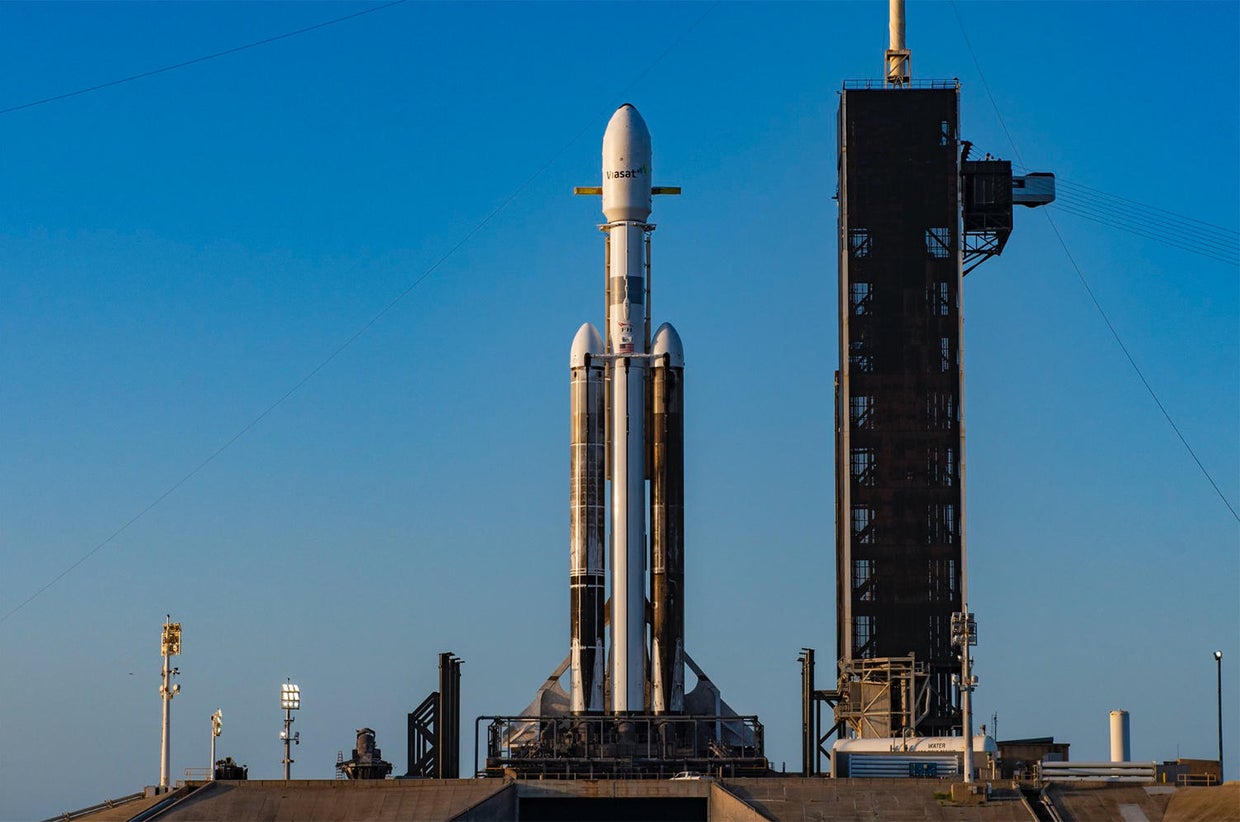 SpaceX attempted to launch a Falcon Heavy rocket Friday evening, but a last-minute cancellation caused the company's two rockets to fail a launch attempt a little more than two hours apart, the shortest time between two orbit-class launches since 1966. Not to be.
SpaceX
On Thursday, a Falcon 9 lifted 46 Starlink Internet satellites into space from California, but stormy weather in Florida hampered efforts to get the Falcon Heavy off the ground, carrying the first of three ViaSat broadband relay stations.
Despite another gloomy forecast, the ViaSat launch was rescheduled for Friday, shortly after two SES 03b mPOWER medium-altitude Internet satellites were placed into orbit from the Cape Canaveral Space Force Station.
That flight made the second flight using the first stage at 6:12 pm EDT. Two hours later, the two SES satellites were left to fly on their own as another SpaceX team refueled the Falcon Heavy for liftoff at 8:26 p.m. SpaceX had expected to launch the Heavy at 7:29 p.m., but the flight resumed. Target for end of launch window due to weather.
Everything seems to be going smoothly as the countdown ticks down to its final minute. Then, at t-minus 59 seconds, as the rocket's flight computer begins its final test, the clock stops and the countdown is aborted. SpaceX did not provide an immediate explanation, other than to say another launch opportunity was available on Saturday.
Thursday's Starlink launch, Friday's SES flight and the final launch of ViaSat's third-generation satellites highlight the ongoing race to deploy Internet relay stations in space to provide broadband access to customers anywhere in the world, including rural, hard-to-reach or otherwise. Under-served areas, as well as aircraft and ships at sea that cannot be served by traditional providers.
The satellites depict a variety of architectures, from multi-thousand satellite constellations in low-Earth orbit like SpaceX's Starlink initiative — with 4,284 Starlink launches to date — to ViaSat's plans to launch more powerful, high-altitude satellites that offer broadband on a hemispheric scale. may provide access.
How these competing architectures will play out is anyone's guess, but the rush to claim that high frontier is heating up.
More William Harwood