The U.S. Supreme Court on Monday sided with an Alabama death row inmate who stopped his lethal injection at the last minute in November, arguing that he should be executed by nitrogen hypoxia if he is eventually sentenced to death.
The justices declined without comment the Alabama attorney general's request to review the 11th U.S. Circuit Court of Appeals decision. Kenneth Eugene Smith. The state argued that the decision ignored Supreme Court precedent that an inmate challenging the execution method must show that an alternative method is available, not just feasible.
Alabama has approved nitrogen hypoxia — death by inhaling pure nitrogen — as an execution method, but no other state has attempted to use the untested method to execute an inmate.
Smith was scheduled to be executed by lethal injection on November 17, 2022, for the 1988 murder-for-hire of a preacher's wife.
On the day of the execution, a divided 11th Circuit panel stayed the execution after Smith raised concerns about previous lethal injections in the state and suggested nitrogen hypoxia as an available alternative method. The Supreme Court disagreed and lifted the stay. However, prison officials halted Smith's execution for the night because staff could not find a suitable vein to connect the second of two intravenous lines in Smith's body.
Justices Clarence Thomas and Samuel Alito dissented from the Supreme Court's opinion, saying they would hear the case.
"The Eleventh Circuit's error was not only plain but serious enough to warrant reversal," Thomas wrote in a dissent.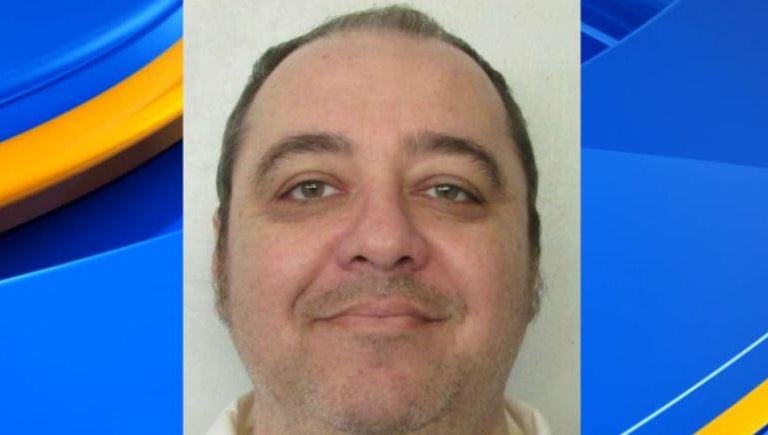 Kenneth Eugene Smith
Alabama Department of Corrections
Alabama Governor Kay Ivey announced a moratorium on executions in November to conduct an internal review of the proceedings. The review came after multiple executions were canceled or delayed due to problems with intravenous lines. The state is looking to resume executions this summer.
Smith's attorneys contended that his execution should be attempted in November. Smith has an ongoing lawsuit seeking to prevent the state from making a second attempt to execute him by lethal injection.
"A second execution by lethal injection would require Mr. Smith to experience a torturous experience of unnecessary physical and emotional pain, as established by Alabama's last three execution attempts," Smith's lawyers wrote in a December court filing.
Prosecutors said Smith was one of two people each killed by her husband, the Rev. Charles Sennett was paid $1,000 to kill Elizabeth Sennett, who was deeply in debt and wanted to collect on the insurance.
Elizabeth Sennett was found dead in the couple's home in Colbert County on March 18, 1988. The coroner testified that he was stabbed eight times in the chest and once on either side of the neck.
Her husband committed suicide a week later.
John Forrest Parker, another man who prosecutors said was paid to kill Elizabeth Sennett, was executed in 2010. When asked if he had any final words, Parker turned to face Mike and Charles Sennett and said, "I'm sorry. I never expected you to forgive me. I'm really sorry."
Alabama last September Alan Miller's death sentence revoked Due to the difficulty of accessing the prisoner's vein. Alabama Corrections Commissioner John Hamm told reporters that "accessing the veins was taking a little longer than we expected" and that the state did not have enough time to carry out the executions by the midnight deadline.
This is at least the third time Alabama has acknowledged an intravenous access problem during a fatal injection. of the state July 2022 Execution of Joe Nathan James The 1994 Faith Hall massacre took more than three hours. CBS affiliate WIAT-TV reported Hall's family opposed James' death sentence.
And, in 2018, Alabama Doyle revokes Ham's death sentence After being unable to place an intravenous line.
According to the Death Penalty Information Center, Alabama has 166 inmates on death row.
Trending news