A massive fire broke out at an oil depot in Crimea after it was hit by two Ukrainian drones, a Russian official there said Saturday, the latest in a series of attacks on the annexed peninsula as Russia braces for an expected Ukrainian counterattack.
Mikhail Razvozaev, the Moscow-based governor of Sevastopol, a port city in Crimea, posted videos and photos of the fire on his Telegram channel.
Razvozhaev said the maximum location was determined in terms of how difficult it would be to put out a fire in the city's port. However, he informed that the open fire has been brought under control.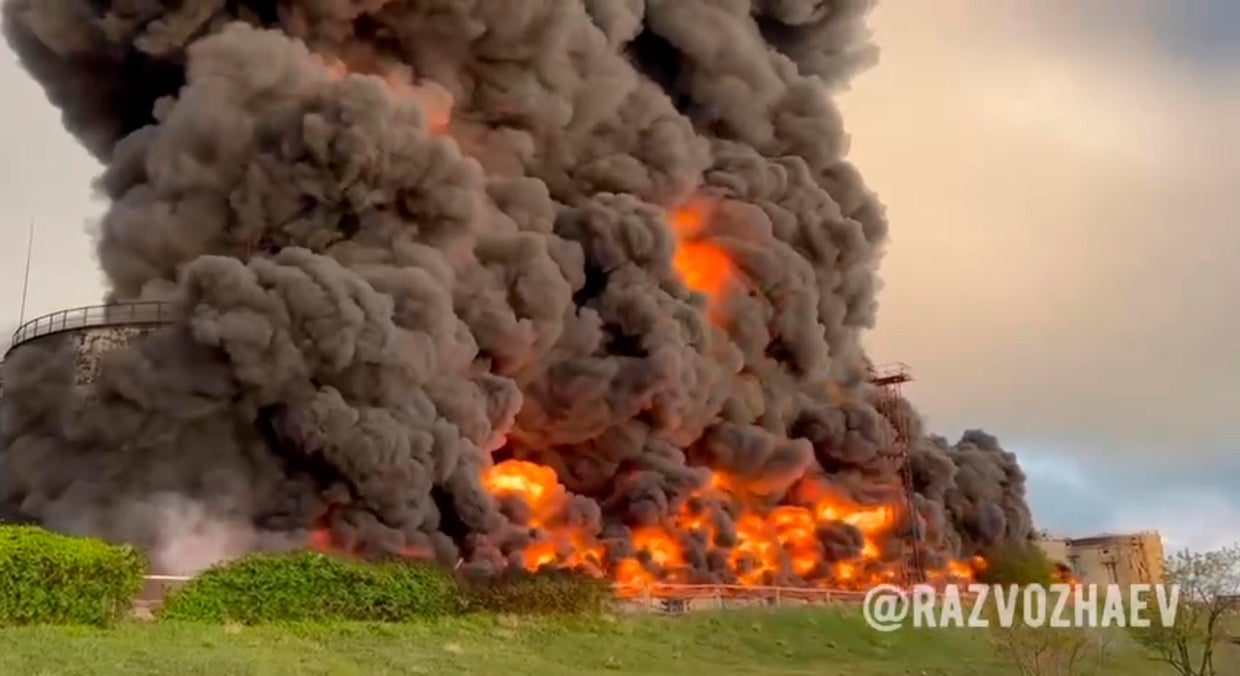 Smoke and flames rise from a burning fuel depot in Sevastopol, Crimea, in this handout photo taken from a video released by Sevastopol Governor Mikhail Razvozhaev's Telegram channel on April 29, 2023.
Sevastopol Governor Mikhail Razvozhaev via Telegram channel AP
Razvozaev said the oil depot was attacked by "two enemy drones" and four oil tanks were burned. A third drone was shot down from the sky and another was disabled by radio-electronic means, according to Sergei Aksyonov, the Moscow-appointed governor of Crimea.
Ukraine has not publicly claimed responsibility for the drone strike. However, a Ukrainian intelligence official called it "punishment from God" for a wave of Russian military strikes across Ukraine earlier in the day. That leaves at least 23 people.
Russia annexed Crimea from Ukraine in 2014, a move that most of the world considers illegal. President of Ukraine Volodymyr Zelensky said in an interview this week that his country would seek to retake the peninsula in an upcoming counteroffensive.
Russian President Vladimir Putin visited Crimea last month to mark the ninth anniversary of the annexation of the Black Sea peninsula from Ukraine. Putin's visit comes a day after the International Criminal Court issued an arrest warrant against the Russian leader on charges of war crimes.
The reported attack in Sevastopol came a day after Russia fired more than 20 cruise missiles and two drones into Ukraine, killing at least 23 people. Almost all of the victims were killed when two missiles crashed into an apartment building in the central Ukrainian city of Uman.
Six children were among the dead, Ukrainian Interior Minister Ihor Klymenko said Saturday, adding that 22 of the 23 bodies had been identified. Two women remain missing, Klymenko said.
A cruise missile also hit a house on the outskirts of Dnipro in central Ukraine, killing a 31-year-old woman named Olga and her 2-year-old daughter Veronika. The woman's uncle, Serhi, told CBS News that they moved from an apartment in Dnipro to the house because they thought it would be safer there.
Serhi said he was informed about the explosion on his brother's phone at a hospital.
"They asked me to come urgently," Serhi said. "My brother was shocked and he said, 'Sergi come as soon as possible, Veronika and Olga are dead.'"
Russian forces carried out more drone strikes in Ukraine overnight. Ukraine's Air Force Command said two Iranian-made self-exploding Shahed drones were intercepted and a recovery drone was shot down early Saturday morning.
Meanwhile, Razvozayev said the fire at the oil depot caused no casualties and would not disrupt fuel supplies to Sevastopol. The city has been the subject of regular attack attempts by drones, particularly in recent weeks.
Earlier this week, Razvozayev reported that the Russian military destroyed a Ukrainian naval drone that attempted to attack the port and detonated another, shattering windows in several apartment buildings, but causing no other damage.
Andriy Yusov, a spokesman for Ukraine's military intelligence service, told the RBC Ukraine news site on Saturday that the fire at the oil depot was "God's punishment" for the "civilians killed in Uman, including five children."
He said more than 10 tanks carrying oil products for Russia's Black Sea fleet were destroyed in Sevastopol, but stopped short of accepting Ukraine's responsibility for the drone strike. The difference between the number of tanks given by Yusov and Razvozaev could not be immediately reconciled.
Elsewhere, Ukrainian forces shelled the town of Nova Kakhovka, in the Russian-held part of southern Ukraine's Kherson province, according to Moscow-based authorities. "Heavy artillery fire" knocked out power in the city, officials said.
The Ukrainian-controlled part of the province also came under fire on Saturday. According to the Kherson Prosecutor's Office, one person was killed and another injured by Russian shelling in the area of ​​Bilozharka village.
More

Source link