A tentative new contract agreement will raise the pay of thousands of Los Angeles public school teachers by 21% over the next three years, the district's largest union announced this week.
United Teachers Los Angeles — the main union representing teachers within the Los Angeles public school system, which has 35,000 members — reached an agreement with the Los Angeles Unified School District Tuesday morning after extensive bargaining. General strike Last month.
Teachers represented by the union joined SEIU Local 99, another major union representing public school support staff in Los Angeles, for a three-day strike in March, effectively shutting down a school system that serves about 420,000 students. It followed failed negotiations between the union and the school district and came years after a six-day strike by Los Angeles teachers in 2019.
Gina Gray, a high school English teacher in the L.A. Unified School District who was one of the union members directly involved in the negotiations, said CBS Los Angeles That Tuesday's tentative agreement "laid the groundwork" for their upcoming agreement.
"I'm excited and exhausted," Gray said in comments to the news station. "We say it's the ground, not the ceiling. So we've laid the groundwork for our next deal."
The tentative agreement reached this week "goes beyond the scope of traditional bargaining and makes significant progress for educators and students," United Teachers Los Angeles said in a statement. All members of the union must vote on the potential contract, which will then be approved by the school board, in order for it to take effect.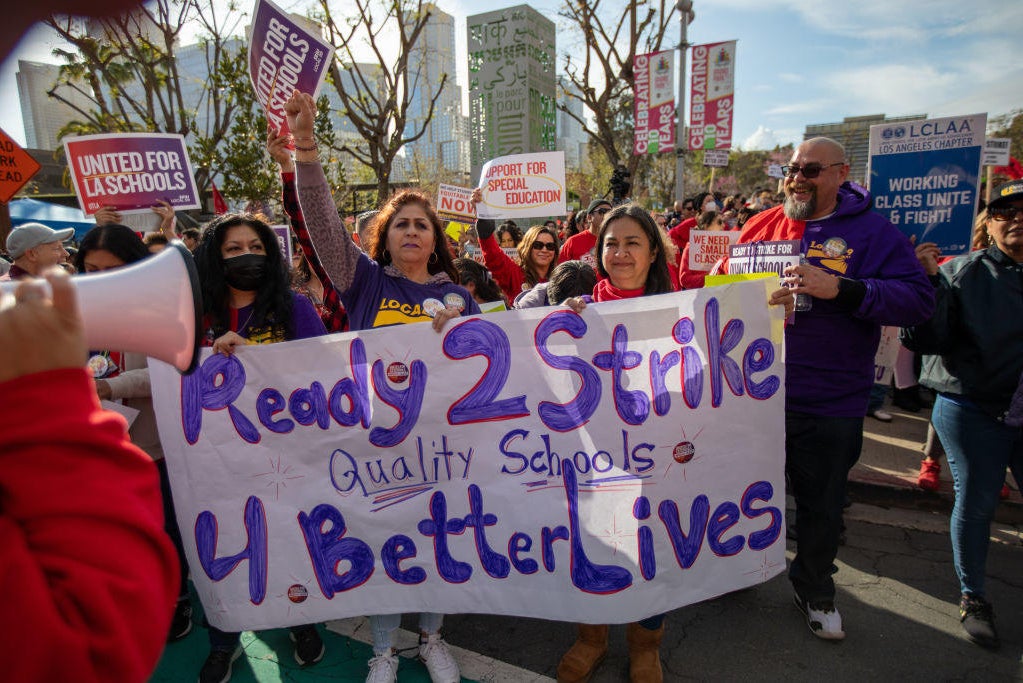 United Teachers of Los Angeles and SEIU 99 members held a joint rally Wednesday, March 15, 2023, in Los Angeles, California.
Francine Orr
If approved, the new contract would mean substantial wage increases for every member of United Teachers Los Angeles. The terms of the agreement state that the overall 21% increase will be paid in increments over three years during the timeline set between July 2022 and January 2025. Increases — 3% and 4% — per year.
Retrospective salary increases for the second half of 2022 and the first half of 2023 will also be implemented. Some employees, such as nurses, counselors and teachers who work in special, career, technical and early childhood education, will receive additional pay increases.
The salary increases in the union's new contract agreement will bring teachers' salaries to an average of about $106,000 per year, the Los Angeles Times reported, with individual salaries ranging from about $69,000 to $122,000 annually.
Higher salaries aren't the only component of the new union contract, which calls for a phased reduction in class sizes by an average of two students per class. With the current school year nearly over, United Teachers Los Angeles acknowledged that it is "not realistic to expect a district-wide reduction" in time for the 2024-2025 school year "simply due to a lack of recruiting time." Instead, there will be a gradual reduction in class size over the next three years.
The union highlighted several other big wins for Los Angeles Public Schools employees and students that could come to fruition under the new deal, such as expanding housing assistance for low-income families and students facing homelessness, creating curriculum that teaches climate change through the lens of racial justice. Addressing historical disparities, and strengthening programs for black students.
"This agreement recognizes the essential work of those who work hard to ensure students can learn in a clean, safe and supportive environment," SEIU Local 99 Executive Director Max Arias said in a statement to CBS Los Angeles. "This is a big step forward with significant improvements to wages, hours, and dedicated education staff that have been long overdue. This will lead to long-term benefits for student services because improved jobs will allow. Districts can feed students, transport them to school, support them in the classroom. to hire and retain more staff to help keep schools clean."
CBS News reached out to United Teachers Los Angeles for more information about the contract but did not immediately receive a response.
Trending news