Tribal leaders, scientists and conservation advocates buried Southern California's most famous mountain lion Saturday in the mountains where the big cat once roamed.
After making his home in urban Griffith Park — home of the Hollywood Sign — for the past decade, P-22 has become a symbol of California's endangered mountain lions and their declining genetic diversity. The name mountain lion comes from the 22nd puma in a National Park Service study.
The Death of the Cougar A debate began late last year between tribes and wildlife officials in the Los Angeles area over whether scientists could keep samples of mountain lion remains for future testing and research.
Some representatives of the Chumash, Tataviam and Gabrielino (Tongva) peoples argued that the samples taken during the necropsy should be buried with the rest of his body on the ancestral land where he had spent his life. Some indigenous elders say that keeping samples for scientific testing would be disrespectful to their traditions. Mountain lions are considered relatives and teachers in LA's tribal communities.
Tribal representatives, wildlife officials and others have discussed a possible compromise in recent weeks, but a consensus was not reached before P-22 was buried Saturday at an unspecified location in the Santa Monica Mountains.
"While we did our best to preserve the carcass intact, the tribes and agencies involved are still working on a conclusion about some of the specimens," the state Department of Fish and Wildlife said in a statement Monday. "What's important to understand is that everyone involved in the tribe and the agency agreed to move forward with the burial and it was an ongoing event. We came to a better place of understanding and we look forward to continuing to grow from here."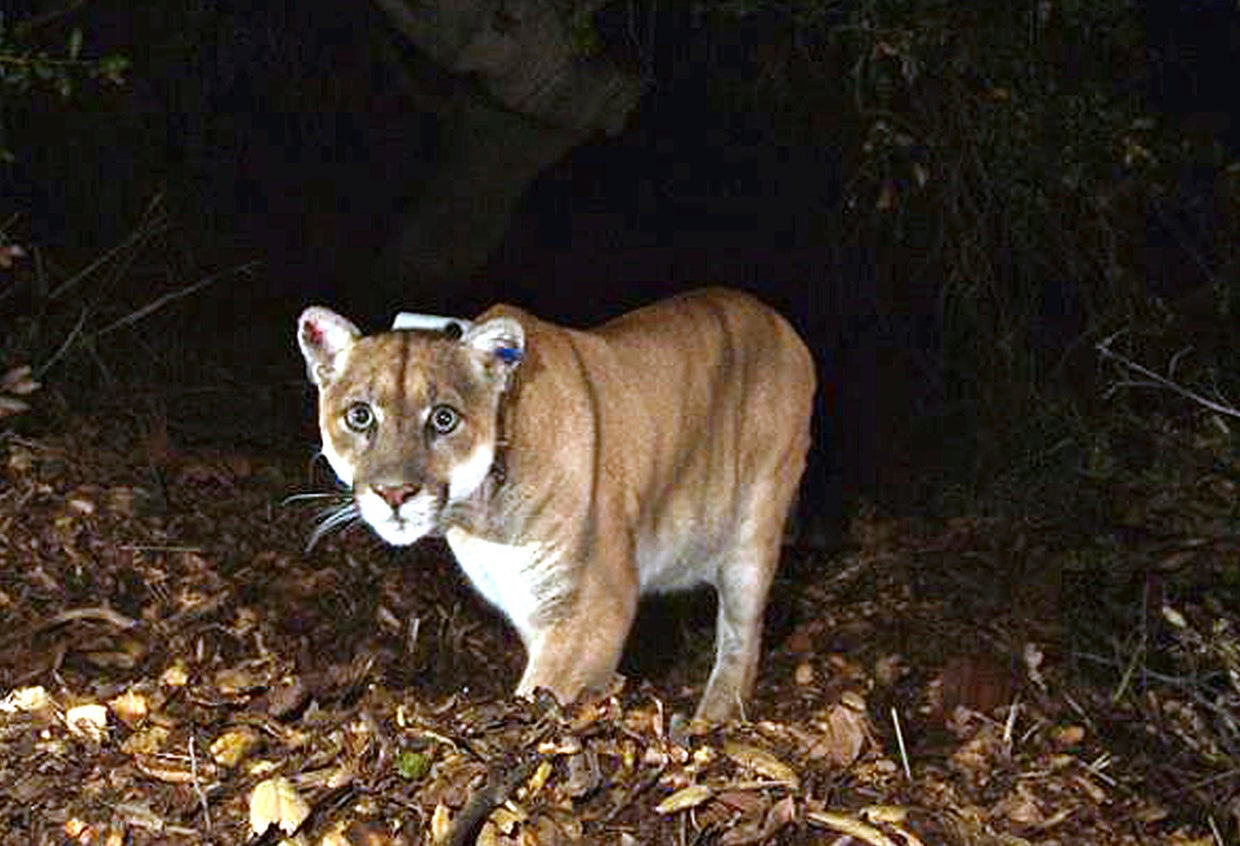 This November 2014, file photo provided by the U.S. National Park Service shows a mountain lion identified as P-22, photographed in the Griffith Park area of ​​downtown Los Angeles.
US National Park Service, via AP
It was not clear whether unspecified samples could be buried with animals in the future or whether the tribe agreed to let scientists keep some samples for additional testing.
According to Alan Salazar, a tribal member of the Fernandeno Tataviam Band of Mission Indians and a descendant of the Chumash tribe, Saturday's traditional tribal burial included singing, prayer and clearing sage smoke.
The Natural History Museum of Los Angeles County, where the cougar's remains were kept in a freezer prior to burial, called the burial a "historically significant event."
"P-22's death has affected us all and he will forever be a revered icon and ambassador for wildlife conservation," the museum said in a statement Monday.
Salazar, who attended the event, said he believes P-22's legacy will help wildlife officials and scientists understand the importance of respecting animals going forward.
Beth Pratt, executive director of the National Wildlife Federation of California, who also attended the ceremony, wrote on Facebook that the burial "helped me find some peace" as she grieved the animal's death.
"I can now imagine the P-22 in peace, with such a strong and careful dispatch to the next place," he wrote. "As we laid him to rest, a red-tailed hawk flew overhead and called loudly, presumably there to help him on his journey."
Los Angeles and Mumbai are the only major cities in the world that have had regular presence of big cats for years – mountain lions in one, leopards in the other – although pumas have started roaming the streets of Santiago, Chile during pandemic lockdowns.
Wildlife officials believe P-22 was born in the western Santa Monica Mountains about 12 years ago but left because of her father's aggression and her own struggle to find a mate in a dwindling population. That drove the cougar to cross two heavily traveled freeways and migrate east into Griffith Park, where a wildlife biologist captured him on a trail camera in 2012.
His ride on the freeway inspired a wildlife crossing along the Los Angeles-area highway that would allow safe passage for big cats and other animals between the mountains and wildlands to the north. The bridge collapsed in April.
There was a P-22 Caught last December In a residential backyard After a dog attack. Examination revealed a fractured skull — the result of being hit by a car — and chronic illness, including skin infections and kidney and liver disease. The city-raised big cat was euthanized five days later.
Los Angeles celebrated his life last month at a star-studded memorial at the Greek Theater in Griffith Park that included musical performances, tribal blessings, speeches about P-22's life and the importance of wildlife conservation, and a video message from Gov. Gavin Newsom. .
To honor where the animal has made its home amid the city's urban sprawl, a stone from Griffith Park was brought to Santa Monica Mountains Cemetery and placed near P-22's grave, Salazar said.
Trending news