The Israeli military said Saturday that three rockets were fired from Syria toward Israeli territory, a rare attack that comes after the country's northeastern neighbor. Days of escalating violence on multiple fronts.
There was no immediate claim of responsibility for the rocket launch, which caused no damage or casualties. Only one rocket managed to enter Israeli territory and landed in a field in the Israeli-occupied Golan Heights, the Israeli military said. Fragments of another destroyed missile fell on Jordanian territory near the Syrian border, the Jordanian military said.
In Syria, an adviser to President Bashar Assad described the rocket attacks as "part of a previous, current and continuing response to a barbaric enemy".
In the occupied West Bank, Israeli security forces shot and killed a 20-year-old Palestinian in the town of Azjun, Palestinian health officials said, sparking protests in the area. The Israeli army said soldiers threw stones and explosive devices at Palestinians. The Palestinian Ministry of Health identified the dead Palestinian as Ayed Salim.
His death came at a time of unusually heightened violence in the West Bank. According to a study by The Associated Press, more than 90 Palestinians and Israelis have been killed in shootings so far this year, at least half of them linked to militant groups.
Palestinian attacks on Israelis have killed 19 people since then – including two British-Israelis shot dead near a settlement in the Jordan Valley on Friday and an Italian tourist killed after being hit by a suspected car in Tel Aviv. All but one are civilians.
The rocket fire from Syria comes against a backdrop of heightened Israeli-Palestinian tensions with an Israeli police raid on the holy precincts of Al-Aqsa Mosque, one of Jerusalem's most sensitive sites. The observance of the holy month of Ramadan angered Palestinians and prompted Lebanese militants — as well as Palestinian militants in the Gaza Strip — to A heavy barrage fire Rockets in Israel.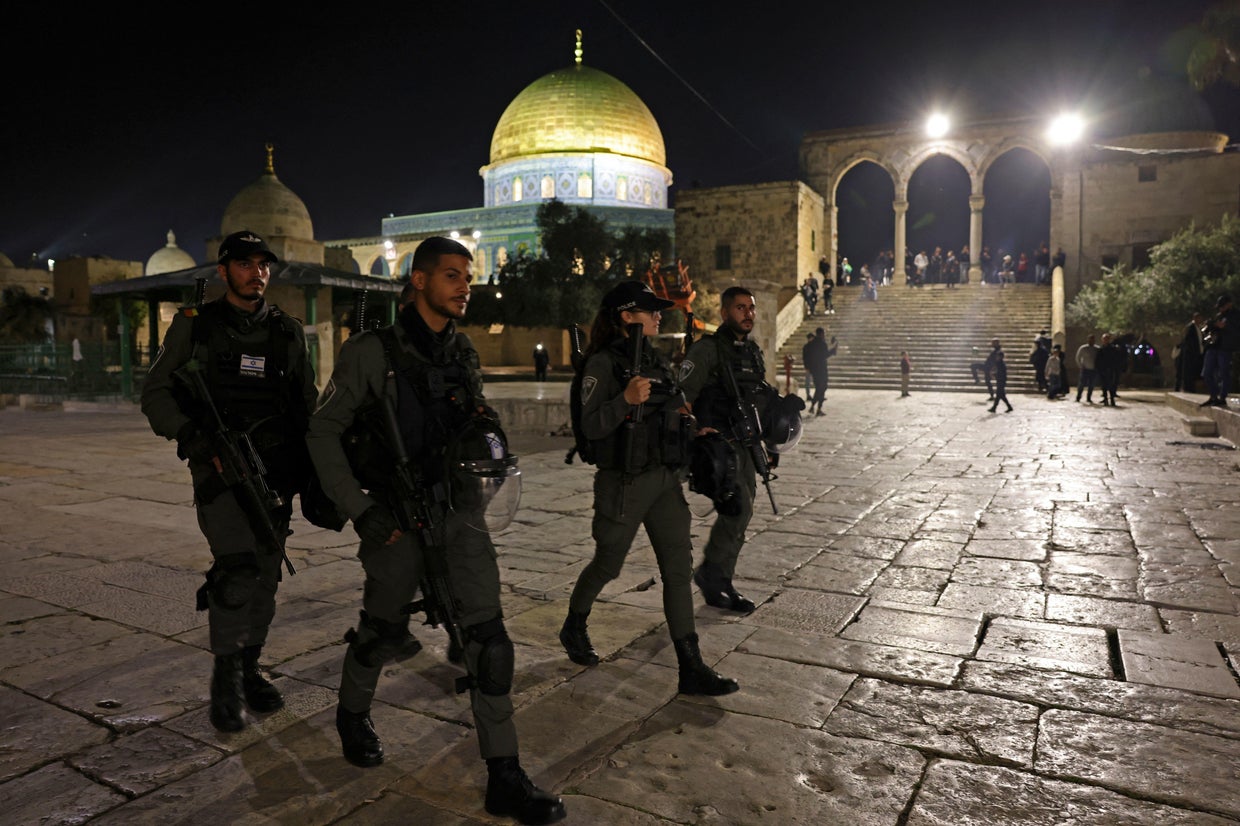 Israeli security forces patrol outside the Dome of the Rock shrine in the Al-Aqsa Mosque compound in Jerusalem on April 8, 2023.
Ahmed Gharabli/AFP via Getty Images
In retaliation, Israeli warplanes struck Gaza and southern Lebanon allegedly linked to the Palestinian militant group Hamas.
Late Saturday, tensions were high in Jerusalem as hundreds of Palestinian worshipers barricaded themselves in the mosque, which is sacred to both Muslims and Jews on a hilltop in the heart of Jerusalem's Old City. Attempts by Israeli police to evict worshipers locked in the mosque overnight with stockpiled fireworks and stones sparked unrest at the holy site earlier this week.
The latest tensions prompted Israeli Defense Minister Yoav Galant to lift barriers to entry into Israel for Palestinians from the occupied West Bank and Gaza Strip for the duration of the Jewish Passover holiday, while police increased forces in Jerusalem for the sensitive religious occasion. celebration
In a separate incident late Saturday night in the northern West Bank city of Nablus, a leader of a local independent armed group known as Lion's Den claimed the group had killed an alleged Israeli collaborator who had been providing information on the location and movements of the Israeli military. Group members. Israeli security forces have targeted and killed several key members of the group in recent months.
The suspect's killing was not immediately confirmed, but Palestinian media video showed medics and residents gathering around his bloodied body in the Old City, which houses the lion's den.
"Traitors have no country or people," Lions Den commander Ode Aziji said in a statement.
The moves come at a time of heightened religious fervor – Ramadan coincides with the Passover and Easter celebrations Jerusalem's Old City, home to major Jewish, Muslim and Christian holy sites, is teeming with visitors and religious pilgrims from around the world.
Gallant said a closure imposed last Wednesday, the eve of Passover, will remain in effect until the end of the holiday Wednesday night. The order prevents Palestinians from entering Israel for work or praying in Jerusalem this week, although mass prayers were allowed at Al-Aqsa Mosque on Friday. Gallant ordered the Israeli army to stand ready to assist the Israeli police. The army later announced it was deploying additional troops to Jerusalem and the West Bank.
More than 2,000 police were expected to be deployed in Jerusalem on Sunday – when tens of thousands of Jews are expected to gather at the Western Wall for a special Passover priestly blessing. The Western Wall is the holiest site where Jews can pray and sits adjacent to the Al-Aqsa Mosque compound, where large crowds gather daily for prayers during Ramadan.
Jerusalem Police Chief Doron Turgeman met with his commanders on Saturday to assess security. He accused the Hamas militant group, which rules the Gaza Strip, of trying to incite violence before a Sunday priest's blessing by falsely claiming that Jews planned to attack the mosque.
"We will allow freedom of worship and we will allow Muslims to pray," he said, adding that police would "act with determination and sensitivity" to ensure all religions can celebrate safely.
The current round of violence began after Israeli police raided the mosque earlier in the week, firing tear gas and stun grenades to disperse hundreds of Palestinians who had barricaded themselves inside. Violent scenes from the raid sparked unrest in the contested capital and anger across the Arab world.
Meanwhile, Israeli-Palestinian violence also came as thousands of Israelis gathered on Saturday as part of ongoing weekly protests against the government's controversial judicial overhaul plan.
Prime Minister Benjamin Netanyahu Overhaul it on hold It follows mass protests against the plan, which has united large sections of Israeli society in opposition to a series of bills aimed at weakening the country's Supreme Court.
The main protest in Israel's commercial hub, Tel Aviv, was held less than a mile away from Friday's deadly attack in Tel Aviv.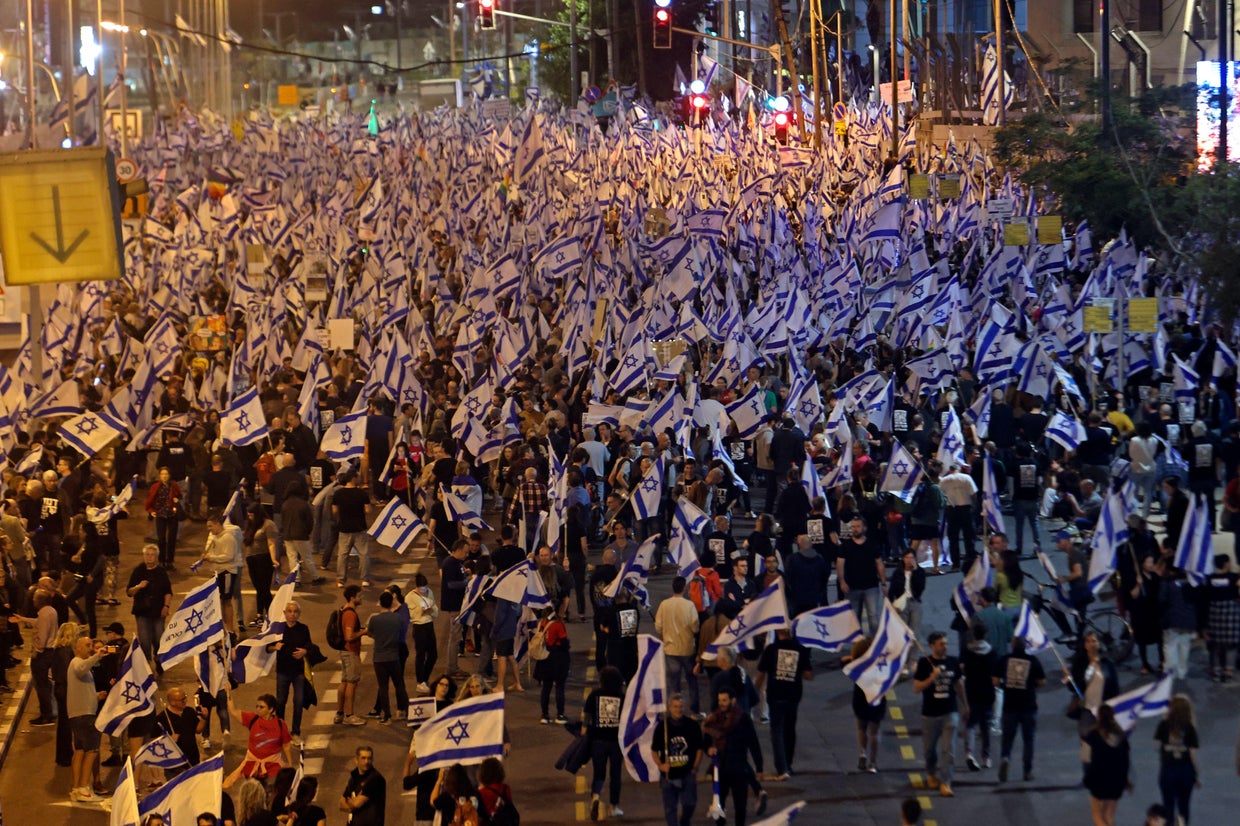 Israeli protesters take part in ongoing protests against the government's judicial reform bill in Tel Aviv on April 8, 2023.
GIL COHEN-MAGEN/AFP via Getty Images
Trending news