NAIROBI, Kenya — An estimated 43,000 people died in Somalia's longest drought on record last year, and half of them were likely children, a new report says. It was the first official death toll announced in the drought that has ravaged large parts of the Horn of Africa, and the report made clear that "the crisis is far from over."
At least 18,000 people are predicted to die in the first six months of this year, according to a report published Monday by the World Health Organization and the United Nations children's agency and the London School of Hygiene and Tropical Medicine.
Somalia and neighboring Ethiopia and Kenya are facing a sixth consecutive failed monsoon season while rising global food prices are compounding the hunger crisis.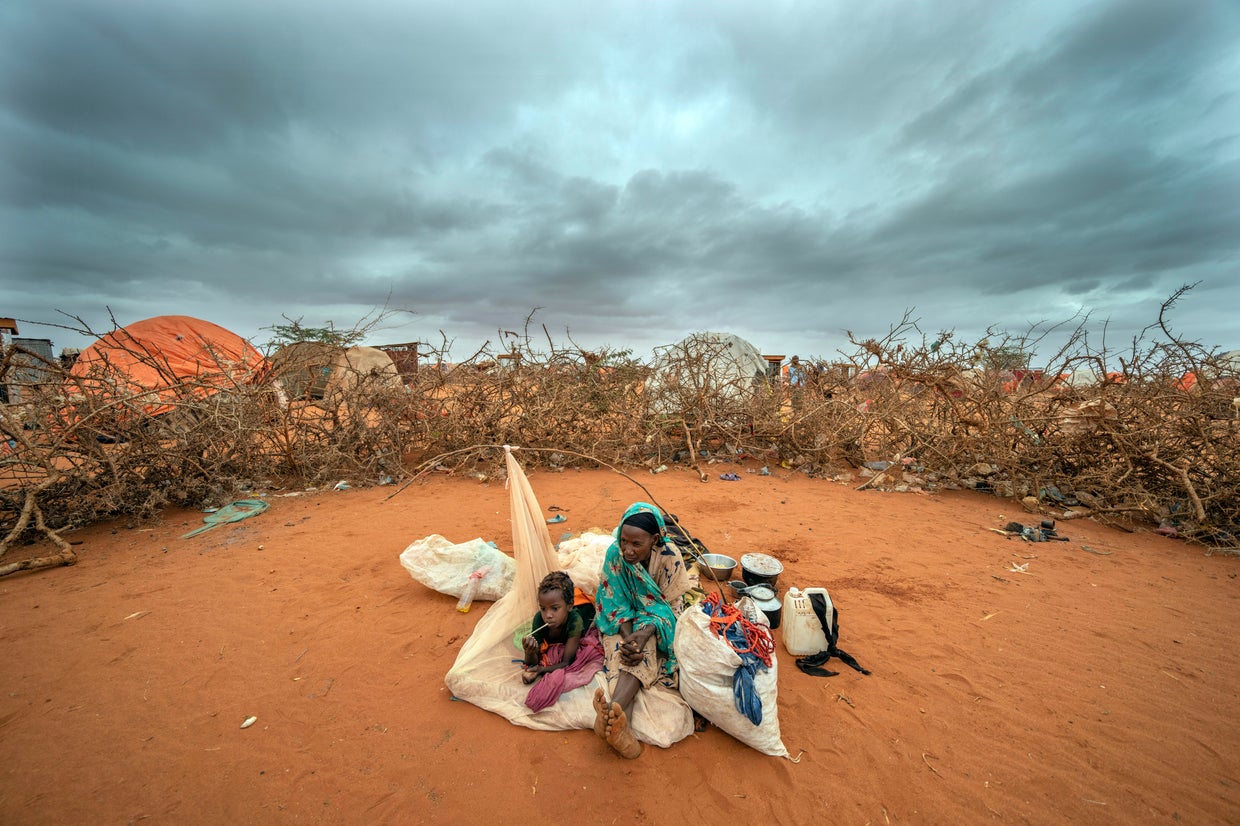 A Somali woman and child wait to be given a place to settle in a camp for displaced people on the outskirts of Dolo, Somalia, September 20, 2022.
Jerome Delay/AP
Earlier this year the UN and partners said they were not anticipating an official famine declaration for Somalia for now, but they called the situation "extremely critical" with more than 6 million people going hungry in that country alone.
A famine is an extreme lack of food and a significant death rate combined with diseases such as cholera from direct starvation or malnutrition. An official famine declaration means data shows that more than a fifth of households have extreme food shortages, more than 30% of children are acutely malnourished and more than two in 10,000 people die every day.
Some humanitarian and climate officials have warned this year that the trend is worse than the 2011 famine in Somalia that killed a quarter of a million people.
Five years of climate change-induced drought cause famine in Somalia
03:25
Millions of livestock have also died in the current crisis, according to a CBS News correspondent Deborah Patta has found herself, compounded by climate change and insecurity as Somalia battles thousands of fighters with Al Qaeda's East African affiliate, Al-Shabaab. The UN migration agency says 3.8 million people have been displaced, the highest on record.
The last time Somalia was declared a famine, in 2011, more than 250,000 people died from malnutrition, half of them under the age of five. The world has vowed never to let it happen again, but a food security assessment released last month said nearly half a million children in Somalia will be severely malnourished this year, and many humanitarian officials say the world is looking the other way.
"Many of the traditional donors have washed their hands and turned their attention to Ukraine," Adam Abdelmoula, the U.N. resident coordinator in Somalia, told visiting U.S. Ambassador to the U.N. Linda Thomas-Greenfield during a briefing in Mogadishu in January.
The new report highlights the stark statistics of how climate change is wreaking havoc on children in Somalia – one of the least vulnerable to global warming in a country among the least responsible for carbon emissions. CBS News visited an intensive care ward where every child was under the age of five, all of them hospitalized because of the climate change-induced drought that has starved their nation.
Late last year, officials said another child was being hospitalized in Somalia Malnourished Every minute every day.
Protecting the Planet: Climate Change News and Features
more and more

Source link