Victor Wembanyama is now set to begin his NBA career with the San Antonio Spurs after winning the NBA Draft Lottery and the No. 1 overall pick on Tuesday night.
Spurs were one of the three teams with the best odds – 14% – to land the No. 1 seed, which they will almost certainly use in Wembanyama. The 7-foot-3 French 19-year-old is one of the most highly anticipated prospects in NBA history and is expected to make an immediate impact in the league.
Immediately following the lottery results, an excited Wembanyama, who was in France surrounded by family and friends, told ESPN that he "loves Texas."
"I've been there before. I'm really happy," he said. "I really can't wait to meet the fans and meet the team, hopefully, I'm going to join in June."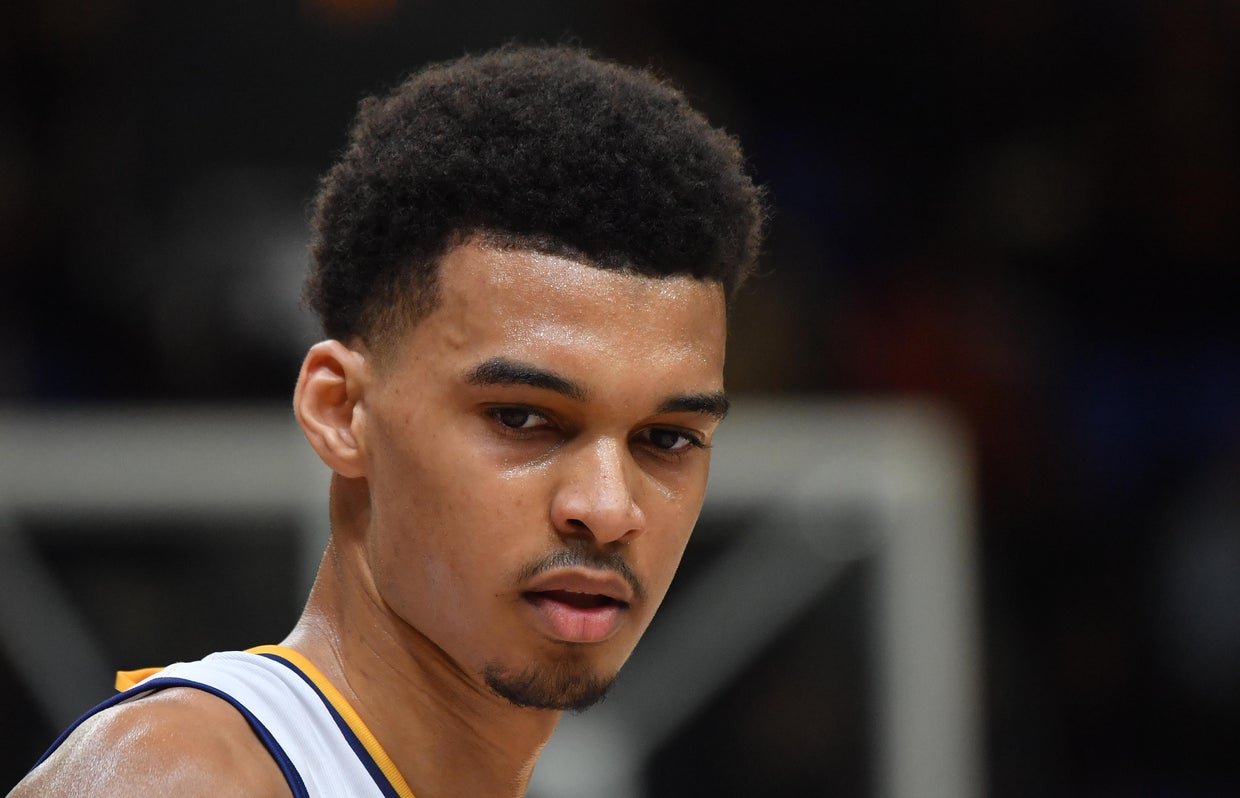 Victor Wembanyama of Metropolitan92 during the LNB Pro A BetClick Elite basketball match between Boulogne-Levallois vs Paris Basket at Palais des Sports Marseille-Cerdan on May 16, 2023 in Paris, France.
Christian Lewig – Corbis/Corbis via Getty Images
It's the third time the Spurs have won the lottery, and on the previous two occasions they've made picks that have paid off over the decades. They selected David Robinson in 1987, Tim Duncan in 1997, and these selections were a major part of how the Spurs became a team that won five NBA titles under coach Gregg Popovich.
"I'm very excited," Spurs managing partner Peter J. Holt said.
Charlotte will pick second, Portland third and Houston fourth.
"He's an incredible young man," NBA commissioner Adam Silver told ESPN as part of its draft lottery broadcast. "He's 19 years old and I haven't put out a yardstick or a meter stick or whatever they use in France, but he looked like 7-4 to me. … He clearly seems like a generational talent."
The Spurs were 22-60 this season, tied for the second-worst record in the NBA. Popovich and the Spurs have had incredible success with international players in the past – most notably, Manu Ginobili and Tony Parker, who own the French team that Wembanayama played for last season.
Wembanyama finished his regular season with Boulogne-Levallois of France's top pro league earlier on Tuesday, his 22-point effort good enough to win the league's scoring title. It was shortly after 2 a.m. Wednesday in Paris when the lottery results were announced, and Wembaniama gathered with family and friends for a celebration.
Finally, they know where his NBA journey will begin.
"I think the team that has first choice will not make a mistake," said Vincent Collet, Wembanyama's coach in France and coach of the French national team – which Wembanyama is expected to play at the worlds this summer. Cup and next summer at the 2024 Paris Olympics.
Detroit had the worst record in the NBA and was one of the three teams with the best odds to win. The Pistons fell to fifth place, their worst possible finish.
The rest of the lottery order: Orlando sixth, Indiana seventh, Washington eighth, Utah ninth, Dallas tenth, Orlando (from Chicago as part of an earlier trade) 11th, Oklahoma City 12th, Toronto 13th and New Orleans 14th.
Wembanyama is wrapping up his third professional season in France and has been the consensus top pick for months. He has the height of a center, the shooting touch of a wing and the passing ability of a point guard.
He was not in the lottery due to his playing schedule in France. But many of the other top prospects — G League Ignite's Scoot Henderson, Alabama's Brandon Miller, twin brother Amen and the Overtime Elite program's Auser Thompson — were in the room to watch the lottery results unfold and get a better idea of ​​where they're going to begin their NBA careers.
Trending news