A man has been arrested for taking a joy ride from Bel Air to Baltimore in a stolen military vehicle
A man has been arrested for taking a joy ride from Bel Air to Baltimore in a stolen military vehicle
00:39
A man stole a military vehicle from a residential neighborhood in Maryland City Friday night and then led officers on a long highway drive before finally being captured in Baltimore, authorities said.
The Harford County Sheriff's Office said deputies were called to a Bel Air home shortly after 6:30 p.m. local time Friday to report that a privately owned 1986 923-a five-ton military vehicle had been stolen.
The truck was then spotted on Bel Air Road, and the driver, later identified as 38-year-old Michael D. Identified as Stevens II, a multi-agency pursuit followed, with the suspect the sheriff's office said making his way south on Interstate-95.
Officers made several unsuccessful attempts to stop the vehicle using spike strips, the sheriff's office said, before the suspect finally drove into Baltimore, which is about 25 miles southwest of Bel Air.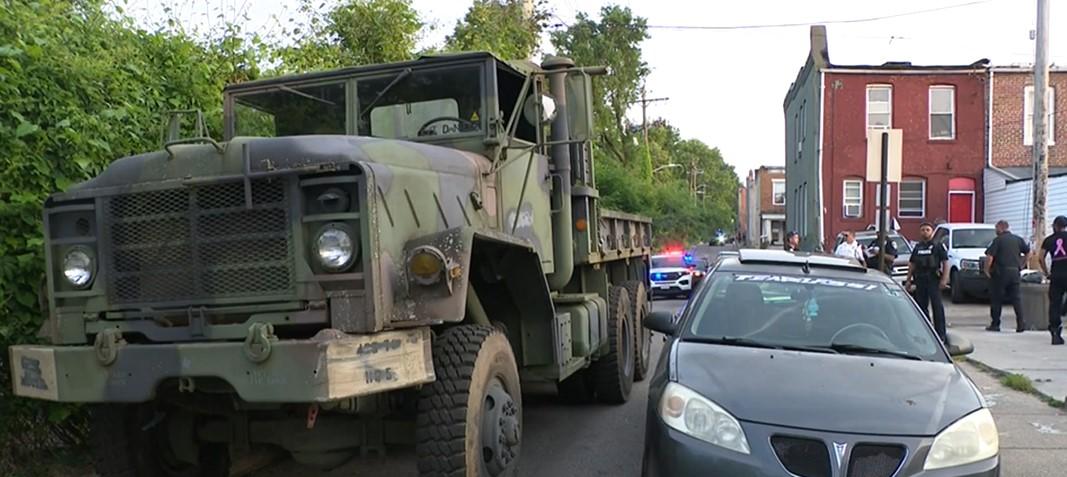 Stolen military vehicle after recovery in Baltimore. May 12, 2023.
CBS Baltimore
He eventually brought the vehicle to a stop and attempted to flee, but was caught by deputies, the sheriff's office said.
During the chase, Stevens crashed into several other vehicles, but no one was injured during the ordeal, the sheriff's office said.
Stevens was released from the Hartford County Detention Center shortly before the car was stolen, the sheriff's office confirmed. He was re-booked into the detention center on one count of theft of a motor vehicle, and two counts of first-degree and second-degree assault, along with one count of failure to obey a lawful order.
Details of his initial arrest and release were unclear. There is also no word on the circumstances leading to the theft of the vehicle.
Maryland State Police, Baltimore Police, Baltimore County Police and Bel Air Police all assisted during the incident.
Trending news
Thanks for reading CBS News.
Create your free account or login
For more features.