Eight killed in shooting at Jehovah's Witness hall in Germany
Eight killed in shooting at Jehovah's Witness hall in Germany
01:27
Eight people, including a former member of the congregation identified as the gunman, were killed Thursday night at a Jehovah's Witness hall in the German city of Hamburg, police said Friday. Four men and two women, including a pregnant woman, were killed. Her unborn 28-week-old baby also died.
Police on Friday identified the gunman as Philip F., a single ex-church member, and said there was no indication of a terrorist motive.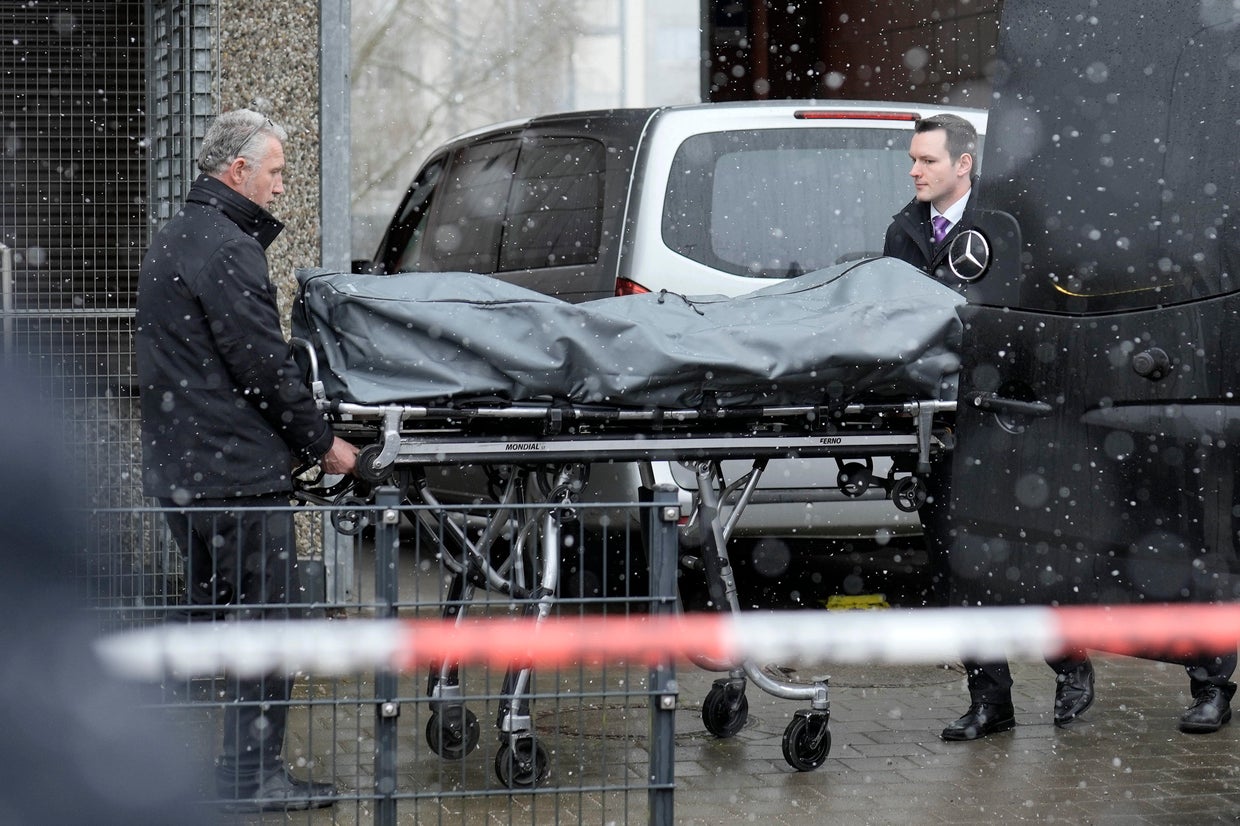 A body is removed from the Kingdom Hall of Jehovah's Witnesses in Hamburg, Germany, March 10, 2023, after a gunman killed eight people, including an unborn baby and the gunman, police said.
Markus Schreiber/AP
Police previously told CBS News that the gunman was inside the building the entire time and there was no beating at any point. When officers arrived, the gunman had already committed suicide.
Police gave no indication of a suspect motive as they briefed reporters Friday morning on the shooting that shocked Germany's second-largest city.
German magazine Der Spiegel first reported that the suspect was "said to be a former member of the Jehovah's Witnesses… between 30 and 40 years."
Police confirmed Friday that the gunman used a semi-automatic pistol that he had a license to own. They said an anonymous letter was sent to the police force several years ago claiming the suspect was mentally unstable and harbored hatred towards religious followers, and a review of his firearms license was carried out.
When questioned, they said, Philip F. was cooperative and gave no indication of any mental health problems, so they closed the case. He was a sports marksman.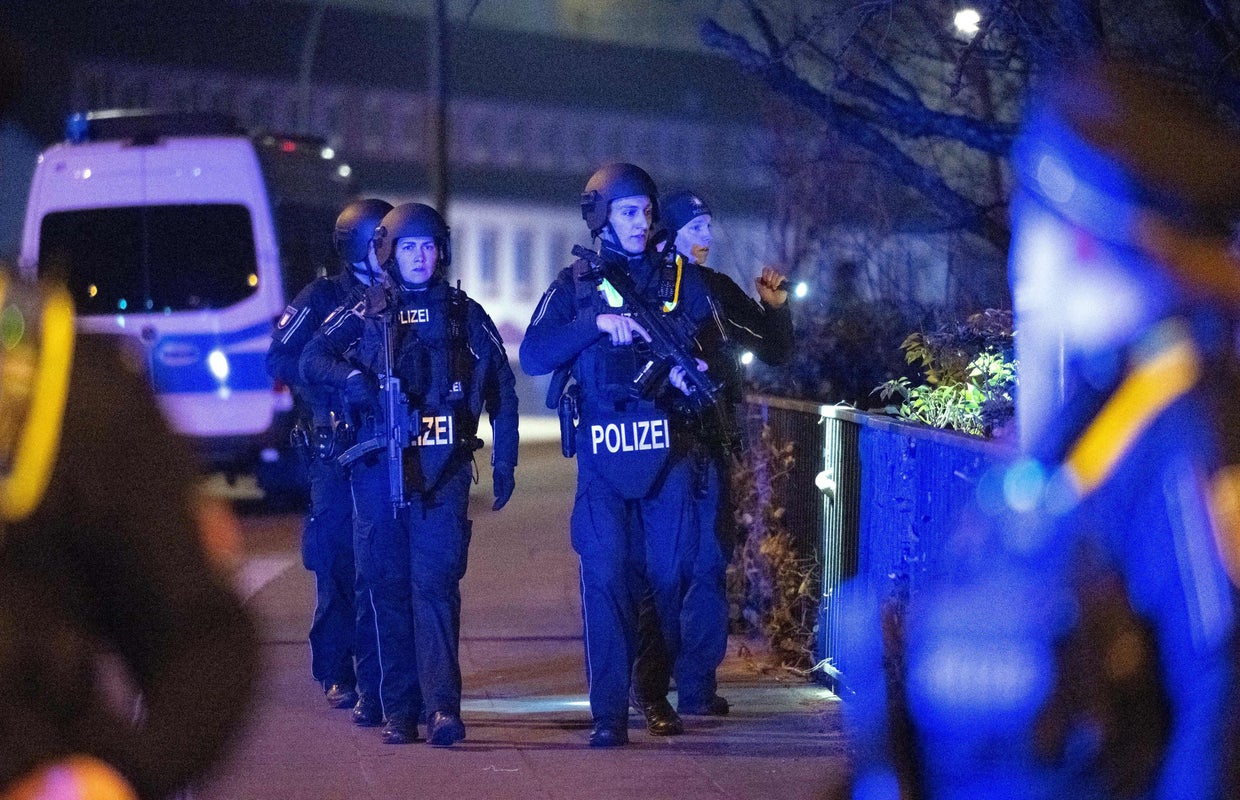 Heavily armed police inspect the area near a Jehovah's Witness church where several people were killed in a shooting late March 9, 2023 in Hamburg, northern Germany.
Daniel Reinhard/AFP/Getty
Mass shootings are rare in Europe, where gun ownership laws are generally stricter than in many US states. Germany has a long and rigorous process for obtaining a permit for a handgun
German Chancellor Olaf Scholz, a former mayor of Hamburg, described the shooting as "a brutal act of violence".
Investigators worked through the night to secure evidence. On Friday morning, forensic investigators in protective white suits could be seen outside the building still covered in light snow. Officers placed yellow cones on the ground and on window sills to mark evidence.
David Semonian, a U.S.-based spokesman for Jehovah's Witnesses, told The Associated Press in an emailed statement early Friday morning that members are "grieving worldwide for the victims of this tragic event."
"Elders of local area congregations are providing pastoral care for those affected by the event," he wrote. "We understand that the authorities are still investigating the details of this crime. We appreciate the brave help provided by the police and emergency services."
Hamburg Mayor Peter Chencher tweeted that the news was "shocking" and offered his condolences to the families of the victims.
The scene of the shooting was the Kingdom Hall of Jehovah's Witnesses, a modern and boxy three-story building next to an auto repair shop.
Police spokesman Holger Vehren said police were alerted to the shooting around 9:15 p.m. and rushed to the scene. As of Friday morning, police confirmed they received about 50 emergency calls about the shooting.
After officers arrived and found people with apparent gunshot wounds on the ground floor, they heard a gunshot upstairs and found a fatally wounded man upstairs who they suspected was the gunman, Vehren said. He said the police did not have to use their firearms.
"The shooting went on for about four hours," said Laura Bauch, a student who lives nearby, German news agency DPA reported. "There were always several shots during this period, roughly 20 seconds to a minute apart," he said.
Jehovah's Witnesses are part of an international church, founded in the United States in the 19th century and headquartered in Warwick, New York. It claims a worldwide membership of about 8.7 million, including about 170,000 in Germany.
Members are known for their evangelistic efforts that include knocking on doors and distributing literature in public squares. Distinctive practices of the community include refusing to bear arms, receive blood, salute the national flag, or participate in a secular government.
Trending news