A volcanic eruption in Russia this week affected flights to Alaska, Alaska Airlines said Thursday. A huge ash cloud from the Shibeluch volcano prompted the cancellation of some flights as a safety precaution.
As of 7 a.m. in Alaska, the airline had canceled 23 flights, a spokeswoman told CBS News, adding more delays were expected.
"We continue to monitor the ash cloud, and depending on its location, movement and timing, we may have to cancel additional flights," the spokesperson said, adding that flights to and from the state were affected.
The volcano is located in Kamchatka Krai, which is Russia's northern peninsula in the Bering Sea, the body of water that separates Russia and Alaska. The Bering Strait, the narrowest point between two pieces of land that serves as a passageway, is about 55 miles long.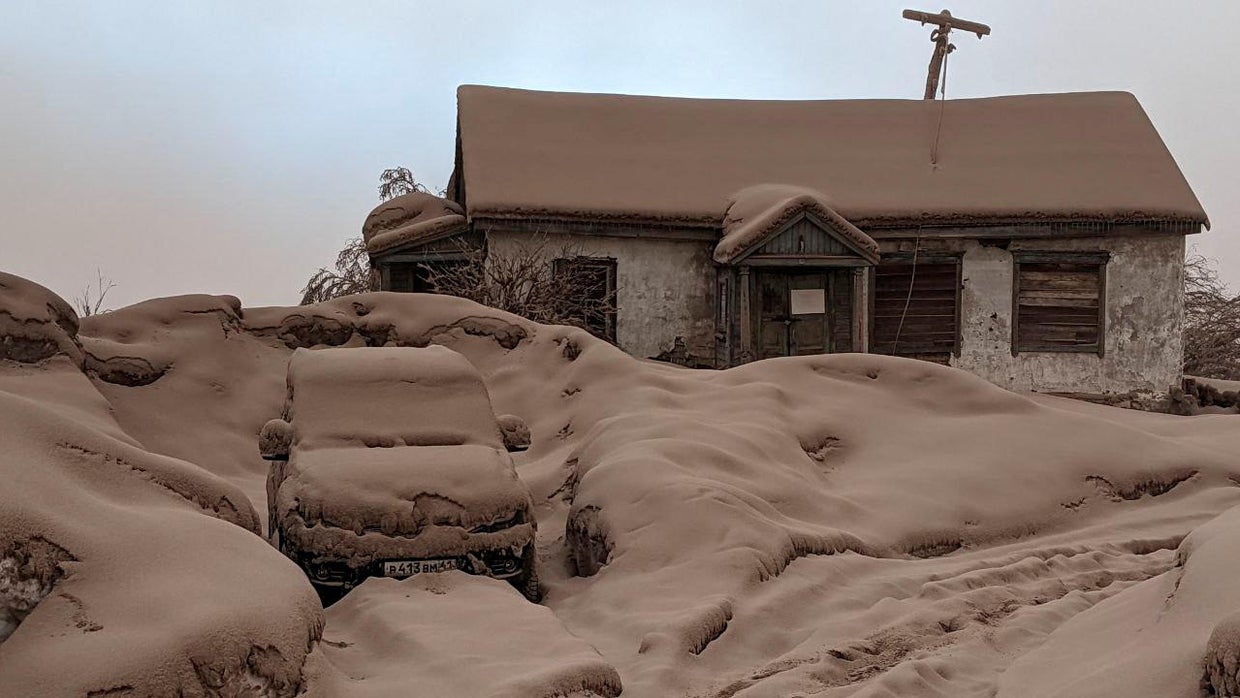 This photo from a handout shows a house and a car covered in volcanic dust after the eruption of the Shibeluch volcano in Russia's Kamchatka region on April 11, 2023.
Institute of Volcanology and Seismology/Handout via REUTERS
The volcano erupted on Tuesday, spewing ash and prompting an aviation alert, Reuters reported. The ash cloud is expected to cover about 41,700 square miles and travel west, according to Danila Chebrov, director of the Geophysical Survey's Kamchatka branch, Reuters reported.
Lava also flowed from the volcano, which melted snow and triggered a mudslide warning. The eruption also caused a 5.8 magnitude earthquake off the coast.
Some villages below the volcano were covered in about 3.5 inches of ash, the most in nearly 60 years, according to Reuters.
ASH ANGEL: A woman creates a statue of an angel from the ash after Russia's Shiveluch volcano erupted on Tuesday. pic.twitter.com/WPb0ZLjehO
— CBS News (@CBSNews) April 11, 2023
The volcano had been "preparing" to erupt for a year, Chebrov said.
this too erupted in 2012, causing a large plume of smoke to travel eastward toward Alaska. But as it splashed into the Bering Sea, winds pushed it back, images from NASA's Aqua satellite show. That ash cloud traveled about 140 miles from the volcano and reached 9,800 feet above sea level, according to NASA.
Trending news
Caitlin O'Kane