Controversy has surrounded the vote by Tennessee lawmakers Expel two members They and a third member from the state legislature — all Democrats — took part in a protest against gun violence from the floor of the chamber.
In the results of the vote held on Thursday, April 6, Dr Justin Jones And Justin Pearson was expelled from the Tennessee State House of Representatives, while Gloria Johnson retained her seat by one vote.
Vice President Kamala Harris Headed to Nashville to meet with them on Friday, and President Biden spoke with the three via conference call and invited them to visit the White House.
Here's what to know about the "Tennessee Three," the events that led to Thursday's vote and what happens next.
What caused the expulsion of two Tennessee lawmakers?
March 30, Hundreds of protesters gathered At Tennessee's state capitol in Nashville, three 9-year-olds and three adults called for stricter gun control laws Shot dead At The Covenant School, a private grade school in the city. It was the first day when the state legislature took up the bills the bullets.
Protesters chanted and chanted as they lined the hallways before entering the galleries of the House and Senate chambers.
On the House floor, three representatives suspended proceedings. Jones and Pearson led the chant with a bullhorn as legislators called for a recess. Video shot by a Republican on the House floor during the event — also a violation of legislative rules, Democrats contended Thursday — showed the three talking on the floor as protesters could be heard in the background.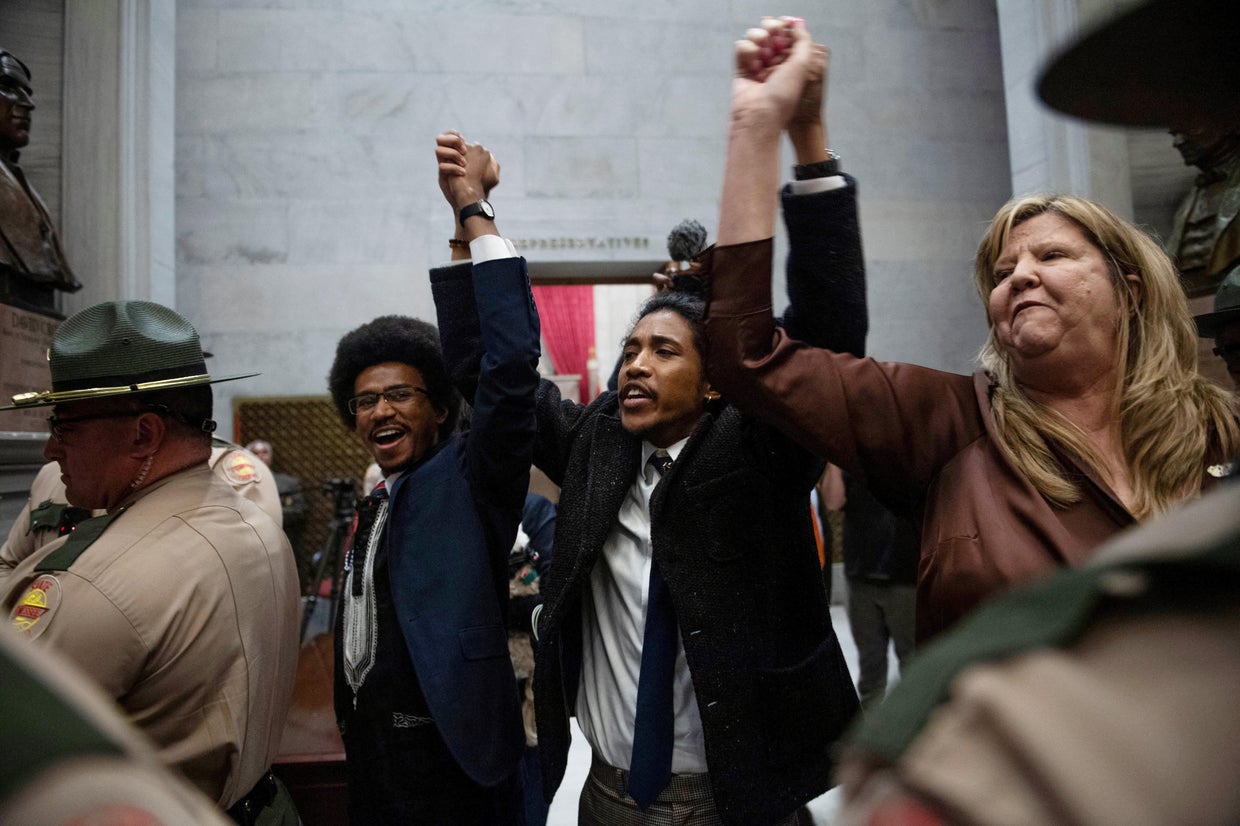 Rep. Justin Pearson, Rep. Justin Jones, Rep. Gloria Johnson raise their hands as they exit the door of the House Chamber at the Tennessee State Capitol Building on April 3, 2023 in Nashville, Tennessee.
Nicole Hester/USA TODAY Network via Reuters
Republicans, who hold a large majority of seats, immediately promised a swift response. Johnson and Jones were denied committee assignments. (Pearson had been newly elected and had not yet held a committee assignment.) Three different Tennessee Republicans brought motions to expel him from the legislature on April 3, accusing the three of "disorderly conduct."
Who is Justin Jones?
Justin Jones27, was the first of the "Tennessee Three" to be expelled from the House by a vote of 72–25.
He was one of the youngest members of the Legislature and represented the state's 52nd District, which has about 70,000 residents and is part of Davidson County in the Nashville metro area. His photo and biography have been removed from the Tennessee General Assembly website, but on his campaign site, Jones describes himself as a Nashville activist and community organizer.
Jones gave an emotional speech on the House floor before the vote.
"This is not about expelling us as individuals. This is your attempt to force the voice of the people out of the people's house. It will not succeed," Jones said before the vote to expel him. "Your overreaction, your yielding to false power has awakened a generation who will tell you that your time is up."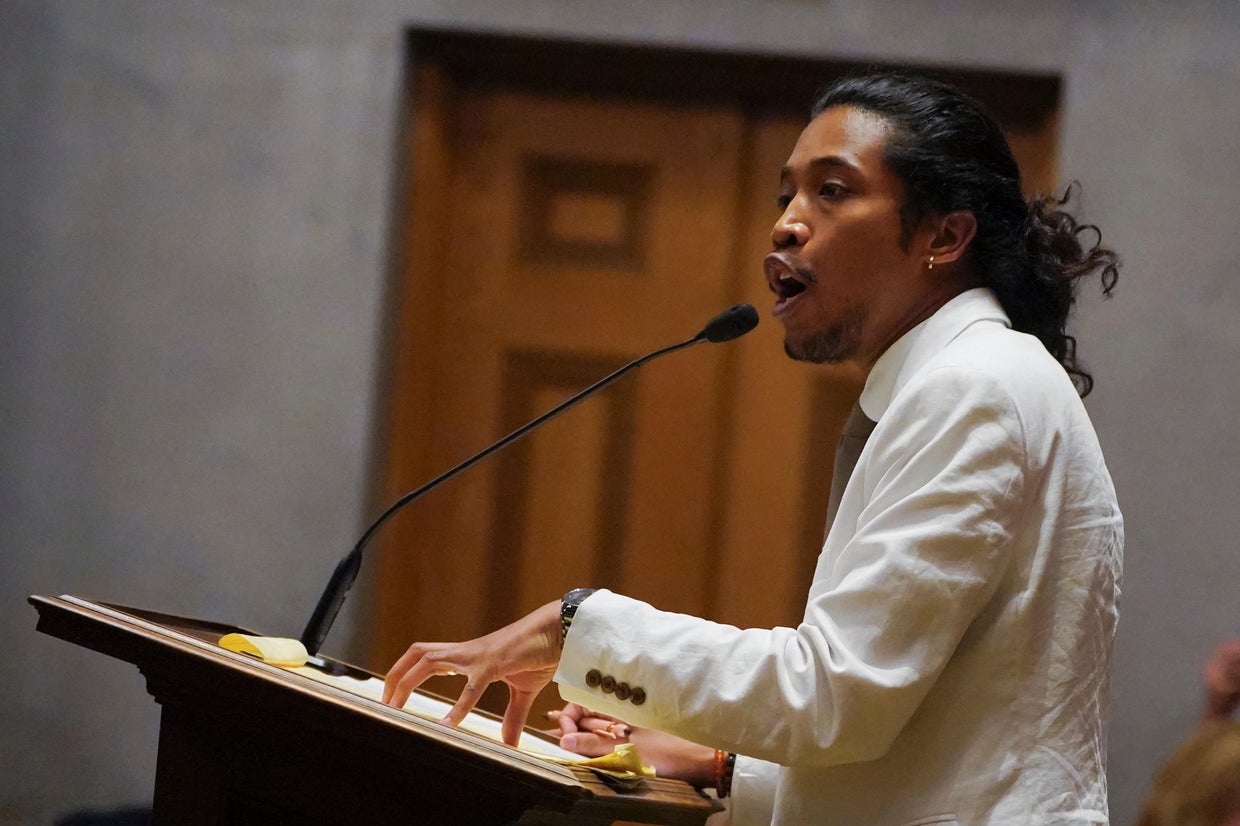 State Rep. Justin Jones speaks in the Tennessee House of Representatives on April 6, 2023, in Nashville, Tennessee, before a vote on whether to impeach him and two other Democratic members for their roles in last week's gun control protests at the statehouse.
Reuters/Cheney Orr
Who is Justin Pearson?
Justin Pearson, 28, is the second member of the group to be kicked out of the house and one of its youngest members. He was elected in a January 2023 special election after incumbent Barbara Cooper died. He represented the state's 86th district, which has about 64,000 residents and is part of Shelby County, where Memphis is located.
Pearson's information and photos are no longer available on the Tennessee General Assembly website. On his campaign site, he describes himself as a community leader and advocate.
Pearson was expelled from the legislature by a vote of 69–26.
In an emotional statement before his vote, Pearson referenced the Reverend Martin Luther King's belief in putting "conscience above rule."
"We've heard from thousands of people asking us to do something about gun violence," Pearson said. "Stopping gun violence is in the best interest of our people.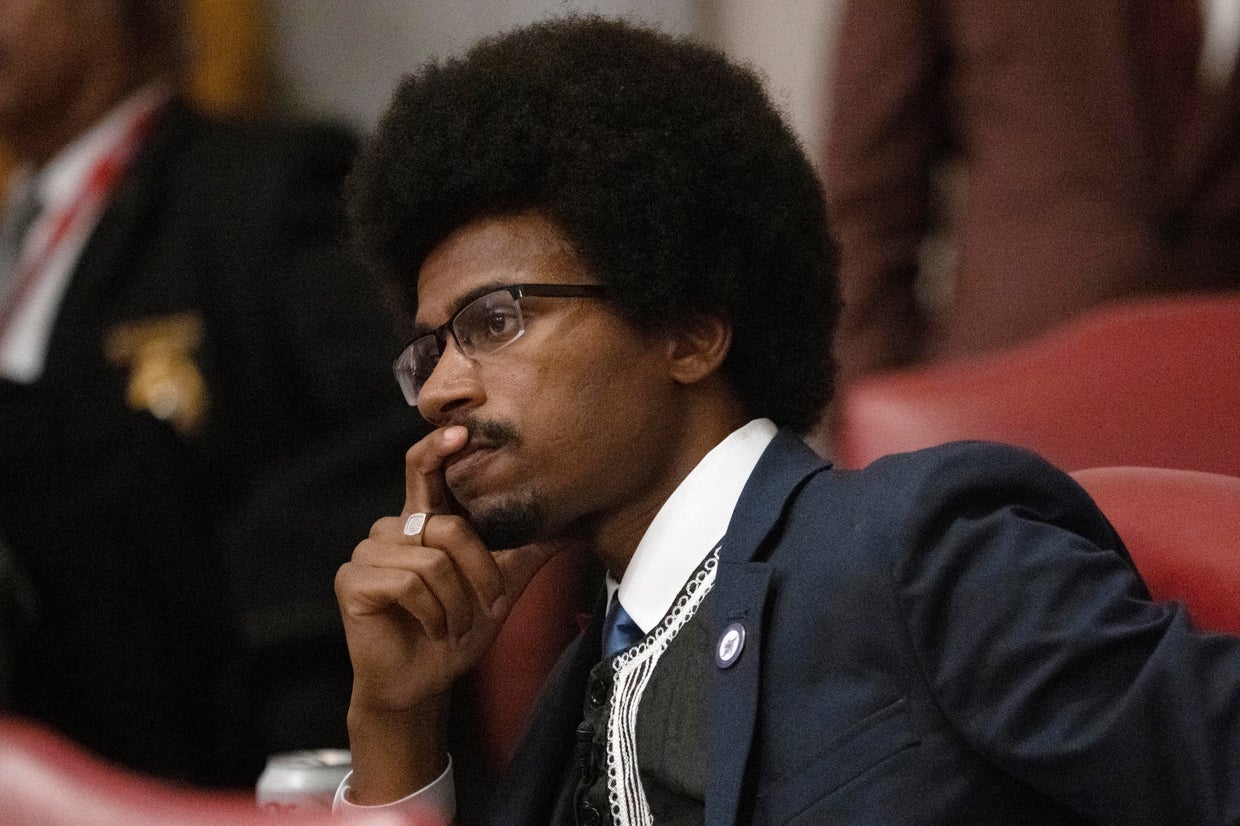 Rep. Justin Pearson, D-Memphis, heard comments on the floor of the House chamber in Nashville Thursday before voting to expel him along with two other representatives in protest of gun control.
George Walker IV/AP
Who is Gloria Johnson?
Gloria Johnson was the only member of the "Tennessee Three" not to be expelled from the legislature Thursday, retaining her seat by a single vote. He has been removed from his committee assignments and it is unclear whether they will be reinstated.
Johnson, 60, is a retired teacher who spoke about his experience surviving a school shooting before his vote. He represents the state's 90th district, part of Knox County, and is currently serving his fourth term in the legislature.
Before the vote, he defended his colleagues Pearson and Jones, saying the Legislature "needs to welcome this younger generation, who may do it a little differently, but they're fighting for their constituencies."
After the vote was over, he suggested that he had survived the process because he was white and Jones and Pearson were black.
"I think it's pretty clear: I'm a 60-year-old white woman. And they're two young black men." They are "amazing young people … who are working hard for the people in their community," Johnson told CNN.
Two Tennessee lawmakers have been kicked out of the statehouse in protest of the mass shooting
03:32
Why is expulsion so unusual?
Forced expulsion of legislators from any state legislative body in the United States A rare occurrence.
In Tennessee, only eight lawmakers have been expelled from the House in the past. Six of these were Confederates who had been expelled in the 19th century for refusing to grant citizenship to formerly enslaved blacks. In the 20th century, a legislator was expelled after being found guilty of bribery, and in 2016 a member was expelled for sexual misconduct.
Before his vote, Jones listed other lawmakers who have acted professionally or been investigated for misconduct but not expelled from the Legislature, calling the vote an "extreme measure" that attempts to "silence and undo the will of the 200,000 Tennesseans" represented. ". by the trio
How did people react to the expulsion?
Democrats nationwide condemned the boycott. President Joe Biden issued a statement Thursday night calling it "shocking" and "undemocratic."
"Today's expulsion of lawmakers who engaged in peaceful protest is shocking, undemocratic and unprecedented," Mr. Biden said. "Instead of debating the merits of the issue, these Republican lawmakers have chosen to punish, silence and ostracize the duly elected representatives of the people of Tennessee."
On Friday, the White House said Mr. Biden said he spoke with the three "to thank them for their leadership in banning assault weapons and standing up for our democratic values." It also said that he invited them to visit the White House in the near future.
Earlier, I spoke with Reps. Jones, Pearson and Johnson to thank them for their leadership and courage in the face of a blatant disregard for our country's democratic values.
Our country needs to take action on gun violence – to do that we need more voices to speak up. pic.twitter.com/oQl9jQSOy1
— President Biden (@POTUS) April 7, 2023
Former President Barack Obama tweeted, "No elected official should lose their job just for raising their voice — especially when they're doing it on behalf of our children," adding, "Silencing those who disagree with us is a sign of weakness, not strength. , and it will not lead to progress."
In a statement shared on social media, Tennessee House Republicans said it was a "sad day" for the state — but they defended the vote as "the only way forward" in response to the trio's "disgraceful" actions.
pic.twitter.com/rO5QNTRMYN
— TN House Republican (@tnhousegop) April 7, 2023
"Extraordinary events produce extraordinary results," the group said. "Unfortunately, we were forced to impose unprecedented consequences on those members today. Our focus is on the six innocent lives that were brutally taken at Covenant School last week, not on those who chose to make this tragedy their own."
What happens next? Can they get their seats back?
Two vacant seats will be filled. According to the Tennessee state constitution, a seat can be filled in two ways. If there is 12 months or more until the next general election for legislators, a "successor shall be elected by the qualified electors of the representative district" to complete the term. If the next election is less than 12 months away, the successor must be elected by the legislative body of the county of residence of the replaced legislator.
The next election is less than twelve months away. Both Jones and Pearson could return to their seats if they are voted in as interim successors by local officials.
Nashville's Metro Council has already called a special meeting for Monday, April 10 to fill Jones' seat. Nashville Mayor John Cooper said he believes the council will "directly send (Jones) back to continue serving his constituents."
People in @brotherjones_ and @Justinjpearson's districts are disenfranchised today. I'm proud that the Metro Council is meeting Monday to fill the vacancy left in Nashville by today's vote, and I believe they will send @brotherjones_ back to continue serving his constituency.
— Mayor John Cooper (@JohnCooper4Nash) April 7, 2023
Shelby County Commissioner Michael Lowry said Thursday night that he plans to call a special meeting on Pearson's ouster.
The Tennessee House Republican said on social media that if Jones and Pearson return to the House, they hope the pair will "act like thousands who came before them — with respect for our institutions, their colleagues and their seats."
Even if Pearson and Jones are not returned to office by the local board, they may still run for office in future elections.
Trending news
Kerry Breen