First-graders skip a performance of Miley Cyrus and Dolly Parton's "Rainbowland" after a Wisconsin school district deemed the song "controversial."
When first-grade dual language Spanish teacher Melissa Temple played the first tune for her students, they insisted on hearing it "over and over."
"It was a fun song and they took to it immediately," Temple told the Milwaukee Journal Sentinel.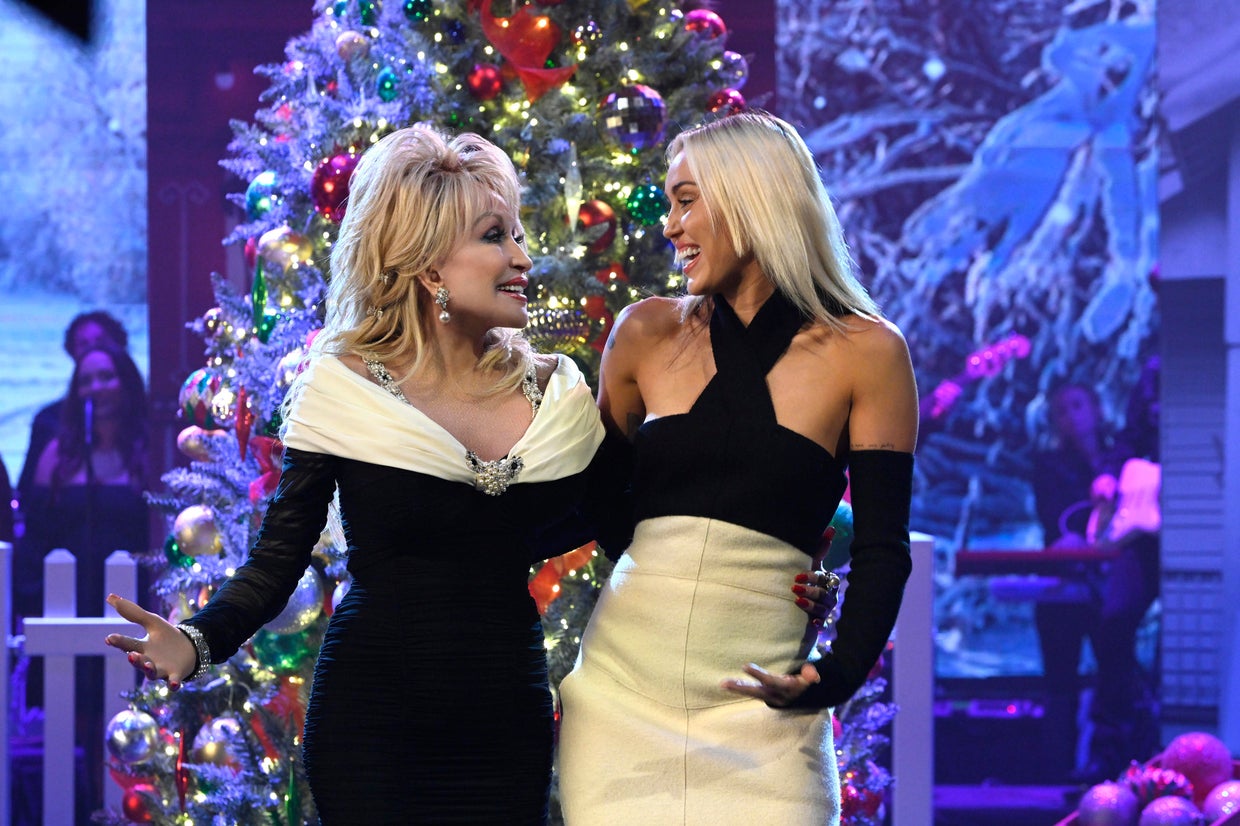 Miley Cyrus and Dolly Parton performing at Dolly Parton's Mountain Magic Christmas in 2022.
Getty Images
Temple, who has been teaching for 20 years, suggested the song for Hare Elementary School's upcoming spring concert and consulted with the school's music teacher, According to a press release from the school district.
When the music teacher asked Principal Mark Snyder if it would be acceptable for the first graders to perform it, the administration told them to search for a different song. The principal checked with the central office administrator so they could review the song together and see if it fits within school policy, the news release said.
Neither the school nor the school district gave a specific reason why the song was "controversial," local media reported. But the district noted in the news release that the board of education had nothing to do with the matter.
The school district's policy states that a "controversial issue" is an issue "that may have a political, social or personal impact on students and/or the community."
When Temple broke the news to her students, they were "very sad," she told local media. "We feel really bad because the kids were excited about it. It's really confusing. … It doesn't make a whole lot of sense."
Temple said on his Twitter that an artist "controversy" is a "slippery slope".
The district's decision can be seen as part of a nationwide debate seemingly divided along political lines and education perspectives on what is considered "controversial." Last week, a principal in Florida forced to resign After a teacher showed a picture of Michelangelo's statue of David to a sixth grade class without proper protocol. In Wisconsin's Manitowoc Public School District, teachers can no longer share personal opinions about controversial topics in the classroom. In Oklahoma, lawmakers are working to pass a bill that would not allow teachers to discuss current controversial issues in the classroom.
Why Rainbowland? My thoughts:
Beautiful LYRICS. Because calling an artist controversial would be a very slippery slope and they don't want to go there. Amiri? @MileyCyrus @DollyParton @waukeshaschools #rainbowland pic.twitter.com/TRtImB8c1R
— Maestra Melissa (@MelissaTemple) March 26, 2023
Although the rainbow is a commonly known symbol for the LGBTQ+ community, the meaning of the song has never been confirmed. After the song was released in 2017, Dolly Parton told "Taste of Country" that the song was "really if we could just love each other a little better or be a little kinder, a little sweeter, we could live in rainbow land." "
Both musicians have been LGBTQ+ advocates for decades; Parton said in a 2014 interview with Billboard magazine, when asked about her gay fans, "They know that I love and accept them completely, as I do all people… I think everyone can be and love who they can be. That should be allowed. Whom they love."
Miley Cyrus notably came out as pansexual, meaning in 2016 she is attracted to all people, regardless of gender or sex. Cyrus also founded "The Happy Hippie Foundation," which "brings together young people to fight injustice toward LGBTQ youth."
Despite dropping "Rainbowland" from Hare Elementary School's upcoming spring concert, the district approved "Rainbow Connection" from "The Muppet Movie," the news release said.
Trending news