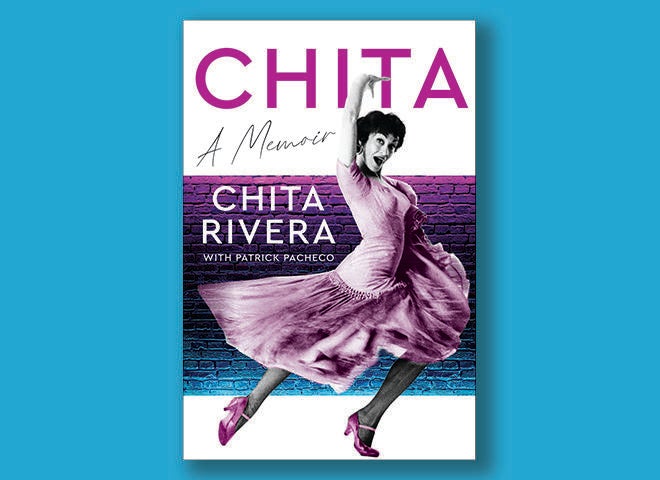 HarperCollins
We may receive an affiliate commission from anything you purchase from this article.
In his new autobiography, written with journalist Patrick Pacheco, "Sitting: A Memoir" (published April 25 by HarperOne), Tony Award-winning actress Chita Rivera writes about her extraordinary life and career. Among her stories: how the costume designer for the original Broadway production of "West Side Story" helped her create the character of Anita.
Read except below, and Don't miss Mo Rocca's interview with Cheetah Rivers on "CBS Sunday Morning" April 23!
"Cheetah: A Memoir" by Chita Rivera with Patrick Pacheco
Like to listen? Audible now has a 30-day free trial available.
Intermission
Remember the skirt
People often ask, "Cheetah, weren't you disappointed that you didn't get to play Anita in West Side Story?"
And I think I can answer "yes," except that when the movie came out in the fall of 1961, I was a smash hit on Broadway: Bye Bye Birdie. Working on that musical, playing Rosie Alvarez opposite Dick Van Dyke's Albert, helped ease the pain. I will add that if you want to be in this business you really have to roll with the punches. Helen Gallagher created the role of Nicky in Sweet Charity on stage, but I played her in the Bob Fosse film. And yes, Janet Leigh played Rosie in Bye Bye Birdie. Um, well, yes. You have to laugh if you react even a little. I remember driving with Larry Kurt to Grauman's Chinese Theater in Hollywood, where the movie West Side Story premiered. Looking at the marquee, Larry, who lost Tony's film role to Richard Bemer, and I would "bowl" for a few seconds – and then go back to whatever we were talking about.
However, when I first saw the West Side Story movie, I have to admit that I felt disgusted. It was around this time that Rita Moreno, as Anita, made her first screen appearance. I could feel Dolores crawling into me: "How dare she! That's my dress! That's my earring!"
Okay, you're probably saying to yourself, "Really, cheetah? On top of a dress?"
Yes. Really. Because it was so much more than just a dress. It always is. When you talk about the costumes of a show, but especially West Side Story, you're talking about the characters. And also about talent. In this case, the genius who designed the clothes is Irene Sharaf. And the genius of Barbara Matara, who created it.
When you're standing in front of three mirrors with one fitting, you have the utmost respect for the person kneeling at your feet, pin between their lips. When they babble this and that, you listen because you are completely in their hands and because they are smarter than you. Their discerning eyes assess you at your most vulnerable, often without a stitch. How does the fabric flow and fall off the body? How does it drape and fill the silhouette? What is the fusion of actors, characters and fabric so it becomes greater than the sum of its parts?
When I walked into Irene Shroff's workroom to get fitted for Anita, I was already familiar with a costume designer par excellence: Marcel Vertes dressed my Fifi, Hooker from Seventh Heaven. He made her adorable, accessible and very sexy; And Bob McIntosh made capri pants and blouses for my flirtatious Rita Romano in Mr. Wonderful.
But I was going to meet Irene Sharaf. By then, she was world famous for having won multiple Oscars for An American in Paris and for designing luxurious pale pink silk ball gowns for Gertrude Lawrence in The King and I. When I walked into Oscar, he was commanding and authoritative. Studio—a good-looking woman whose nose and facial expressions were accentuated with her choice of black eyeliner. The day we met, she wore her hair in a bun and dressed in black, over which she wore a blue smock.
Jerry Robbins knew her from the dance world, as Irene designed his Afternoon of a Faun after sketching out costumes for the Ballet Russe de Monte Carlo, American Ballet Theater and New York City Ballet. I wondered if Jerry had told him about our conversation about Anita and the color purple popped into my head. He didn't have to. Irene's palette was dominated by her love of reds, pinks and oranges, in varying shades.
"I think sharks should be in a sexy shade of cherry red and Anita in purple," he told me, standing in front of the mirror. There were colorful bolts of fabric everywhere in the studio. I was surprised by his forceful presence. Irene was talking to someone who never thought of herself as a fashionista in any sense. Before I got to Broadway, I was a tomboy in everyday skirts and blouses who then graduated to a basic uniform of dancewear for ballet class.
I had three changes for West Side Story: a dress at the beginning, a blouse and skirt for the drugstore scene where I was almost raped and before that. . . Dress, the one I wear to dance at the gym. You can imagine my excitement when an assistant brought it out and I put it on for the first time.
"How wonderful!" I said. "Did Jerry tell you I like purple?"
"No," she cried. "Anita did."
I looked in the mirror and looking back at me was Anita in all her pride and "don't mess with me" glory. The tight bodice extends above the hips, and the skirt flares at one end with three rows of mini-ruffles masking the skirt seam. The underskirt had a pleated ruffle, and the net petticoat had red piping at the hem. I felt like a million bucks. The dress flattered my assets and minimized my flaws. The dress felt like a second skin. I love every square inch of fabric.
I twirl, twirl the skirt, Lenny's mambo dance rhythm in my brain.
"Be careful Cheetah," said Irene. "Don't waste it. Don't move that thing all the time. Tease the colors. Wait for the right moment in the show. When you flip that skirt, the audience will see a world, an emotion, a tension."
I understood what he was talking about. My impulse was to throw it all out there right away: "Look how fierce I look!" But Irene, quite subtly, taught me how to wear an outfit for maximum effect – a very valuable lesson that will be useful throughout the rest of my career. What it came down to is this: Cheetah, never forget that clothing is a living thing with its own needs and personality.
Irene asks me to do some dance steps, first intimate and small, then grand and glamorous. He wanted to ensure that the garment would follow each step precisely, a choreography of body, fabric and silhouette. Then an assistant brought out two hoop earrings. I placed them through the holes in my ears. Irene eyed them critically from every angle.
As he walked around me, I boldly suggested, "What if I take one of them away?"
Irene paused for a moment. "Why?"
"Anita is kind of a pirate, don't you think?"
"Which one?" she asked.
"The left one," I opened. We both looked at the mirror. She laughed.
"There, that's Anita!" she said.
Excerpted from "Cheetah: A Memoir" by Chita Rivera. Copyright © 2023 by Chita Rivera. Excerpted with permission by HarperCollins.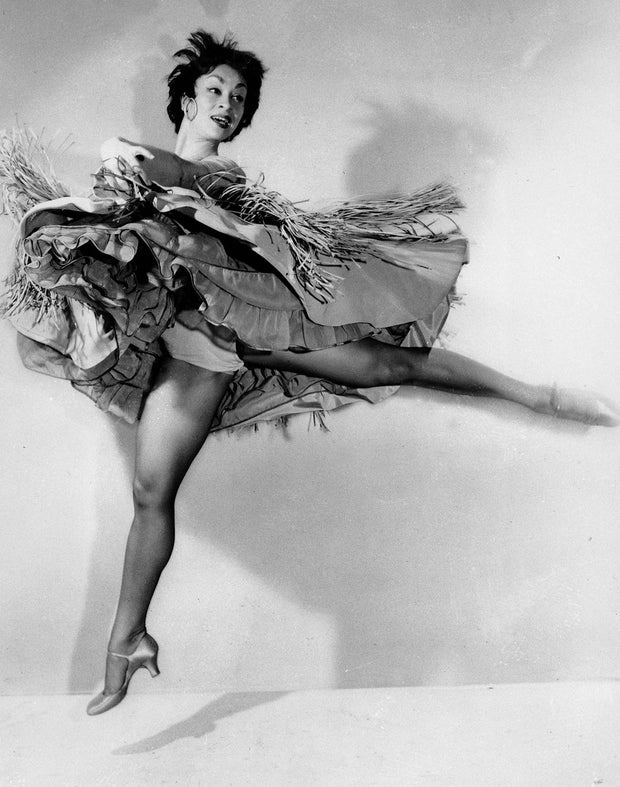 Publicity photo of original cast member Chita Rivera from the 1957 Broadway production of "West Side Story." Costume design by Irene Shroff.
AP Photo
Get the book here:
"Cheetah: A Memoir" by Chita Rivera with Patrick Pacheco
Buy locally indiebound
For more information:
More

Source link