NEW DELHI – Tibetan spiritual leader the Dalai Lama on Monday apologized after a video showing him asking a boy to suck his tongue sparked a backlash on social media. The viral video shows the 87-year-old Dalai Lama planting a kiss on the boy's lips as he leans in to pay his respects.
The Buddhist monk is then seen sticking out his tongue as he asks the child to suck. "Can you suck my tongue," he is heard asking the young boy in the video.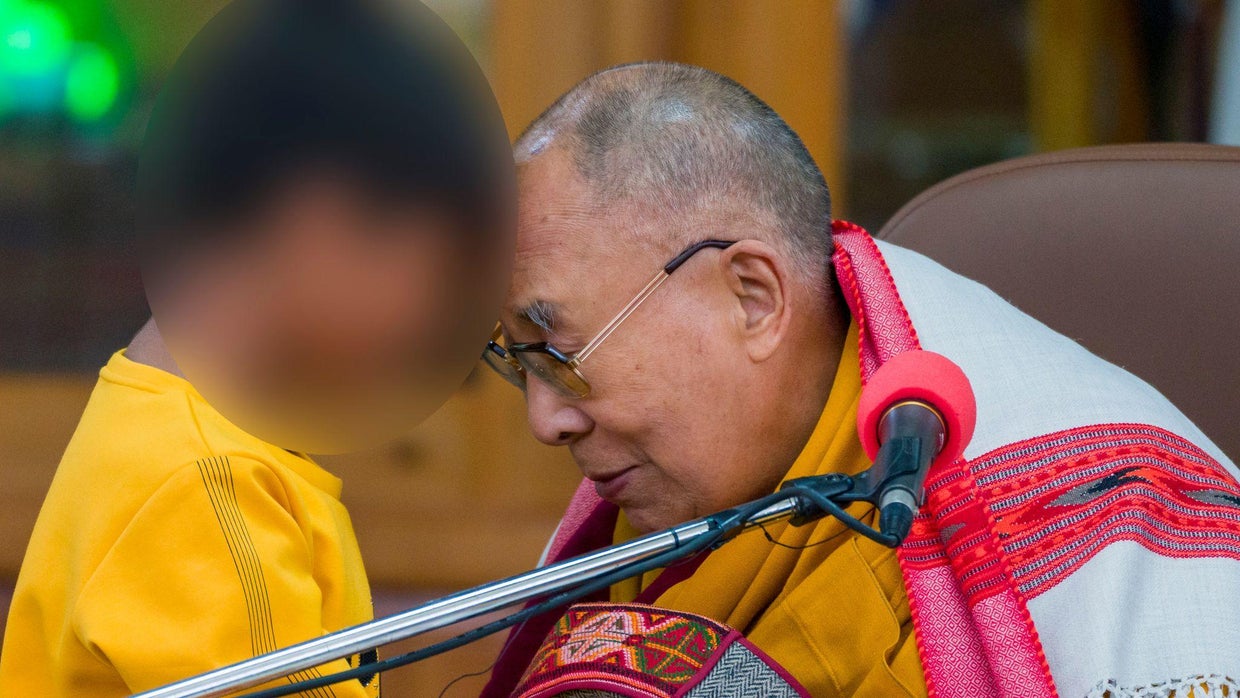 Tibetan spiritual leader the Dalai Lama touches foreheads with a young boy, whose identity has been obscured by CBS News, before addressing a group of students at Suglakhang Temple in Dharamshala, India, on February 28, 2023.
AP/Ashwini Bhatia
The video is from an event on February 28 in McLeod Ganj, a suburb of Dharamshala city in northern India.
"His Holiness wishes to apologize to the boy and his family as well as his many friends for the hurt his words may have caused," said a statement posted on his web page and social media accounts.
"His Holiness often teases people he meets in an innocent and playful way, even in public and in front of the cameras," it added. "He regrets the incident."
Twitter users called the video "disgusting" and "absolutely sick" after it started trending on Sunday.
"Absolutely shocked to see this display of #Dalai Lama. In the past too, he had to apologize for his sexist comments. But to say – now sucking my tongue to a small boy is disgusting," wrote user Sangeeta.
Another poster, Rakhi Tripathi, said: "What did I just see? What must that child be feeling? Disgusting."
The Dalai Lama is the universally recognized face of the movement for Tibetan autonomy. But the global spotlight he enjoyed after winning the 1989 Nobel Peace Prize has faded and the deluge of invitations to hobnob with world leaders and Hollywood stars has slowed, partly because the aging leader has scaled back his punitive travel schedule, but also because of China's growing economic and political influence.
Along with more than 3 million people in Tibet, the Dalai Lama is deliberately sidelined by China, which insists that Tibet is and always has been an integral part of the country. Beijing has accused the Dalai Lama of seeking to divide China and referred to him as "a wolf in a monk's clothing".
Beijing has imprisoned Tibetans, mixed the Tibetan language with Mandarin Chinese and even outlawed portraits of the Dalai Lama — replacing them with portraits of Chinese President Xi Jinping and other Communist Party leaders, CBS News correspondent Ramy Inocencio reported in 2020, when he spoke in 2020. Video link with the Dalai Lama during his coronavirus lockdown.
The Dalai Lama weighed in on Beijing's crackdown on Hong Kong protests
02:11
In 2019, the Dalai Lama Apologize for saying That if his successor is to be a woman, she must be "attractive".
This comment, criticized around the world, was made in an interview given to the BBC.
Trending news