It's a moment these famous actors never forget: Laura Dern's childhood when her mother, Diane Ladd, slapped her: "I guess I should have slapped her more?" Ladd said.
"Oh my god!" Dern laughed.
"Yeah, she was a little fussy, and I had a naughty day…"
Dern interrupted, "Oh my God – it's 'Sunday morning'! 'She was muttering!"
"Well, well, he was depressed, really cranky."
Brewer asked, "Do you think you remember it so much because it was the only thing that happened?"
"It feels like such a betrayal, 'cause it's so shocking," Dern said.
These memories of humor, pain and unquestioning love fill the pages of "Honey, Baby, Mine," their joint memoir named for an old folk song that Ladd's father used to sing.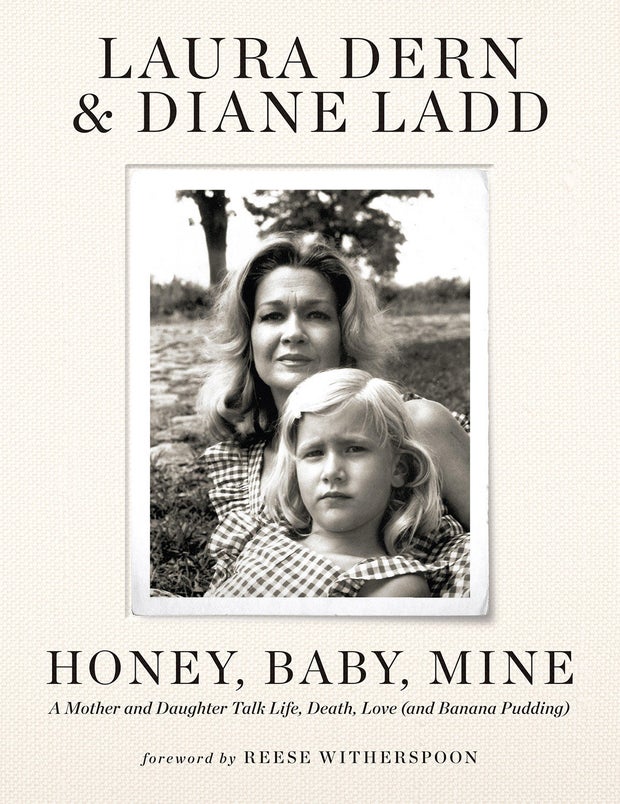 Grand Central Publishing
Ladd, now 87, is best known for her roles as waitress Flo in "Alice Doesn't Live Here Anymore," one of three Oscar-nominated performances; And Dern, 56, is an Oscar winner who plays a divorce lawyer representing the wife in "Marriage Story."
How their conversation while walking in Santa Monica is the story of their book – worthy of a Hollywood movie. The daily walk began when Ladd developed a lung disease, believed to be caused by exposure to pesticides.
Dern was told her mother had only six months to live: "They didn't know what they could do, if we could get her to walk it would help expand her lungs."
So, they walked, and they talked, with Dern taping the conversations for herself and her children. The talks were newly recorded for an audiobook edition.
"Why did you decide to make these private conversations public?" asked Braver.
"I think we share a desire for those we love — and anyone — to experience," Dern said, "which was to get to know each other more deeply."
"And we at the same time," added Ladd.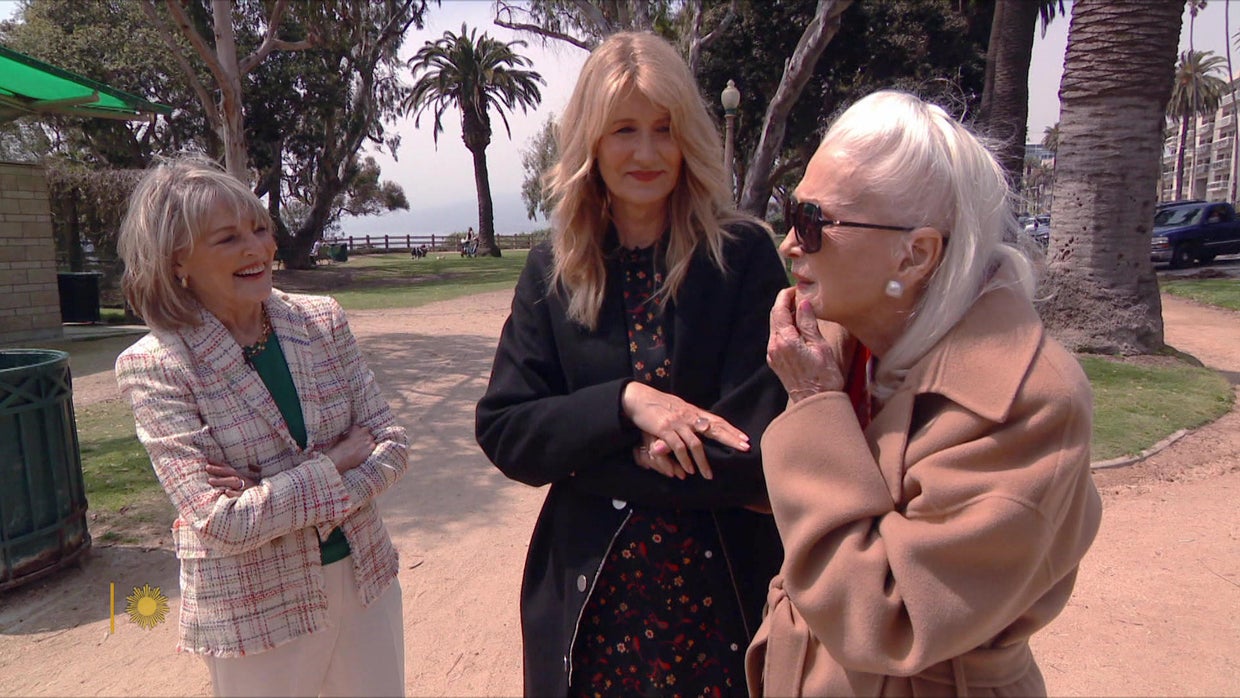 Correspondent Rita Braver with actress Laura Dern and her mother, actress Diane Ladd.
CBS News
They discussed everything from Ladd's marriage and divorce from Laura's father, actor Bruce Dern; For his efforts to dissuade Laura from joining the family business.
"She was only 11 years old, and I said, 'Don't be an actress. Be a doctor, be a lawyer,'" Ladd said. "Nobody cares if you weigh or point your chin when you cry when you're a doctor. They just want you to be the best you can be. But an actress? They care, care, care, care, care."
But Dern said that didn't stop him from being in the film: "No. I knew everything."
In fact, Laura conceived during the making of "The Wild Angels," a Roger Corman biker film. "So yeah, you know, a set felt like a second home for me," she said.
A home Lad and Darn often share, working together in many movies and TV shows. Dern said, "I remember being on the set of the David Lynch film 'Wild at Heart,' and Nicolas Cage came up behind me and whispered in my ear, 'That's your mom, like your real mom!'"
In the 1991 film "Rambling Rose", Dern played an unpleasant young woman living with Ladd's family. Both mother and daughter were nominated for Academy Awards.
Rambling Rose (7/11) Movie Clip – You're Looking… Pretty (1991) HD by Movieclips on YouTube

But Ladd has better memories: "This was the picture the late Princess Diana chose as her absolute favorite, and she took Laura and me to London for a royal premiere and a party in our honor. And she sat between us, holding both of us. Our hands. , and crying, watching our performance."
But Ladd still grieved when work took her away from her daughter, and other challenges she faced (as with many single mothers): "How to pay rent, how to get my daughter what she needs. And worse, because you have Go out for an interview, and you've got to hold your head up. You better not be tearing up in those stockings. You better not be wearing those shoes. You've got to have a picture."
And although Dern considered herself lucky to have been cared for by her grandmother (Ladd's mother), she still felt sad when her mother was in position: "And I knew she loved me, but the loneliness was real. One of the hardest things for me was the same." A working mother by profession when I became a parent I felt guilty that I still didn't know what my children's loneliness was or my own."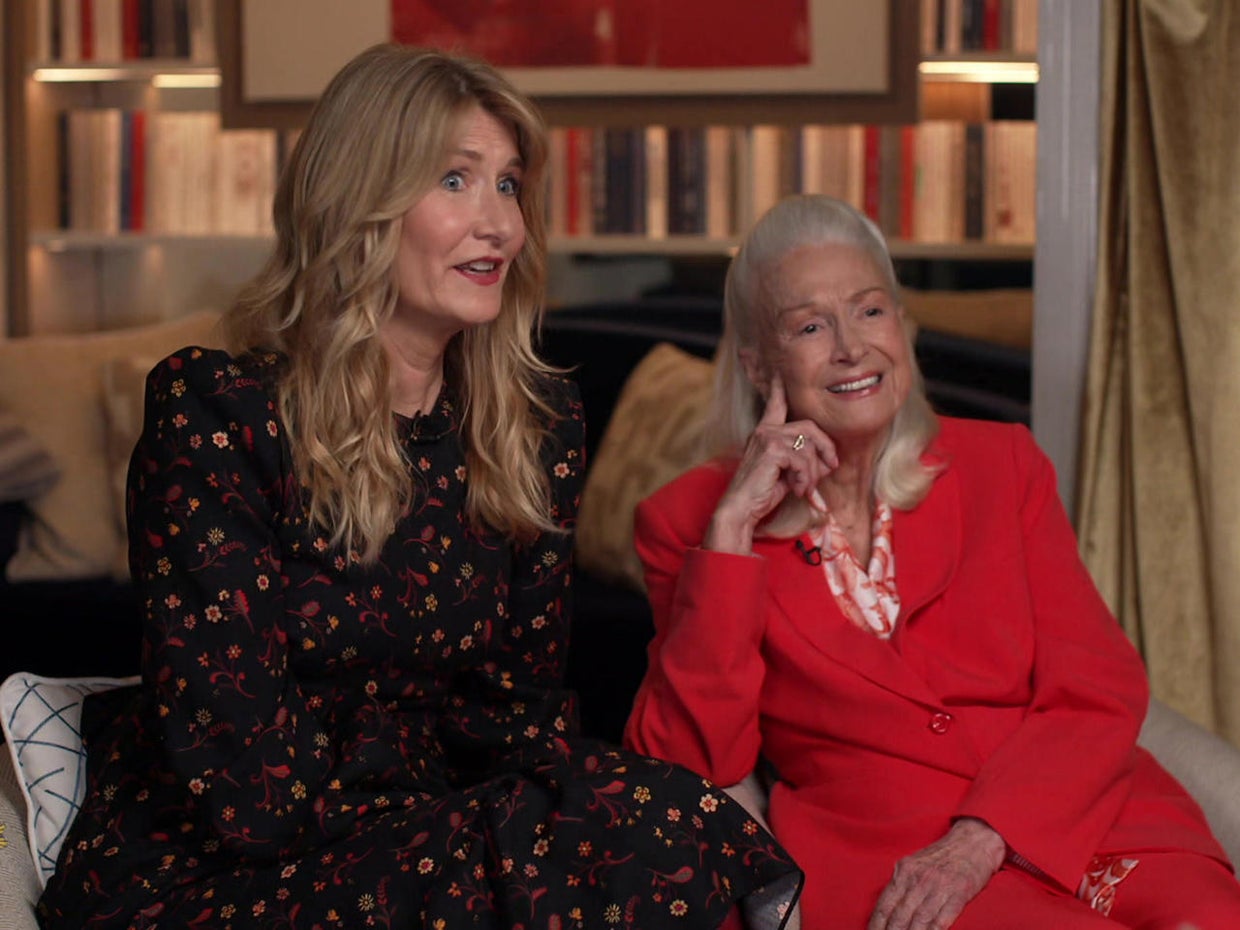 Laura Dern and Diane Ladd.
CBS News
And Dern's love for her own children, Jaya and Ellery, with her ex-husband, musician Ben Harper, makes her even more grieving than Ladd felt for losing a daughter before Dern was born. The child died in a swimming pool accident where a nanny didn't pay enough attention.
"He fell into the pool," Ladd said. "He hits his head and knocks himself out. And it all happened in an instant. And he's dead, and you never get over it. I don't care what you tell yourself. I don't care who says what. The child is not supposed to die before the parents."
Ladd didn't talk to Dern about it. "Never," said Laura. "And I didn't ask because I thought I was going to hurt you. And that's a lesson I want to share with everyone, that if we talk, there's all kinds of healing."
"Absolutely," Ladd said.
In fact, Ladd proved his doctors wrong. He continued to heal, and actually completed a film.
And mother and daughter have more to say and sing to each other, as they serenade each other with "You're My Sunshine:"
You'll never know dear
how much i love you
Please don't take away my sunshine.
Doo doo doo doo!

Read an excerpt: "Honey, Baby, Mine" by Laura Dern and Diane Ladd
Or, listen to an excerpt:
For more information:
Story produced by Jay Karnis. Editor: Chad Cardin.

See more:
Sunday Profile: Laura Dern
08:18
More

Source link