Evacuation and shelter-in-place orders have been lifted Last week there was a plastic fire Richmond, Indiana, local authorities announced Sunday. The orders were lifted at 4 p.m. local time, the Wayne County Emergency Management Agency said in a statement.
"This decision was made in collaboration with multiple federal, state and local officials and at the direction of the Wayne County Health Department using test results and air monitoring data provided to us by the US EPA for analysis," the agency added.
The city said on its website that "businesses and schools in the evacuation zone have been able to resume operations."
Air debris testing will continue, WCEMA Director Matthew Cain and Mayor Dave Snow said at a news conference Sunday. At least 1,500 people live in the evacuation zone, although it is not known how many residents actually heeded calls to evacuate after the fire broke out Tuesday afternoon.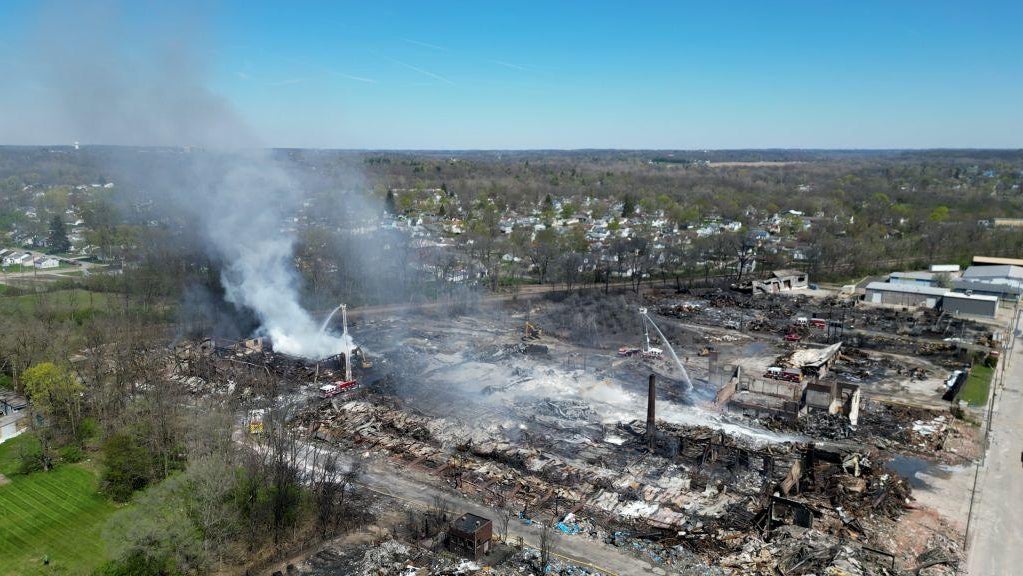 This aerial photo taken on April 13, 2023 shows an industrial site after a fire in Richmond, Indiana. More than 2,000 people have been ordered to leave their homes after the fire.
Shi Lei/Xinhua via Getty Images
"I feel very confident that people will be safe when they go back to their homes," said Dr. David Zetmore, health officer for the Wayne County Health Department.
Jetmore said officials were "repeatedly testing the air around the site" and that most of the chemicals being tested for were "non-detectable". Jetmore said three chemicals – benzene, naphthalene and butadiene – were detected in "small amounts".
"That, coupled with the fact that it's raining today, which is definitely clearing the air of particulates, and with the wind blowing, I feel very safe about lifting this evacuation order," he added.
The city of Richmond said on its website that cleanup kits and instructions on how to clean up will be made available to those living in previously evacuated areas.
"It may not be important for you to clean the exterior of your home on high-touch surfaces like doorknobs and railings, but if your home fills with smoke during a fire, we've got instructions on how to do it right. And safely clean your home's interior." Clean up," said Christine Stinson of the Wayne County Health Department.
Officials repeatedly stressed that residents who find debris should notify the EPA and not touch it or try to remove it themselves.
Richmond Fire Chief Tim Brown said crews will be at the 14-acre (5-hectare) former factory site to extinguish the fire.
The fire started Tuesday, and residents living within half a mile of the former factory that was being used to store plastics were ordered to evacuate due to what officials called "toxic" fumes. The city of Richmond said on its website that the fire was extinguished Thursday.
A fire broke out at an abandoned plastics storage plant in Richmond, Indiana on Tuesday, April 11, 2023.
Indiana State Police
Hydrogen cyanide and benzene were found at the scene of the fire, the US Environmental Protection Agency said.
EPA on-scene coordinator Jason Sewell said at a news conference Friday that at least one sample of the fire's debris, some of which traveled more than a mile from the fire's location. Tested positive for chrysotile asbestosAlso known as white asbestos.
According to the American Cancer Society, of the six types of asbestos, white asbestos is the most commonly used mineral, which has been linked to cancer.
The city said EPA contractors are first cleaning up "impacted schools" of debris.
"Contractors will start at ground level and may deploy drones to search the roof for additional debris," the city wrote on a website dedicated to warehouse fire cleanup. "After clearing school grounds, these contractors will begin removing debris from residential properties, parks and/or public areas and businesses."
The cause of the fire is not known. But it quickly turned into a fire, destroying six collapsed buildings containing recycled plastic and creating clouds of smoke so high and dark that they cast a wide shadow over the town of 35,000 people.
The man who ran the storage site was under a 2020 court order to clean up the site, which had no utility and was declared a serious fire risk by inspectors. Richmond officials said they stopped him from accepting more plastic while he worked to get rid of the huge holdings.
Trending news