Winter Haven, Fla. — Two small planes collided mid-air over a central Florida lake Tuesday afternoon, killing four people, authorities said.
Polk County Sheriff Grady Judd said Tuesday night that their bodies had been found. "This is no longer a search and rescue operation, but a recovery operation," he said.
He said one of the planes involved was a Cherokee Piper 161, owned by Faith Irene Baker, 24, of Winter Haven, a pilot/flight instructor at Sunrise Aviation, and Zachary Gene Mays, 19, of Winter Haven, a student at Polk State College. CBS Orlando affiliate WKMG-TV quoted deputies as saying it was being operated on behalf of the college and was a fixed-wing aircraft.
Judd said the other plane was a Piper J-3 Cub, carrying Randall Elbert Crawford, 67, of Carlisle, Pennsylvania, and one other person. The J-3 is a float plane. Again citing deputies, WKMG says it was operated by Jack Brown's Seaplane Base in Winter Haven.
"Deputies are working to confirm the identity of the fourth deceased person. … Once a positive identification is made, and next of kin are notified, we will release the identity," he said.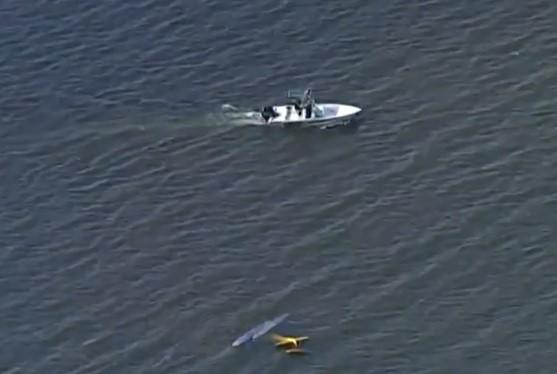 Debris is seen on Lake Hartridge in Flyer Winter Haven, after two small planes collided in mid-air on March 7, 2023. Planes crash into lakes Authorities said all four of them died.
CBS Miami
"My heart goes out to the families and friends of those killed in today's crash," Judd added. "The NTSB and FAA will investigate the cause and circumstances of the collision. Keep the families in your prayers during this difficult and stressful time."
Polk State College released a statement on the deaths of Baker and Mays, CBS Tampa affiliate WTSP-TV reports.
"Our Polk State College family is devastated by this tragedy," said Polk State President Angela Garcia Falconetti. "We extend our deepest condolences to their families, friends and colleagues."
The school said it will offer support programs to its students on campus, over the phone and virtually.
Deputies said it was not known where the planes took off from or what caused them to crash. Lake Hartridge in Winter Haven, where the planes went down, is southeast of Winter Haven Regional Airport. Winter Haven is located about 40 miles southwest of Orlando.
Polk County Sheriff's Office Chief of Staff Steve Lester said witnesses recalled seeing the planes crash into the water immediately after they collided.
One plane's wing stuck out of the water, while the other plane settled about 21 feet below the surface, officials said.
Trending news