After performing last weekend, Frank Ocean has pulled out of his second scheduled headlining set at Coachella, representatives for the musician said Wednesday.
Ocean was scheduled to play the main stage this coming Sunday for Weekend 2 of the Southern California Music Festival. was part of the ocean First completely non-white lineup of headliners in the festival's history.
However, his reps said Wednesday that his first show was quickly reworked due to Ocean's leg injury earlier in the weekend.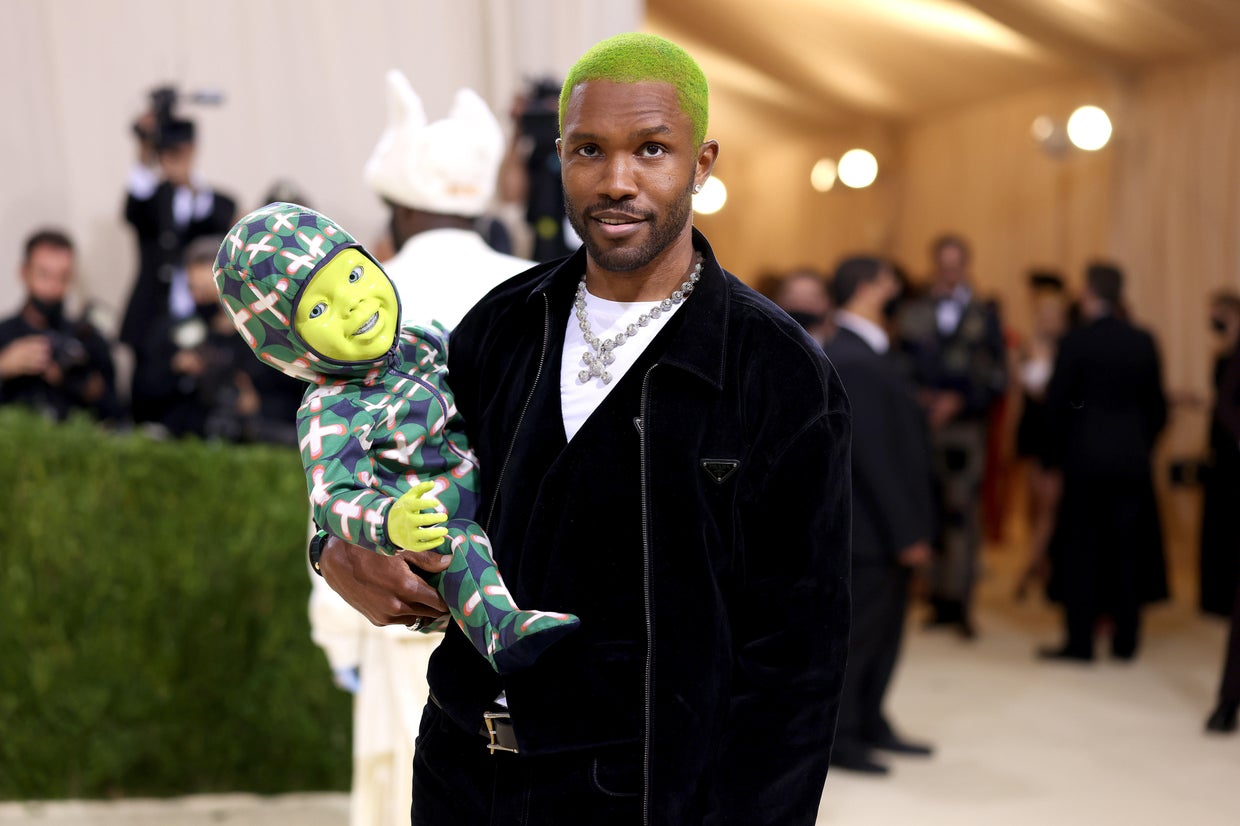 FILE — Musician Frank Ocean carries a green baby doll at the 2021 Met Gala
John Shearer/WireImage/Getty Images
"After injuring his leg during week 1 of the festival grounds, Frank Ocean was unable to perform the intended show but still intended to perform, and within 72 hours, the show was reworked as needed," Ocean's representative told Entertainment Tonight in a statement.
"On doctor's advice, Frank will not be able to do Weekend 2 due to two fractures and a sprain in his left leg," the reps added.
The cause and circumstances of his leg injuries were unclear.
The cancellation follows Ocean's unusual headlining performance last weekend, his first in nearly six years. The show starts an hour late. The livestream was pulled from YouTube shortly before the set. For most of the performance, Ocean was difficult to see, even on the stage's giant monitors, as he was surrounded by dancers and bandmates and further obscured by a closed stage. At several points, he is seen lip-syncing. Ocean also abruptly ended the show after a little over an hour, telling the audience, "Guys, I'm told it's curfew, so the show's over."
Wednesday's statement from Ocean's representatives ended with Ocean himself saying of his performance: "'It was chaotic. There's some beauty in chaos. It's not what I wanted to show but I enjoyed being there and I'll see you soon.' – Frank Ocean."
🤍 Wishing you speed 🤍 pic.twitter.com/MXRPL0h2BK
— Frank Ocean Daily (@TeamFrankDaily) April 17, 2023
On their podcast "Empty Netters," brothers Dan and Chris Powers — both ice hockey players — claim Ocean's original performance included 120 ice skaters and a skating rink. The brothers said they were supposed to be part of Ocean's performance.
"We're waiting outside at three o'clock. We've got our skates, we're ready to rock. All the other skaters who weren't at Coachella are bussed in. They're all sitting in the wardrobe. It's a nightmare. We run into figure skaters sitting in this hotel. – these Olympic figure skaters, remember. And the disgruntled looks on their faces, and they casually mention to us that they just got a phone call and they're cut from the show."
Later, the brothers were invited backstage to watch the performance. Dan Powers described it as "the weirdest show ever".
"The wheels have fallen off," he said. "He starts playing these songs and in the middle of the song he's yelling at his musicians. They stop. No one understands what's going on."
"One thing that really saddened me," Chris Powers said. "Having spent some time with him over the past few weeks, he really cares about the production. He had a very clear vision, and even though that vision has changed a lot, he's always been with us, helping us, making sure everyone hits what he wants. confirmed that he did. He had pictures in his mind."
Coachella was fined $117,000 over the three days of Weekend 1 for violating curfew regulations, Pitchfork reported, costing the festival about $40,000 for Ocean's set.
But not everyone was critical. On Instagram, Justin Bieber paid tribute to the show: "I was blown away by Frank Ocean's Coachella performance. His artistry is simply unmatched, his style, his taste, his voice, his attention to detail."
Trending news