Miami Dolphins quarterback Tua Tagovailoa, who Has been diagnosed with multiple concussions In the 2022 season, retirement was briefly considered, he admitted Wednesday.
"I've considered it for a while," the 25-year-old said, adding that he had talked about the possibility with his wife and family.
"But, really, it's going to be hard for me to walk away from this game," he continued. "As old as I am, with my son, I've always dreamed of playing as long as I could where my son knows what he's watching his dad do."
Tagovailoa said he has talked to neurologists about continuing to play. He said experts told him that chronic traumatic encephalopathy, a degenerative brain disease known as CTE that has been found in the deaths of several former NFL players, isn't a big concern because he doesn't get concussions as often as other players. Tagovailoa said he rarely gets hurt during practices, the offseason and training camp.
"It's my health, it's my body and you know, I think it's what's best for me and my family," he said. "I love playing football. If I didn't, I would have quit a long time ago."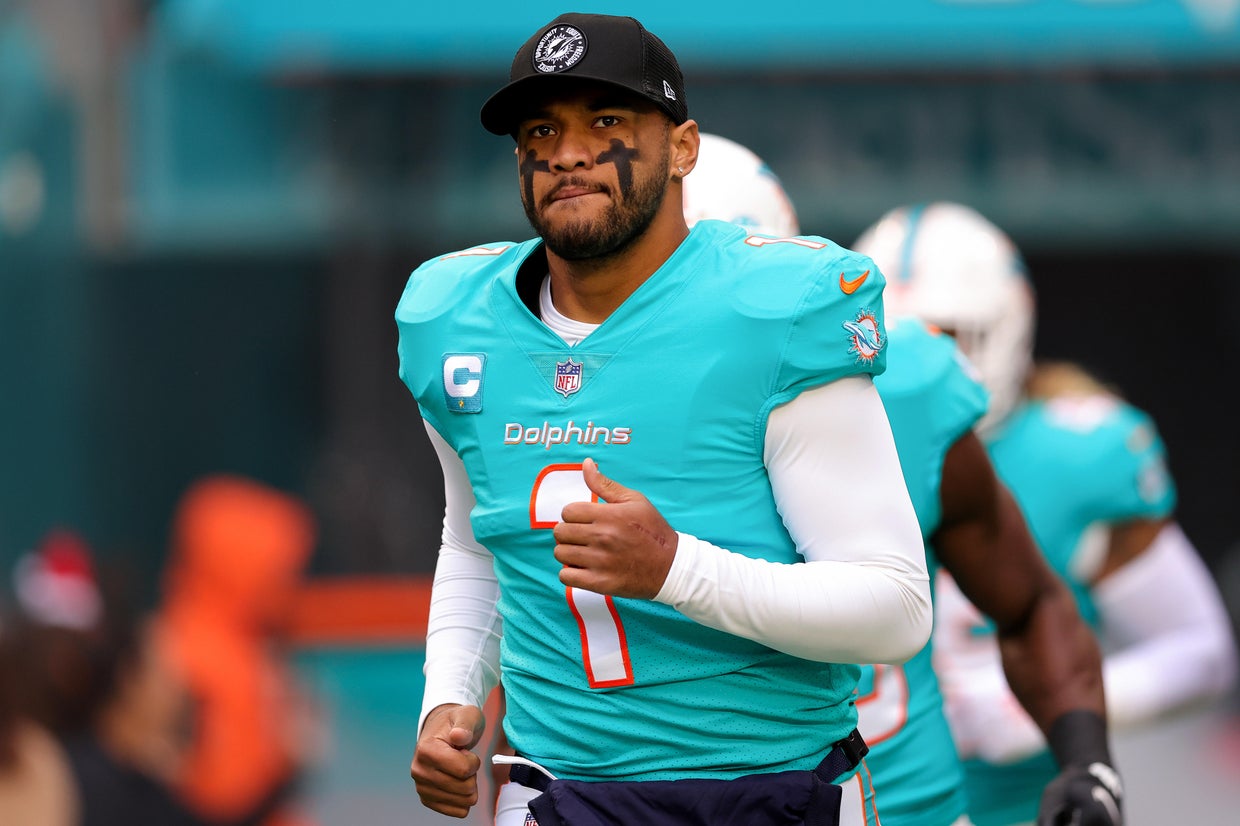 Tua Tagovailoa #1 of the Miami Dolphins takes the field before a game against the Green Bay Packers at Hard Rock Stadium on December 25, 2022 in Miami Gardens, Florida.
/ Getty Images
Tagovailoa missed several games last season while he was in the NFL's concussion protocol. During a September game against the Cincinnati Bengals, Tagovailoa was knocked to the turf and had to be carried off the field on a stretcher. The hit came just days after the quarterback took another hard hit against the Buffalo Bills. Tagovailoa got up after the first blow, but was visibly wobbly. A teammate had to catch him as he started to fall at one point. The team later said he suffered a back injury during the game against the Bills.
Both of these incidents led the league to restructure how it handles in-game concussions. The players' union fired an unrelated neurotrauma consultant who was involved in Tagovailoa's concussion check during the game against the Bills.
Tagovailoa also entered the league's concussion protocol in late December after a game against the Green Bay Packers. He was never taken out of that game.
Tagovailoa said Wednesday that he has tried to make the game safer for himself, including learning jiu-jitsu in the offseason.
"I fell a lot this offseason. I think like anything else, you keep training it, you keep working on it, you know, it becomes second nature," he said. "And when a situation like that happens, it's nothing new to present to you."
Dolphins assistant general manager Marvin Allen confirmed the team's commitment to Tagovailoa.
"We have all the faith in the world in him. He's our quarterback and we think he's going to be the quarterback to get us where we want to go."
Trending news
Aliza Chasan