Nicolas Cage was born Nicolas Kim Coppola, on the edge of movie royalty. Her uncle is director Francis Ford Coppola and her aunt is actress Talia Shire. He grew up one of three brothers in Long Beach, California. He was raised by his father, August, a professor of comparative literature, who introduced him to the masterworks of Italian and German filmmakers, sparking his love of cinema at an early age.
Cage says as a teenager, he was mesmerized by the great performances of actors like Charles Bronson, Bruce Lee, John Travolta and James Dean. And after seeing Dean in "East of Eden," he knew he wanted to be an actor.
Nicolas Cage's first movie credit came in 1982's "Fast Times at Ridgemont High." Cage says he was harassed on set for being Coppola, so he decided to change his name, inspired by the Marvel superhero, Luke Cage.
"When people think of Nicolas Cage, I wanted that to have a punk rock energy," Cage said. "I wanted it to be unexpected. You don't know what you're going to get. I wanted it to be exciting and a little scary."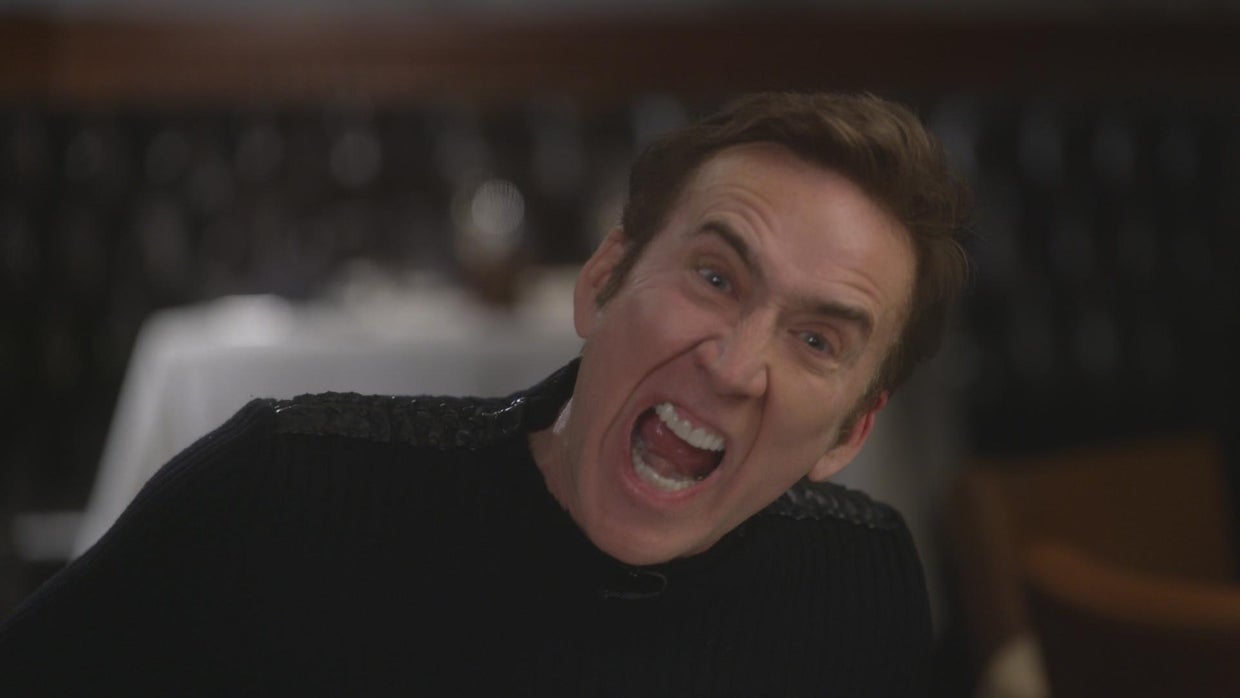 Nicolas Cage reveals how he wanted to show off his teeth while starring in "Renfield."
60 minutes
Cage owns one of the most eclectic lists of film credits in Hollywood. He has acted in over 100 movies, from rebel to action hero to lesser features and back again.
When Cage read the script for 1986's "Peggy Sue Got Married," he worried that it was going to be like the drama "Our Town," which Cage hated. So the actor, who grew up watching "Gumby," decided to base his character's voice on that of Gumby's sidekick Poky.
"Because I thought the movie would be boring," Cage said. "And so I thought, 'If I do this, it won't be boring. It'll be like, what is she doing?'"
He drew inspiration from a cartoon character for the Coen brothers. "Arizona is growing." His catalog of inspiration ranges from cartoons to German films he watched as a child.
Cage was saving a memory from the 1927 German Expressionist science-fiction film "Metropolis," which he had seen as a child, to use in a scene as Ronnie Camareri in "Moonstruck." For decades, this has been one of his most memorable roles.
It was 1995's "Leaving Las Vegas," the story of an alcoholic screenwriter, that Cage says was the answer to his prayers. He knew this was the kind of film he wanted to make.
"I was saying to myself, literally, 'I'm never going to win an Academy Award, so let's do whatever,' because no one wanted to do it," Cage told Alfonsi.
Cage was wrong about the prize. His performance earned him both a Golden Globe and an Academy Award for Best Actor.
At the Oscars, Cage announced that he liked the idea of ​​blurring the lines between art and commerce by making short films. But then he started doing it Big action movie.
"It was about being unpredictable and trying something new again," Cage said. "But when I did it, I think it pissed off a lot of people, you know? It was like, 'Well, it's, you're an actor's actor. You're not supposed to do adventure films.' "
Cage says he jigged when everyone in Hollywood wanted him to jig, producing big-budget action movies like "The Rock," "Con Air," "Gone in Sixty Seconds," "The National Treasure" franchise and "Face/Off." did The movies were box-office hits and put a dent in Cage's paycheck—and he bought the things he loved: exotic cars, castles, an island, a mansion in New Orleans, and even a Dinosaur skull From Mongolia.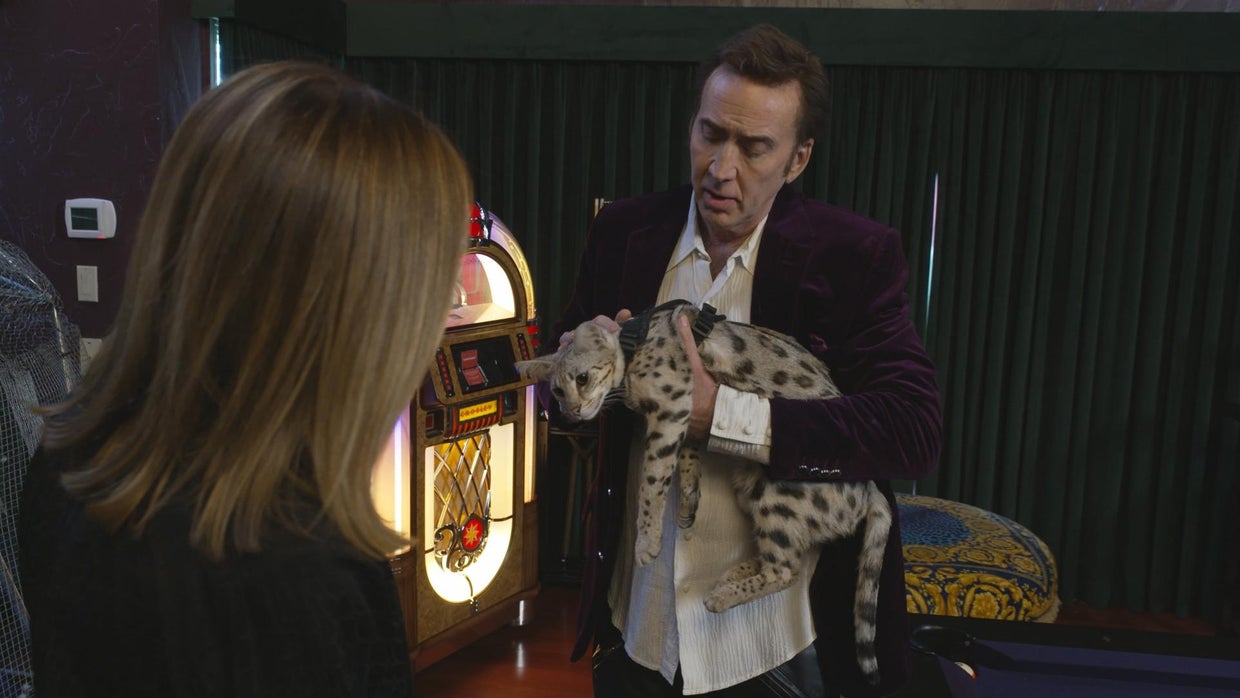 Nicolas Cage at his Las Vegas home
60 minutes
When the real estate market crashed, Cage says he overinvested and couldn't get out in time. He ended up owing the IRS and creditors millions and never once considered hitting the bankruptcy button. Instead Cage moved to tax-free Las Vegas, dug in and worked nonstop, making three to four movies a year and paying off all his debts.
At the time, some critics accused Cage of making movies just for the paycheck.
"Even if the movie ends up being bad, they know I'm not phoning it in, that I care every time," Cage said. "But there are people who probably think that the only good acting I can do is the acting that I chose to do by design, which was more operatic and, you know, larger than life and so-called 'Cage Rage,' and all. But You don't get that every time."
Exhibit A – His 2021 performance as a heartthrob chef in "Pig." The film earned Cage his second nomination for the Critics' Choice Movie Award for Best Actor.
"When I played Rob in 'Pig,' I felt like I entered the room. I felt like I was closer to myself than I've ever been in a movie," he says, adding, "I wasn't acting. I feel like I was doing exactly what I love. I think it's probably my best movie, and I think I'd put it up against 'Living Las Vegas' or something."
By any measure, the cage is not slow. He is now reprising the role of Count Dracula in a movie called "Renfield" and has five more movies coming up.
"You know me," he said. "Yes, I have a tendency to go in."
Trending news