A hospital in Louisiana sent a mother home "with a prayer" during a miscarriage, she said.
Caitlin Joshua was given an ultrasound at Women's Hospital in Baton Rouge. They examined and observed him. There he says the treatment is over.
"And so I said, 'Okay – so is it an abortion?' And the young lady, she said, 'I–I can't really tell you right now. I don't know.' And I said, 'Well, what do you mean you don't know? We did the ultrasound,'" Joshua said. "I think he said 'We're just sending you home with a prayer, we're going to hope for the best.'"
Women's Hospital told 60 Minutes: "It's complicated…when the diagnosis of early pregnancy loss is unclear, the standard of care is waiting."
The next day, when the bleeding and cramping became unbearable, Joshua sought help at a second hospital, Baton Rouge General, where a doctor ordered another ultrasound.
"He straight up said, 'It doesn't look like a baby at all. Are you sure you've ever been pregnant? It just looks like a cyst,'" Joshua told 60 Minutes correspondent Sherin Alfonsi.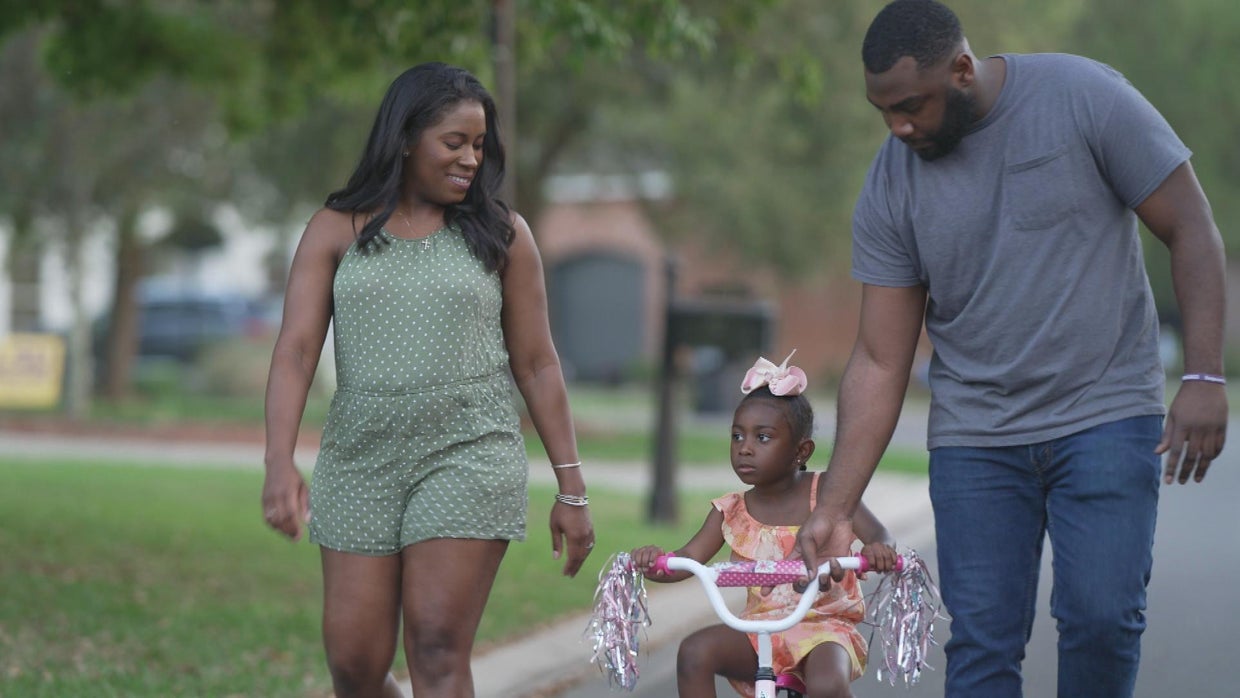 Caitlin Joshua with her family
60 minutes
At both hospitals, Joshua said medical providers avoided directly answering her questions about whether she was having an abortion. Joshua said her discharge papers only mentioned a "probable" miscarriage.
"I have to believe, and I know, the ambiguity of the abortion ban in this state is the reason there is so much fear around doctors doing their job," Joshua said.
A spokeswoman for Baton Rouge General said every patient is different. They said that since the abortion ban began, "they have not changed the way they conduct abortions or the options available to them". The hospital's discharge instructions left Joshua with one option — to take Tylenol and watch for worsening symptoms.
Because the new law was implemented to ban abortions in most cases, many doctors in Louisiana were afraid to provide care commonly used to treat abortions — such as a D-&C, a surgical procedure or the pill — because the same procedures are used to treat miscarriages. . Abortion and may now be viewed as illegal in Louisiana – potentially landing health care providers in jail.
Maternity care was already challenging in the state before the law was passed. The United States holds the sad distinction of being One of the highest rates of pregnancy-related deaths According to the World Health Organization in the developed world. Women in the United States are 10 or more times more likely to die from pregnancy than mothers in Poland, Spain, or Norway. Some of the worst statistics come out of the South, where deep pockets of poverty, health care deserts and racial disparities have long put women and their children at greater risk.
Where you live may increase the risk. According to the March of Dimes, one-third of Louisiana's 64 parishes are maternal health care deserts. More than 51,000 women in the state remain without easy access to care. They are three times more likely to die from pregnancy-related causes, according to a Tulane University study published in Women's Health Issues.
Assumption Parish, a rural county with a population of 21,000, has a doctor shortage Moms Theresa Dubois and Brittany Cavalier, both expecting their third child, travel up to 45 minutes to the nearest pediatrician and an hour, 35 minutes to the nearest OB-GYN.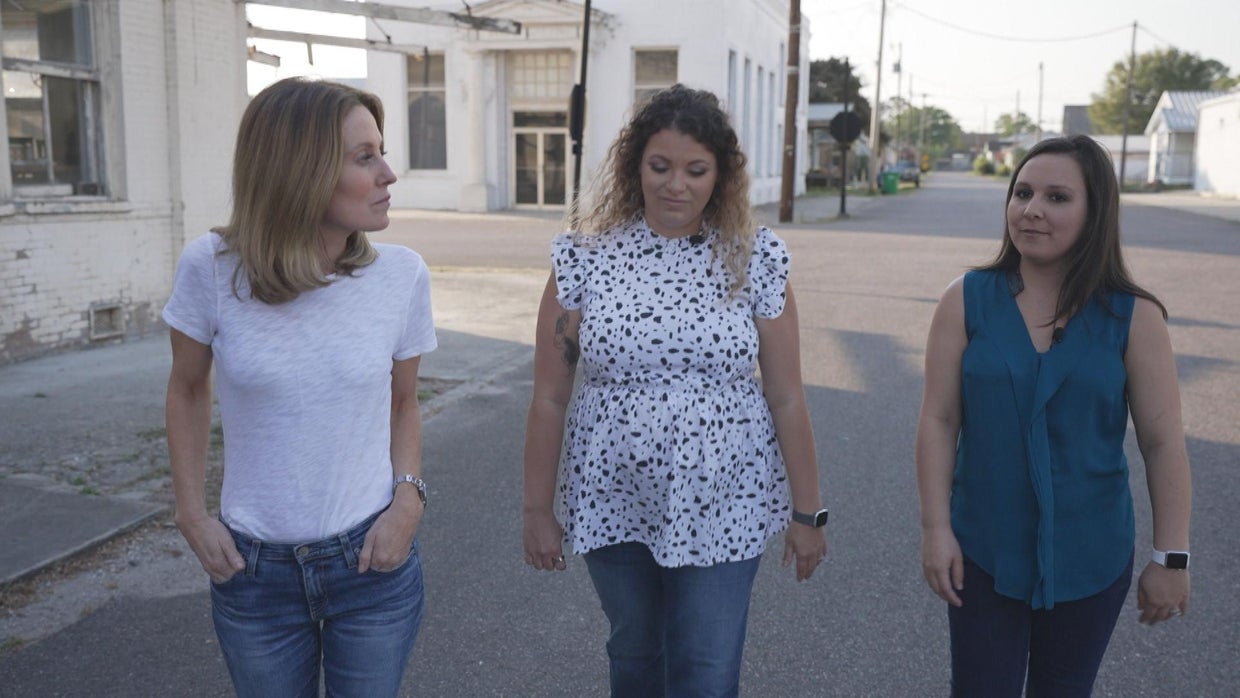 Sharyn Alfosni walks with Brittany Cavaliere and Theresa Dubois
60 minutes
"Oh, it's a nightmare," Dubois said. "It's a lot. It's a lot of emotion. It's a lot in the car. It's just a lot on your body, just waiting that long to get help."
Assumption is the only hospital not equipped to deliver babies. Mothers have to drive more than an hour to the hospital in Baton Rouge to give birth.
"I mean, we're supposed to be one of the best countries in the world. And you, you're just leaving women out to dry," Cavaliere said.
Doctors, advocates and mothers are leading the charge to improve the state of maternal health services across the state. Dr. Rebecca Gee, an OB-GYN, former state secretary of health, and founder of Nest Health – a primary health service for families, has spent her career working to improve maternity care in Louisiana.
As secretary of health, Gee worked with the state board that reviews every maternal death in Louisiana The board found 80 percent of all pregnancy-related deaths in Louisiana were potentially preventable According to the Centers for Disease Control and Prevention, 39 of every 100,000 mothers in the state die during or shortly after birth.
"Contributing to the high C-section rate is the lack of access to good women's care before and after pregnancy," she said. "Fifty percent of the time women don't get that postpartum care, which means they have untreated high blood pressure, untreated diabetes, untreated depression. The fact is that we have racial biases in health care. And so all of these things are complicated and especially bad for low-income women."
black women Among the most vulnerable; White women are four times more likely to die during or after childbirth in Louisiana, according to the state health department. Dr. Gee said that when he was medical director, staff were told they were not allowed to show medical data that showed health disparities.
"Because the political establishment didn't want to admit that there was discrimination," he said.
This disparity led labor and delivery nurse Latona Giwa to co-found the New Orleans-based Birthmark Doula Collective in 2011. Last year, they worked with 2,000 mothers.
"We live in a country that does not guarantee insurance coverage and health care for everyone, there is separate and discriminatory care," Giwa said. "Black and brown people are more likely to be on Medicaid. They're going to have practices that are busier, that take more patients. And that's where doulas come in."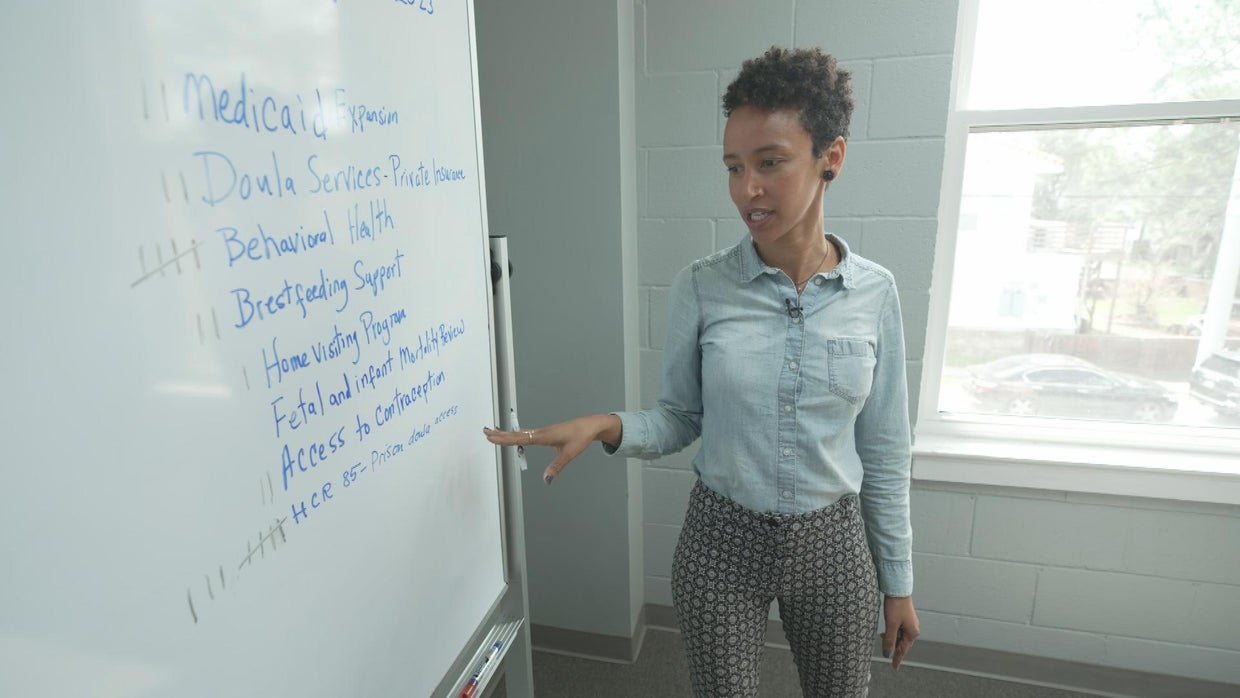 Labor and delivery nurse Latona Giwa co-founded the New Orleans-based Birthmark Doula Collective in 2011.
Recent studies have shown that black women have better birth outcomes doula care. Birthmark's work in Louisiana caught the attention of the motherhood advocacy group Every Mother Counts, founded by model Christy Turlington. Turlington became an advocate for mothers after her own complications during childbirth. Her organization focuses resources on states with high maternal mortality rates, she said.
"The U.S. is one of only eight countries where maternal mortality has actually increased," Turlington said. "So we're definitely at the bottom."
Last year, Every Mother Counts distributed more than $1 million to groups focused on strengthening maternal care in the U.S. A mission that became even more difficult last summer. Roe v. by the Supreme Court in June. After overturning Wade, Louisiana enacted a blanket abortion ban. The ban set off a domino effect across the state.
Advocacy organizations for mothers face tough challenges. Last summer, Louisiana Attorney General Jeff Landry sent a letter to doctors about the new abortion ban, leaving many maternal health providers in the state feeling paralyzed.
Dr. Jennifer Avegno, an ER doctor and current director of the New Orleans Health Department, said Landry's letter made doctors afraid to act. When 60 Minutes reached out to multiple providers across the state about maternity care, employees said they were afraid to speak up. Dr. Avegno felt that his voice needed to be heard on this issue.
"We cannot afford to fall behind in maternal morbidity and mortality," Avegno said. "If we can't support mothers, and they have adverse outcomes, or they die, that affects a family for its entire life. I'm concerned that we're going to see our morbidity and mortality rates get worse — just because of access and just because of access." Because of fear."
More

Source link